In the world today where many people are more comfortable looking at their smartphone than actually talking face to face with another human being, it's not hard to imagine feeling relieved at the idea of just not having to talk at all.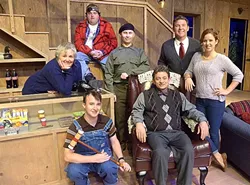 PHOTO COURTESEY OF JAMIE FOSTER PHOTOGRAPHY
CAT GOT YOUR TONGUE?: Drama and intrigue begin to sizzle at a fishing lodge in rural Georgia when Charlie (Mike Mesker) pretends he's a foreigner who can't speak English. Cast from left to right, back row: Betty Meeks (Patty Thayer), Owen Musser (Darren Doran), "Froggy" LeSueur (Darrell Haynes), Rev. David Marshall Lee (Bobby Kendrick), and Catherine Simms (Casey Canino). Front row: Ellard Simms (Sean McCallon) and Charlie Baker (Mike Mesker).
That (sans smartphones) is basically the plot of the play The Foreigner, the latest offering on stage at the San Luis Obispo Little Theatre. "Froggy" LeSeuer, a British demolition expert, brings along a friend—a severely shy man named Charlie—to a fishing lodge in rural Georgia. Charlie is so overcome with fear at the thought of making conversation with strangers that Froggy tells everyone at the lodge that his friend is from an exotic foreign country and speaks no English.
That little fib creates a long list of awkward situations for Charlie that would provide more than enough theatrical material on its own, but there is a twist, dear reader.
If it wasn't blatantly obvious by now, The Foreigner is a comedy. So it was surprising and rather jarring when it's revealed that a trusted person in the lodge is a member of the Ku Klux Klan (KKK) after men decked out in the white robes with hoods attack the lodge because a "foreigner" is there.
My roommate, and theatre companion on opening night of the show Friday, is African American, so her experience was a few notches more jarring than mine to say the least. Because the play is being done in a predominantly white community, she said she found the selection of that particular play racially insensitive. While the KKK is thankfully no longer the force that it once was, any one of the recent officer shootings of African American men remind us that we haven't really come as far as we'd like to think.
Suzy Newman, director of The Foreigner, is very familiar with the play by Larry Shue, having once been cast as lodge owner Betty Meeks years ago at the Great American Melodrama in Oceano.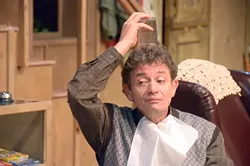 PHOTO COURTESEY OF JAMIE FOSTER PHOTOGRAPHY
WHEN IN ROME : Charlie (Mike Mesker) invents some strange customs to share with residents of the lodge, like wearing his juice glass on his head.
"Even though I did the play before, seeing those KKK costumes hanging backstage literally put chills in my body," Newman said. "It's not the same experience for everyone. It's easy to make fun of how stupid these characters are, but I don't think it diminishes the importance of how awful these people are."
The Foreigner first hit the stage in the mid 1980s, so while it's still considered modern, Newman said in the literal sense it is a period piece. A man who was born when the KKK was starting up its third reincarnation in 1946 wrote it. For Shue, the KKK was more real than just an unpleasant section in our nation's history book. And when something is real and scary, one reaction is to poke fun at it and take it down a peg, which I think The Foreigner aims to do.
But is it still too early to poke fun at the KKK when most of the people in the room laughing are white? While The Foreigner plays with some heavy issues, the cast at the Little Theatre does a wonderful job at making the audience laugh while responding in a very real way to the topic of racism in the South.

A FOREIGN AFFAIR : 'The Foreigner' will be showing at the San Luis Obispo Little Theatre on Thursdays, Fridays, Saturdays, and Sundays through Nov. 15. Tickets range from $15 to 30. For more information, go to

slolittletheatre.org

.
"It's a really solid production of a very funny play," Newman said. "The type of humor you see in this play is something you don't see a lot in writing. Above all, people should go because it's an enjoyable night at the theater."
Many people say Ryah Cooley is rather foreign looking at rcooley@newtimesslo.com.