It's no secret that the art scene in San Luis Obispo tends to skew toward the outdoors with cheery scenes of the beach, rolling hills, and vineyards bursting out of any given art gallery. Still, when artist Bret Brown moved to the area in the mid '90s from Southern California, he decided to try and show his abstract work around his new home base, without much luck.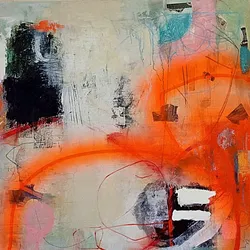 IMAGE COURTESY OF BRET BROWN
ON THE RISE: The amount of contemporary and abstract art shown in SLO—like the piece I Bought My Unicorn on Amazon from Bret Brown's collection of multimedia pieces in his Lopsided exhibit—is slowly increasing.
"No one wanted to show my work," Brown said. "It's not accepted here at all. I took a super long break because I felt like there was nowhere to show my work."
After moving to Colorado for a time, Brown returned to the Central Coast in 2000 and began showing his illustrative work of monsters and whales inspired by reading stories to his young daughter. Inspired by the trickle of abstract and contemporary art now in SLO via artists like Neil Breton and Lena Rushing and venues like Left Field and the Harold J. Miossi Gallery, Brown's display of abstract multi-media pieces titled Lopsided is currently on display at Linnaea's Café.
"A lot of people saw the show and thought, 'Whoa, this isn't what I was expecting,'" Brown said. "So I think people are going to go in and feel a bit lopsided."
Brown's mixed-media pieces are a combination of acrylic, oil, collage, photo-transfer, found object, graphite, ink, and spray paint. The bold, colorful works are also compositionally lopsided, with black squares being used to give more weight to one side or the other. The lack of symmetry is simultaneously unsettling and compelling.
PHOTO COURTESY OF BRET BROWN
ARTIST AT WORK : Artist Bret Brown divides his time between working on art and in the field of psychology.
For Brown, a practicing Buddhist, elements of his spirituality often seep into his work. The seesawing principles of samsara (chaos) and nirvana (space, enlightenment) can be seen in the Lopsided pieces.
Brown's illustrative pieces require heavy concentration on tiny, intricate details in order to achieve an exact outcome. Hours can slip away in what feels like minutes. When working on an abstract piece in his studio, Brown will crank up the jazz music and let himself go.
"It's not so much about the finished piece as it is the process of making it," Brown said. "The abstract pieces are a lot more freeing and there's no particular rules. It's very expressive."
While abstract art is on the upswing in SLO, it still takes some by surprise. At the opening of Lopsided earlier this month, Brown saw some people barely get through the door of Linnaea's before walking out. Brown encourages patrons of the arts to be open to experiencing something outside of their comfortable norm.

DON'T TRY AND EVEN OUT: Bret Brown's Lopsided abstract art exhibit will be on display at Linnaea's Café in SLO through Nov. 27. Visit bretbrownart.com for more of his work.
"As opposed to the judgment of it's good or it's bad, go into it with, 'Does it make me think? Does it make me feel?'" Brown said. "Everyone's process is unique and sometimes we don't want to capture what's external, we want to capture what's internal, and that won't resonate with everyone."
Ryah Cooley is contemplating the abstract at rcooley@newtimesslo.com.