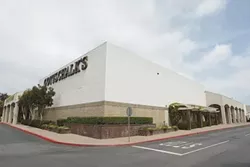 PHOTO BY STEVE E. MILLER
THE FUTURE? : Gottschalks' bankruptcy could mean an easy in for Wal-Mart to come to SLO.
Wal-Mart is rarely welcomed into small communities with hugs and kisses. The behemoth retailer has two locations already in SLO County and another on the way. Yet the city of SLO has remained free of blue letters and gleaming yellow smiley faces. Now, an opening provided by Gottschalks' bankruptcy could allow Wal-Mart or another large retailer to slip in virtually unimpeded.

According to the San Luis Obispo Chamber of Commerce, Wal-Mart is one of several retailers seeking to fill the gutted remains of the building formerly owned by Gottschalks. Other potential bidders include Macy's and JCPenney. Chamber President David Garth said knowledgeable industry insiders disclosed the bidders.

"Let's just say based on who they are 
we thought they were a credible source," Garth said.

A Wal-Mart spokeswoman did not respond to requests for comment.

Gottschalks declared bankruptcy earlier this year and is in the process of liquidating its assets. The SLO location will be auctioned in bankruptcy court on July 7.

Garth said Wal-Mart has long sought to plant itself in the city with no luck. The application process for a new commercial property is a maze involving paperwork, environmental studies, public hearings, and a lot of money. For the business that eventually takes over the Gottschalks building, a bankruptcy auction could be a springboard to launch over all the typical roadblocks for new stores.

A big plus for prospective businesses: the Gottschalks building already exists and is in a commercially zoned area. The building is also in the middle of one of SLO's largest shopping meccas: the SLO Promenade shopping center.

Most of the changes to the building will likely be minor and aesthetic, which only requires a building permit. Unlike applications for new structures, obtaining a permit to renovate something that already exists is drastically easier. An easy process also means residents have almost no chance to stop the process.

SLO Economic Development Manager Claire Clark said she had also heard of the three large retailers interested in coming to SLO. In this case, however, the public 
will have little chance to dictate what sets up here.

"It's much more difficult to choose who you want in this instance," she said. "There's usually some kind of stamp of, 'This is what's coming and why you should want it.'"



SLO COUNTY WAL-MARTS: Paso Robles: 1994
Arroyo Grande: 1999
Atascadero: Under consideration

Controversial stores can't be blocked from a community just because some people don't like them. There are other methods to halt and sometimes block new developments. Often opposition groups will make the case for more environmental reviews, which can drag out the process and make things more expensive for the developer.
"Building a new big box store in San Luis would be very, very difficult," Garth said. It wouldn't be difficult to obtain a building permit, he noted.
Big box stores are not outright banned in SLO, but there's red tape on the door. The city caps new retailers at 140,000 square feet. But to build a large store, a retailer still has to justify its size and service to the community as well as meet other similar criteria.
Wal-Mart has never been an easy sell in SLO, Garth said. He added: "It isn't fashionable to say that you ever shop at Wal-Mart. And considering that, it's amazing that they're the largest retailer in the world."

The Gottshalks location is more than 110,000 square feet, making it large enough to house one of Wal-Mart's standard discount stores but likely too small for a "Supercenter," which average nearly 200,000 square feet.

There are two established Wal-Marts in SLO County: Paso Robles and Arroyo Grande. A new store could soon be constructed in Atascadero. Residents there attempted to block the store via a ballot measure that would limit square footage of new retail buildings and prevent construction of a Supercenter. The measure failed and the approval process continues to move forward.

In SLO, the approval process could be little more than winning the liquidation auction. Company officials could set up fairly quickly. As Clark put it, for prospective retailers the location is a "ready-to-go space."

Staff writer Colin Rigley can be reached at crigley@newtimesslo.com.