Every morning, San Luis Obispo Mayor Heidi Harmon starts her day the same way: Before heading out the door she puts on a few swipes of her go-to lip color, Revlon Color Stay in Plum.
"I get up early and I usually go late into the evening, and it's nice for me to have something I can count on," Harmon said.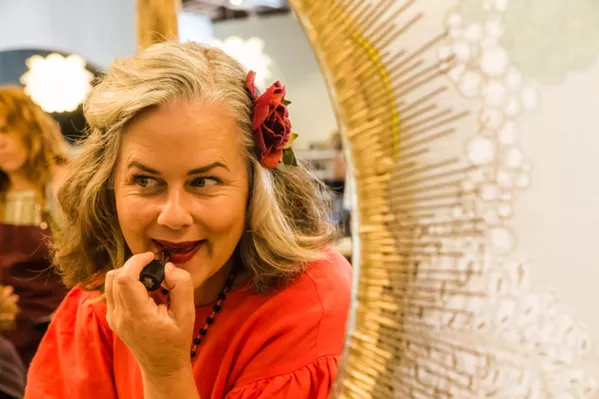 Photo By Jayson Mellom
SEEING RED One dollar from each of SLO Mayor Heidi Harmon's new namesake lipstick, Heidi is Mighty, will go to benefit RISE SLO, a nonprofit that helps victims of sexual assault and domestic violence.
But soon, her trusty long-lasting Revlon will have some competition. Heidi is Mighty lipstick, a fierce shade of red, is newly available in SLO stores such as Bluebird Salon, Len Collective, and Ambience. The politically inspired makeup is a collaboration between Harmon and Ariel Shannon, owner of Bluebird Salon. It retails for $21, with $1 from every tube purchased going to RISE SLO, a local nonprofit that serves victims of sexual assault and violence.
Photo By Jayson Mellom
STRONG AND BEAUTIFUL Mighty Lips Lipstick in Heidi is Mighty red is available for purchase at Bluebird Salon, Ambience, and Len Collective in SLO.
The way Harmon sees it, lipstick is a product mainly used by women, and RISE is a group fighting a battle where women are most likely to be victimized.
"RISE is an organization that I think is just so important," Harmon said. "Especially as the #MeToo movement has blossomed, they've been inundated with need. Often women who are assaulted get victim blamed for how they present, what they're wearing, even the makeup they're wearing. So I think it's also a way of taking back that story and say, 'We can absolutely wear lipstick and be empowered and absolutely never deserve to be the victims of sexual assault.'"
After doing Harmon's makeup (which included red, sparkly lips) at a charity fashion show at Madonna Inn, Shannon said she was inspired to create Mighty Lips, a line of lipsticks inspired by local women. And she knew she wanted her first shade to be red and named after Harmon. Red is the mayor's signature color, from her iconic red rose tucked behind one ear, to her clothes and accessories, and even her go-to Revlon lipstick. The duo went through about 20 different shades of red from a private label based out of California before they settled on the perfect color.
"The idea was to provide the stories of influential women to young girls and women to inspire people on what's possible," Shannon said of Mighty Lips. "We have a lot of women speaking out now, so I like the concept of Mighty Lips and speaking your truth and having a safe space for that."
And indeed women in power with a penchant for a bold lip color are having a moment. After now-Democratic congressional candidate Alexandria Ocasio-Cortez appeared at the New York City primary debate in June wearing Stila's Liquid Lipstick in Beso, the Internet went a flutter with requests on the name of the shade. At 28 years old, Ocasio-Cortez is slated to become the youngest member of Congress ever.
"It's a bold color," Harmon said. "People were buying it all over the country and really resonating with it."
Heidi's own branded lipstick packaging was designed by Shannon with a fun, almost comic book likeness of Harmon rocking red lips and a red rose.
"Caution: Not just lip service," the side of the box warns.
Photo By Jayson Mellom
PUCKER UP Ariel Shannon (right) created Mighty Lips lipstick and teamed up with Mayor Heidi Harmon (left) to produce the first shade. Going forward, Shannon plans to create other lipstick colors under the line inspired by influential women like Michelle Obama, Ruth Bader Ginsberg, and Oprah Winfrey.
The product is also cruelty-free, gluten-free, and paraben-free. Heidi is Mighty features ingredients like sunflower seed oil, candelilla wax, and shea butter. Shannon plans to expand the line to include colors inspired by women like Michelle Obama, Oprah Winfrey, Sarah Blakely, and Ruth Bader Ginsburg.
While Harmon knows lipstick won't solve every problem, she still thinks it has its place.
"You can be in a very important, serious position as a woman and still do and be some of these more fun aspects of femininity," Harmon said. "People often confuse seriousness with solemnity, and you don't have to be solemn to be serious. I think there's misogyny in that, and there's also a lack of understanding. You can wear lipstick and do things like address the unfunded pension liability and deal with cannabis policy and zoning. Women are just people and we can do all of those things." Δ
Arts Writer Ryah Cooley's current favorite shade is Lipstick Queen's Frog Prince. Contact her at rcooley@newtimesslo.com.