Downtown Brew is closing! Music is dead in SLO Town! There is no Santa Claus!
OK, rumor mongers, if you haven't heard, here's the quick version of what's really happening with Downtown Brew. It's just been transferred to a new operator.
Calm down! The good news is Todd Newman will continue to be involved in what's become the very best nightclub in SLO County … ever! And I say that having survived the Golden Era of The Dark Room, D.K.'s West Indies Bar, SLO Brew, and Loco Ranchero. In the past five years since SLO Brew became Downtown Brew, it's essentially become the House of Blues of the Central Coast. We're getting the big acts that play L.A. and S.F., with far more frequency than ever before.
Now back to the story. Downtown Brew's lease was set to expire this month, and this, combined with the building's need to be retrofitted, numerous repairs, and a declining economy led the current operators to decide it was not feasible to continue its operations. The plan was to essentially redevelop everything but the building's façade when West Pac acquired the Broad/Marsh/Garden Street block.
After much cajoling by Todd Newman and the public at large about the importance of the business to the local music scene, Hamish Marshall of West Pac decided to work with the new operators, SLO Pub, LLC, to keep Downtown Brew churning. SLO Pub, LLC has hired Todd Newman to manage it, and save the historic building. The plan is to repair and clean up the upstairs restaurant and improve the menu, rename the business (rumor has it "SLO Brewing Company"), and begin the in-house microbrew operation in earnest.
As you may recall, SLO Brew's beer was award winning. Steve Courier, the former brew master, is prepared to return to the vats and work his magic. The music will keep flowing, and it appears all is right with the world … until 2015. Though all buildings were supposed to be retrofitted by the summer of 2012, West Pac got a reprieve until 2015. (It pays to be a big-shot developer working a sweet deal with the city, eh?) So, anyway, music is alive and well in SLO Town, so everybody calm down.
For instance, on Thursday, July 15, DTB kicks things off with Admiral Radley, which is comprised of members of Grandaddy and Earlimart (8 p.m.; all ages; $12). Expect alternative rock stylings of the infectious but weird variety.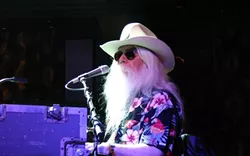 PHOTO COURTESY OF LEON RUSSELL
WHO HASN'T HE PLAYED WITH? : Rock icon Leon Russell, whose list of collaborators reads like a who's who of pop and rock music, returns to Downtown Brew on July 16.
On Friday, July 16
, rock legend Leon Russell
hits the club with opening act Joe Koenig
(7 p.m.; 21-and-older; $27 presale or $30 at the door). The multi-instrumentalist and genre-spanning player and producer has worked on some of rock'n'roll's most iconic recordings with tons of great artists such as Glen Campbell, Joe Cocker, Willie Nelson, Edgar Winter, George Harrison, Eric Clapton, Bob Dylan, Ringo Starr, John Lennon, J.J. Cale, B.B. King, Freddie King, Rita Coolidge, Gram Parsons, Barbra Streisand, Ike & Tina Turner, Ricky Nelson, Herb Alpert, Frank Sinatra, Aretha Franklin, Ann-Margret, Dean Martin, Marvin Gaye, Dave Mason, Steve Winwood, and a whole bunch more.
On Saturday, July 17, check out G-punkers (hed) p.e. with opening Kutt Calhoun (6:30 p.m.; all ages; $20 presale or $22 at the door). (hed) p.e. fuses So-Cal punk with G-funk-inflected hip-hop, hence G-punk.
Finally, on Wednesday, July 21, reggae/punk/metal hybrid The Expendables return (7:30 p.m.; all ages; $20). The group blends reggae, punk, and '80s-style dueling guitar solos into a show that's got to be seen to be believed.
PHOTO COURTESY OF SHANE LAMB
RE-ENGAGE : On July 15, Shane Lamb hits The Pour House, and on July 16 he plays The Porch, bringing introspective tunes from his new CD Disengage.
Pain tested, road ready
This Thursday, July 15, Shane Lamb hits The Pour House for an 8 p.m. show followed by a Friday, July 16 performance at The Porch at 7:30 p.m.
The Nashville singer-songwriter's bio says he "endured a period of loss and disillusionment, and came out on the other end with his debut album," Disengage. Now Lamb, who cites Tom Petty, Neil Young, and Bob Dylan as some of the influences on Disengage, has hit the road for a solo acoustic tour.
"Disengage for me was a huge shift in my life on all levels," he recalled. "Every aspect of my life was up for grabs, which is extremely exciting and frightening all at once. There was a lot on here that was very difficult to write and also very liberating. It is really honest, and wide open and exposed."
Now he's excited to share these personal tunes with a wider audience.
"Doing a solo acoustic tour is a new venture and something that is very appealing to me right now," he said. "Feels like more freedom and the chance to be light on my feet."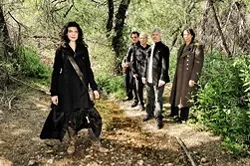 PHOTO COURTESY OF THE SCATLET FURIES
TRIPLE TIME : So-Cal band The Scarlet Furies plays Farmers Market (at Broad St) on July 15, the Creeky Tiki on July 16, and The Clubhouse on July 17.
Red hot
So-Cal band The Scarlet Furies has a Central Coast connection: drummer extraordinaire Steve Hilstein, who used to own The Drum Circuit and who continues to offer drum lessons via Drum School 101.
"We'll be debuting on the Central Coast at Farmers Market (at Broad St) on Thursday, July 15, at the Creeky Tiki on Friday, July 16 (after the Mission concert), and at The Clubhouse on Saturday, July 17," said Steve.
Looking at their band photos, it appears a Stevie Nicks-style front woman (Audrey Hepburn) is backed by a band that looks like they ought to be playing behind Tom Petty. Listening to Dark Clad Company, the band's new sox-track EP, feels like bathing in a lovely, lilting collection of warm folk tunes.
Produced by Paul McCartney guitarist Rusty Anderson, mixed by Curt Schneider, and mastered by triple Grammy-winner Gavin Lurssen, Dark Clad Company is a gorgeous collection of tunes from a group with long ties to one another.
"Back in the '70s, the male members of the band went to high school together in Whittier, California and formed assorted bands for about five years, among them Implied Consent, The Yanks, and Eulogy," according to the band's bio. "Years passed and the guys went their separate ways. When Robert's 20-year-old daughter, Raleigh, moved to L.A., her agent asked her to put together a vocal showcase to show off her crystal clear alto. Robert sought out his old band members, including Buck, Ian, and Hilstein to back the gig and an eerie magic was made. Knowing a good thing when they heard it, The Scarlet Furies was born."
See what all the fuss is about this week.
More music…
This Thursday, July 15, Native Lounge hosts Deuce. "I've heard a lot of live music in my life but nothing like Deuce," gushed my pal Johnny Kenny. "Deuce played last month here and we all were blown away. Mackenzie, the 18-year-old music whiz kid who just graduated from Mission Prep and is headed to NYU Music School plays the guitar better than anyone I have witnessed live—he's mind blowing—and Cottrell sings songs from across the board: early 1900s show tunes, jazz classics, and modern day hits from Kanye West, Outcast, and John Legend." Intriguing, no?

PHOTO COURTESY OF RUSTED STONE

THEY COME IN THE NAME OF ROCK! : Rusted Stone is one of three rock bands descending on The Ranch on July 16.
This Friday, July 16
at 9 p.m., The Ranch in San Miguel will host a kick-ass rock extravaganza with L.A.'s Warner Drive
, local rock gods Rusted Stone
, and rock pugilists Society's Child
. This show ain't for lightweights, people. These guys are coming ready to rock! The cover's a mere $3 for those 21 and older, or $5 for 18- to 20-year-olds. There'll be losts of giveaways all night, too (a new $75 Blue Tooth from California Wireless; $60 Gift Certificate from Complete Escape; four Tickets to Comedy Night at The Ranch on July 21; and more). Oh, did I mention it's 25¢ draft nights? Booyah!
Ted Waterhouse is freaking relentless! I can't even remember how many bands this dude's in. Well, add one more. The BlueSouls is, according to Ted, "kind of a blues and Americana outfit (pretty different from the Viper Six swing band), covering a bunch of my own originals and a bunch of old tunes. The band consists of myself on guitar and vocals, a really cool singer/harmonica player named Debra Windsong, percussionist Jerry Pyle (another member of the Howlie Playboys), and Fred Murray on bass (who also served with me in the Hot & Cool Orchestra)." See The BlueSouls on Friday, July 16. From 6 to 8 at the Avila Bay Athletic Club, and Saturday, July 17 from 8 to 11 p.m. in Vinoteca Wine Bar.
PHOTO COURTESY OF THREE LEGGED DAWG
PSUEDO-PSYCHO-HIPPIE-GRASS : See Three Legged Dawg when they play July 17 at Fin's in Grover Beach.
Spanky's been kicking around the SLO music scene even longer than me. I think I first met him 20-some years ago when I was working at D.K.'s. If you dug the Grateful Dead, he was your go-to guy. Over the years he's made forays into lots of different genres, but the bottom line is the dude's a player. He loves it, see? His current band Three Legged Dawg
is playing Fin's in Grover Beach this Saturday, July 17
from 6 to 9:30 p.m. "We're halfway through our '25 Dawg Gone Years' tour," said Spanky, who plays guitar and 5- and 6-string banjo. Fred Rodriguez is on guitar, mandolin, and dobro, and Andy Bird plays upright bass. "We play Folk'n'Americana-psuedo-psycho-hippie-grass for peace," said Spanky. If you can't play one genre, play 'em all!
PHOTO BY HENRY HOUSTON
PLAY ONE FOR THE KIDS : Booker T. & the MGs tribute act The Booker Tease are one of three bands playing a July 17 benefit concert for the SLO Children's Development Center in the Odd Fellows Hall.
There's a benefit concert for the SLO Children's Development Center this Saturday, July 17
at the Odd Fellows Hall in SLO, and it's going to be awesome! First of all, starting at 6 p.m. you'll get Booker T. & the MGs tribute act The Booker Tease
, who'll get some funkiness all over your groove thang. At 7 p.m., Toonzday will light up your life like Debbie Boon on speed, and at 8 p.m., Wig Spinners will demonstrate how they got their name. Doors open at 5:30 p.m., and a $10 donation is requested (Young buckaroos 16 and under can come free with an adult).
It's going to be a hard day's night this Saturday, July 17, when the SLO Down Pub hosts the Jim Townsend Blues Band and friends, who will present an evening of all Beatles songs. Like their previous Beatles shows, they plan to squeeze 50 songs into the four-hour time spot (7 to 11 p.m.). With over 25 different musicians participating, the music will play on without a break. Songbooks with words will be supplied so everyone can sing along. The cover's $5.
Painted Sky Recording Studios hosts virtuoso guitarist Eric Henderson this Saturday, July 17 at 7 p.m. ($20; call 439-0972 or pay $23 at the door). Henderson began playing guitar at age six, and at 13, he was invited to Spain to become one of only three people to study privately with the master guitarist Andres Segovia.
PHOTO COURTESY OF NEW GUITAR WEST
THREE FOR THE ROAD : Jazz guitar ensemble New West Guitar hits Steynberg Gallery on July 17 as part of a West Coast tour.
Jazz guitar ensemble New West Guitar
hits Steynberg Gallery this Saturday, July 17
. The group features three young virtuosos who use electric and acoustic guitars to build blues, rock, and folk-inflected songs on a jazz foundation. Working with Santa Cruz luthier Jeff Traugott, who helped them produce their latest all acoustic CD Sleeping Lady
, the trio has created

a lush and stirring sound that ranges from "chamber-like elegance and fragile introspection to exhilarating swing and gritty blues." Their 8 p.m. show costs $10.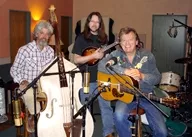 PHOTO BY STEVE CRIMMEL
HOT STRING BAND (: Left to right) Charlie Kleemann, Eric Brittain, and Don Lampson will deliver the goods on July 18 during a free show at Ragged Point Inn.
Get a dose of top-notch Americana when Don Lampson, Eric Brittain, and Charlie Kleemann
—three seriously awesome players—perform a free concert outside at the Ragged Point Inn from 1 to 4 p.m. on Sunday, July 18
. Each is an incredible musician in his own right, but together they're like liquefied butter.
The Lenny Blue Trio (Blue is also vocalist and guitarist for the Otter Guys Band, who's joined by cousin Clint Warner on vocals and lead guitar, and Phil Enns on percussion) will bring its blues, swing, rock, and jazz sounds to a Morro Bay cruise on the Pappagallo Yacht this Sunday, July 18, from 1 to 4 p.m. To see a video and get more info on Pappagallo, go to onboardnauticalevents.com. This is a dinner and no-host bar bay-cruise with only 35 tickets available, so call 771-9916 to reserve your seat.
Arroyo Grande Village Summer Concert Series goes big this Sunday, July 18 when it hosts jazz pianist Carl Sonny Leyland with opening act The Creole Syncopators at 1 p.m. at the Rotary Bandstand in the historic Arroyo Grande Village. Leyland was born and raised in England, but as a child he was drawn to the American music he heard on records his father would play. He soon developed an appreciation for Dixieland jazz, rock'n'roll of the '50s, and the country music of Jimmie Rodgers and Hank Williams. The Creole Syncopators will deliver tasty but obscure tunes from the 1920s and '30s.
Happy Birthday plays the SLO Museum of Art this Saturday, July 18. Featuring Kyle Thomas (aka—King Tuff), Chris Weisman, and Ruth Garbus, they formed in November 2008 to play one show at the punk-space Tinderbox (RIP) in their hometown Brattleboro, VT. One show, eh? "Kyle needed a band to play his new pop songs because he was too scared to play by himself," according to the band's bio. "They enjoyed playing with each other so much that they decided to keep doing it. They have now played a total of five shows. Kyle sings and plays lead guitar. The songs are mostly his, but the band arranges and finishes them together."
Last year when Jon Clarke was a member of Red Eye Junction, his song won "Song of the Year" during the New Times Music Awards. This Tuesday, July 20, the talented singer-songwriter will deliver more of his sparkling compositions during the weekly Central Coast Songwriters showcase at The Clubhouse.
Keep up with Glen Starkey via twitter at twitter.com/glenstarkey, friend him at Myspace.com/glenstarkey, or contact him at gstarkey@newtimesslo.com.