Wild animals aren't meant to be captive. And yet, from city to city, we cram ourselves into tiny boxes.
The San Luis Obispo Repertory Theatre explored the paradox of vulnerable people yearning for something more, on opening night of playwright Tennessee Williams' classic memory play, The Glass Menagerie, on Nov. 2.
Photo Courtesy Of Slo Repertory Theatre
A UNICORN Crippled and shy, Laura (Madison Shaheen) spends much of her time at home playing with her collection of glass animals.
The 1944 play is Williams' most autobiographical play, and it launched the writer from obscurity to fame. SLO Rep's rendition is led by Pacific Conservatory Theatre's (PCPA) Eric Stein. The main characters, Tom Wingfield (Luke Myers) and Laura Wingfield (Madison Shaheen), along with their mother, Amanda Wingfield (Suzy Newman), are heavily based on the once-closeted Williams, whose real name was Thomas; his mentally unstable older sister, Rosie; and their overbearing mother.
"The Glass Menagerie is about desire and desperation," Stein wrote in the program's director's note. "Tennessee Williams said it best when he said that these are 'deeply felt emotions that must be kept at arm's length.'"
The entirety of the play (which runs close to three hours, including intermission) takes place in the Wingfields' dreary, small apartment in St. Louis in 1937. Tom, an aspiring writer, works unhappily in a shoe factory to support his mom and sister. Their father abandoned the family years ago. Each character finds escapism from their sad, shared reality in different ways. Tom is constantly running off to the "movies" at all hours of the night. Laura drifts off into a world of make-believe, obsessed with her collection of tiny glass animals. And Amanda reminisces over and over again of the years when she was a sought-after young woman while scheming to find a husband for her daughter, who has not had one gentleman caller in the six long years since graduating high school.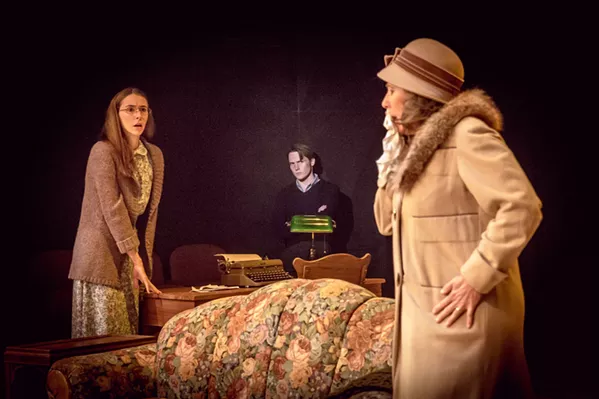 Photo Courtesy Of Slo Repertory Theatre
LONESOME IN A CROWD Despite living in a small, cramped apartment together, family members Laura (Madison Shaheen, left), Tom (Luke Myers, center) and Amanda (Suzy Newman, right) struggle to connect in The Glass Menagerie.
The trio of PCPA alums Myers, Shaheen, and SLO Rep's Newman create a thick haze of sadness, tension, and hope that just can't be bridged to find their way back to one another again.
After much badgering from his mother, Tom brings home a friend from work, Jim O'Conner (Sam Lariviere, making his SLO Rep debut), to meet his sister. Unbeknownst to all is the fact that Laura had a crush on Jim, who was the popular boy back when they were in high school. Sensing her insecurities, Jim sweetly encourages Laura to think better of herself. He provides her with some hope but ultimately more disappointment. But Laura, whose real-life counterpart was diagnosed with schizophrenia and institutionalized after a botched lobotomy, is different from other girls, as Tom tries to explain to their mother.
Photo Courtesy Of Slo Repertory Theatre
WISHING With all her heart, Amanda (Suzy Newman) wants a gentleman caller-turned-husband for her unusual daughter, Laura (Madison Shaheen).
"She lives in a world of her own," Tom said. "A world of ... little glass ornaments ... ."
Laura's collection isn't just a nod to the show's title, but a working metaphor for the entire Wingfield clan. They, like Laura's tiny glass creatures, are delicate and in danger of breaking, trapped in a world not of their own design or choosing, in a place that feels unnatural.
In the opening scene of The Glass Menagerie, Myers as Tom breaks the fourth wall to speak directly to the audience. While this is Williams' story, he acknowledges that the lines between memory and truth are blurry.
"The scene is memory and is therefore nonrealistic," Tom said. "Memory takes a lot of poetic license. It omits some details; others are exaggerated, according to the emotional value of the articles it touches, for memory is seated predominantly in the heart." Δ
Arts Writer Ryah Cooley isn't much of a collector. Contact her at rcooley@newtimesslo.com.