An ending doesn't necessarily mean everyone is living happily ever after, which is the hard, gritty reality audiences are presented with in the classic English musical Oliver!
Based on the Charles Dickens' novel, Oliver Twist, its musical sibling Oliver! by Lionel Bart first graced the stage in 1960 in London's West End and is rife with themes of institutional poverty, domestic violence, and a dash of racism. Still, on June 16 (opening night), the impossibly chubby-cheeked child actors at the newly renamed SLO Repertory Theatre managed to bring a little romanticism and charm to the hard times of Victorian England.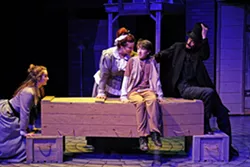 Photo courtesy of Danielle Dutro McNamara Photography
FALLING THROUGH THE CRACKS After growing up in a workhouse, the young orphan Oliver (David Kirkland, center) is sold to the owners of a funeral home Mrs. Sowerberry (Felicia Hall, left of center) and Mr. Sowerberry (Greg DeMartini, right), where he's forced to sleep in a coffin at night.
With a set featuring a cobblestone ground and a series of wooden shacks (with some old timey signs advertising a pub or mortuary, depending on the scene), it was easy enough to be transported into the world of little Oliver (David Kirkland). He lives a meager, underfed existence with his fellow orphans at the workhouse, dreaming of full bellies in songs like, "Food, Glorious Food," during which Kirkland totally steals the limelight with his angelic voice.
After their regular morning meal of gruel, Oliver is still left with a grumbling tummy, giving him the gumption to utter the classic, pitiful line, "Please sir, can I have some more?" This so incenses the grownups—Mr. Bumble (Seth Blackburn) and the widow Corney (Jacqueline Hildebrand), who run the workhouse—that they take him to be sold, marking the beginning of a downward spiral in Oliver's already rough life. He was left at the workhouse as an infant after his mother died giving birth to him, with no other known relations.
Both the set and cast of SLO Rep's Oliver! pull double duty, with nearly all of the actors, save for Kirkland and a few others, playing multiple parts as the scene shifts between a workhouse, a funeral home, the streets of London, a run-down den that houses thieves, a pub, and the home of a gentleman.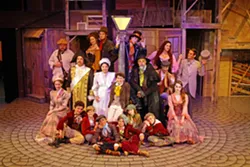 Photo courtesy of Danielle Dutro McNamara Photography
CROOKED CHARACTERS Take a trip back to Victorian England, made real by the SLO Repertory's charming, complex, and downright vile characters in the production of Oliver! Starting with the first row, from left to right: Sarah Raines, Drew Vander Weele, Serafina Regusci, Oliver Baker, Kyan Vander Weele, Molly Himelblau, Mia Beck, and Micaela Morgan. Second row: Seth Blackburn, Jacqueline Hildebrand, David Kirkland, Dana Shaheen, Elliot Peters, and Greg DeMartini. Third row: Christian Clarno, Megan C.C. Walker, Delaney Brumme, Phineas Peters, and Felicia Hall.
The actors don't miss a beat as they transform into each new role in seconds—particularly Greg DeMartini, who starts as Mr. Sowerberry, the owner of the funeral home who buys Oliver as an apprentice, where Oliver must sleep in a coffin and eat the dog's scraps. Later, DeMartini plays the kindly and well-to-do gentleman Mr. Bronlow. After being taken in by Fagin (Dana Shaheen), an older man who runs a mob of child pickpockets, Oliver tries to steal from Mr. Bronlow. But instead of having him jailed, the gentleman takes the lad in. Alas, one of Fagin's grown-up thieves, the hardened and cruel Bill Sikes (Delaney Brummé), is convinced Oliver will spill some secrets and is determined to drag him back into the thief's life.
Meanwhile Nancy (Megan C.C. Walker), who grew up working for Fagin and is now Bill's woman even though he beats her, tries her best to save Oliver from the childhood she herself had.
While Nancy and the others in the rag-tag band of thieves put on a brave face in songs like, "It's a Fine Life," and try to make the best of what they've got, Oliver! isn't the best place to look for a sense of closure story-wise. While at least one life is changed for the better, murder, abuse, and a life of struggling to get by befall the rest of the characters, with no resolution in sight.
Ryah Cooley always wants some more food, just not gruel. Comment at rcooley@newtimesslo.com.