If the standard "and they lived happily ever after" bedtime story seems too pat, too easy, then Into the Woods Jr. might be just the thing for skeptical audiences with a soft spot for fairy tales.
Written by James Lapine with music and lyrics by Stephen Sondheim, the hit Broadway show has been adapted for young actors, like the aspiring thespians of San Luis Obispo Repertory Theatre's Academy of Creative Theatre, and is directed by Shelagh Garren (and yes, it has some plot differences from the 2014 Disney film with Meryl Streep), who opened the show July 21.
Photo Courtesy Of Jamie Foster Photography
ONCE UPON A TIME Into The Woods Jr. ties together favorite characters from classic fairy tales into a lovely musical package.
The idea behind the story is simple, yet magical: Take a handful of beloved, classic fairy tale characters, converge their story lines, and have everybody meet in the woods, where the majority of the show takes place. The set is a wondrous, dreamy place filled with two stories of trees with paper flowers climbing up them. There's even some live trees whose branch and arm movements really add to the story's more dramatic moments.
Photo Courtesy Of Jamie Foster Photography
THE GOLDEN STAIRS All alone in her tower, with no company save for visits from her weird mother the witch, is Rapunzel (Olivia Edmonds) with hair as gold as corn.
The protagonists at the center of the plot are the baker (Jed Authier) and his wife (Alyssa Mickey), who long to have a child but have been unable to do so. Here's the plot twist: A witch (Penny DellaPelle) has cursed them for something the baker's long-dead parents did. Of course there's a catch: They'll be able to conceive a child if they find and give the witch a cow the color of milk, a cape the color of blood, hair the color of corn, and a golden slipper. Which sounds just about right, going by crazy fairy tale standards. This quest leads the baker and his wife, yup, you guessed it, straight into the woods.
Authier and Mickey strike a balance as a believable couple that is loving but also quarrelsome as they embark on their ridiculous mission. On their journey they run into an impish Little Red (Serafina Regusci), who tries to swipe some free bread when she comes to the bakery to buy a loaf for grandma; a glum Jack (Sam Gomez), who really doesn't want to part ways with his bestie the cow (acted with amazing emotional depth by Addisyn Tejada); Cinderella (Ella Gomez), confounding all by running away from a prince (Sam Mucciacito); and a lonely Rapunzel (Olivia Edmonds) pining for her prince (Drew Vander Weele), who just happens to be the brother of Cinderella's prince, to hurry up and climb up her hair already.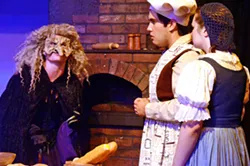 Photo Courtesy Of Jamie Foster Photography
CURSED A witch (Penny DellaPelle, left) sends a baker (Jed Authier) and his wife (Alyssa Mickey) on a seemingly impossible quest so they might be able to have a child.
If you have a penchant for the darker side of fairy tales on the road to happily ever after, fear not, Into The Woods Jr. has stuck to the, ahem, grimmer roots of the original stories, complete with deception, child abuse, murder, and physical mutilation—all without being too unbearably gory or visual while allowing the plot to move right long.
Even if you don't have kids or know any of the young actors in the show, SLO Repertory Theatre's rendition of Into The Woods Jr. is worth seeing and will take you back to a time when a story could transport you to another world. Δ
Arts Editor Ryah Cooley is off in a kingdom far, far away at rcooley@newtimesslo.com.