Crowded into a well-decorated space in the back of Steynberg Gallery in San Luis Obispo, an assortment of residents, perhaps 30 strong, filled the room's folding chairs, with stragglers peeking in from the doorway. Turnout was more than the organizers had hoped for, but not surprising. Many of the people there knew each other some are the Dalidio opposition some are the same people questioning the city's water rate hikes.
This meeting, however, was different. Many said their shared fear about high-rise buildings in the city center reflects not just a concern with the city's skyline but a greater frustration with city planning, and the representation their concerns are getting from the city's current leadership.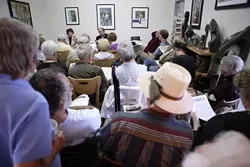 PHOTO BY STEVE E. MILLER
MEETING OF MINDS : Elisabeth Abrahams (left) and David Brodie, founding members of Save Our Downtown met to discuss the changing of building height limits in downtown SLO.
# The group is called Save Our Downtown. Members say their concern is not just the changing face of SLO, which they admit is inevitable, but with proposed changes that they say could turn SLO's unique downtown into another Mall of America. Indeed, with 10 new large-scale projects proposed for the core downtown area including Chinatown, the planned 78-foot-high retail, hotel, and housing behemoth some long-time SLO residents are wondering if they will still be able to recognize their city hub again. The members are also questioning the financial wisdom of creating what they call an Anytown USA feel in a community that has prospered in part based on the accessible quirkiness of its downtown.
The 10 projects that could change downtown, according to Save Our Downtown, range in height from 35 to 75 feet, or between three and six stories tall. By comparison, the tallest building now in downtown SLO is the Anderson Hotel, a five-story apartment complex at 955 Monterey Street that houses elderly and disabled residents. In addition to Chinatown, the proposed Garden Street Terraces project is 78 feet tall, which would cast a shadow on landmark Linnaea's across the street. With the Garden Street project, the Broad Street/ Marsh Street parking lot, behind Mother's Tavern will have to go, as well as three historic facades on Garden Street. One block south, down Broad Street, the planned Fiber Coast LLC building will take up half a block and could rise five stories.
Plans for Paseo del Sol, at 1221 Nipomo Street, would make it one of three proposed 50-foot-tall (four stories) buildings, including the Ah Louis commercial building and the Warden Building, that could collectively remake the downtown. And the planned Hira Building, a comparatively modest 48-feet-tall, would bring down Bubble Gum Alley. All of these projects, and others, can be viewed at slocity.org.
The group first went public June 5, when they brought 500 signatures before the City Council opposing the demolition of a historically listed adobe near the Ah Louis building on Chorro Street. The dilapidated structure dates back to the 1800's, and is slated for removal to make way for a set of three-story condominiums. City officials informed the group that the time to protest had passed. At the Steynberg meeting, June 19, members repeatedly expressed frustration at the hushed manner in which that and other projects have moved through the city's planning and review process.
Good or bad, drastic changes to the downtown are well underway. Many members of the group worry that these high rises will block natural light from reaching the streets, and complain that locals haven't been given a tangible model of how a 78-feet-tall building will impact such SLO signatures as Mission Plaza .
Save Our Downtown requested that "story poles" be placed at project locations to indicate their real height in a real context. Failing that, the group has elected to make their own statement. The group will fly five balloons, each three feet in diameter, bordering the proposed Chinatown project, during the June 22 Concert in the Plaza.
Kylie Mendonca can be reached at kmendonca@newtimesslo.com.