John Burns has seen countless skateboarders take a spill at the San Luis Obispo Skateboard Park during his tenure there as program coordinator. Maybe the harsh falls are just the inevitable growing pains of learning a new trick--or maybe skaters are plagued from the get go with uneven surfaces and splintering wood ramps.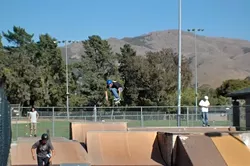 PHOTO COURTESY OF JOHN BURNS
TRICKS OF THE TRADE : Skateboarders who make use of the falling-apart facility in Santa Rosa Park are taking fundraising into their own hands with a series of contests, starting Dec. 2.
# "It's basically so rundown it can't be repaired," Burns said. "The ramps are so old that it needs to be rebuilt from the ground up. The reality is SLO needs and deserves a new skateboard park."
Months ago, several local skateboarders attended an open City Council forum and expressed concern for their beloved but decaying park. Upon hearing the complaints, the council voted to issue funds to help repair the skate grounds at Santa Rosa Park.
Now, however, Burns worries that the issue may have been swept under the city's rug.
"It's on the list of major city goals for improvements," said SLO Parks and Recreation Coordinator Christine Wallace. "We're doing a needs assessment study, but it has not yet been determined."
In an effort to help speed up the process, Burns and his buddies from Central Coast Surfboards, Moondoggies, and Skate Warehouse have organized a monthly series of skateboard contests to raise both money and consciousness about the local park.
"We want to improve the awareness about just how important a skate park is to this community," Burns said. "Skateboarding is more than just a hobby, it's a passion. It gives kids a lifestyle and focus."
Burns said that skateboarders in SLO are seeking a concrete park similar to the one the county recently built in Los Osos.
The contest to bring that dream closer to reality--dubbed "Deck the Halls"--will take place on Dec. 2. The 15-and-younger division will start at 2 p.m. and the 16-and-older division will begin at 3:30 p.m. The cost, which includes a T-shirt, is $10 for early registration or $15 on the day of registration. All proceeds will go to the skate park. Contestants can register early at CCS or Moondoggies.
Wallace said that the skate park issue would be discussed again at a City Council meeting in the coming weeks. In the meantime, she said she was impressed with the steps Burns and his friends are taking to obtain their concrete skateboarding sanctuary.
"More power to them," she said. "I wish there were more people like them trying to help out."
Want to be one of those people? Contact the SLO Parks and Recreation Department at 781-7300.