If there's a war on Christmas, SLO Town appears to be sitting it out. Maybe we're conscientious objectors or something, but between Santa's House in the Mission Plaza (a notorious gathering place for people who dig Jesus) and the Downtown Association's Holiday Parade, which everyone I know calls the "Christmas Parade," it's beginning to look a lot like Christmas, everywhere you go. Take a look in the five and 10 glistening once again with candy canes and silver lanes a glow. No, seriously. Check it out. There's glowing stuff everywhere.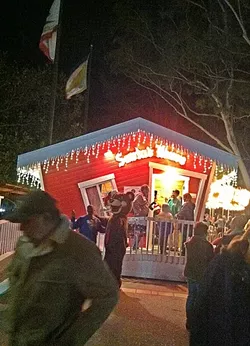 FILE PHOTO BY GLEN STARKEY
SANTA'S HOUSE: Take a ride on Santa's lap and tell him what you want for Christmas in the SLO Mission Plaza.
Sure, Fox "News" pundit Bill O'Reilly has headed back into the trenches for his annual X-mas War skirmish, calling out Starbucks' unadorned red holiday cups as proof that the liberal Seattle-based caffeine slinger doesn't love little baby Jesus because there's no Christmas ornaments on the cup, but wily pro-Christmas warriors have cleverly gotten Starbucks back by claiming their name is "Merry Christmas," forcing the baristas to write "peppermint 4-pump no foam latte" and "Merry Christmas" right on the cup, and then when the coffee's ready, actually calling out, "Peppermint 4-pump no foam latte for Merry Christmas, your order is ready!"
If you're serious about throwing it in Starbucks' face, right-wing website breitbart.com will sell you its Breitbart Merry Christmas tumblers for $9.95 plus shipping and handling. They're red, look a lot like Starbucks cups, but they say "Merry Christmas" across them and are reusable.
FILE PHOTO BY GLEN STARKEY
AROUND WE GO: Like Santa's House, an old fashioned carousel is a big Christmastime tradition in the SLO Mission Plaza.
Or you can just come to downtown SLO this Friday, Dec. 4, at 7 p.m. for the 40th annual Holiday Parade where people will greet you with "Merry Christmas" un-ironically, because we're cool with Christmas in SLO Town.
While you're down here, visit Santa in his house. It's fun, and when he asks, "What do you want for Christmas, little boy?" I always tell him, "To break your femurs, fat man!" Then we laugh and laugh because we're both pretty jolly. "I'll bring you a kale salad," he usually says. "Now get off my lap, blimp-o!"
Next is a whirl on the old fashioned carousel, which costs $3 a ride or five rides for $10. And as tradition dictates, I usually see perpetual mayoral candidate Don Hedrick dressed as Santa riding around on his electric chariot, and I rub his tin belly for luck. Then it's off to McCarthy's Irish Pub for a cup of good cheer … or two. Sometimes three. I've got a lot to celebrate because for me, the war against Christmas was over before it started.
FILE PHOTO BY GLEN STARKEY
O TANNENBAUM : A 20-foot cedar tree planted in September will be decorated and then relocated after the holiday due to complaints that it's blocking views of the mission.
And just to cover my bases, on Sunday, Dec. 6, I'll head back down to Mission Plaza for the Annual Hannukah Downtown, where at 5 p.m. I'll enjoy the lighting of the menorah, which will continue at 5 p.m. every night through Sunday, Dec. 13.
And just to be thorough, I'll be celebrating Ramadan next year from Monday, June 6, through Tuesday, July 5. Hey man, she's all the same God to me. Peace on earth, friends, and Merry Christmas!
I love a parade

The 40th Annual Holiday Parade begins at 7 p.m. on Friday, Dec. 4, in downtown San Luis Obispo. Presented by The San Luis Obispo Collection and brought to you by the Downtown Association, the parade will include almost 100 floats, musical acts, dancers, and more. This year's parade marshall is designer Pierre Rademaker. Attendees are encouraged to arrive early and set up chairs along the route (visit downtownslo.com/promotions/holiday-parade/ for a map). Dress warmly!
Glen Starkey takes a beating and keeps on bleating. Keep up with him via twitter at twitter.com/glenstarkey, friend him at facebook.com/glenstarkey, or contact him at gstarkey@newtimesslo.com.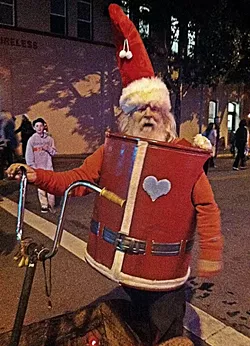 FILE PHOTO BY GLEN STARKEY
MAYOR DON: Perpetual mayoral candidate Don Hedrick may show up dressed as Santa on his electric chariot as he's done in years past.
FILE PHOTO BY GLEN STARKEY
CUPS OF GOOD CHEER: A post parade drink at McCarthy's is usually the capper to a great community event.