Whenever William Carroll doesn't know what to paint, he just takes a little walk.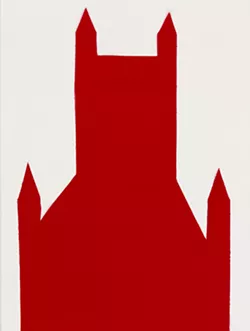 Photo Courtesy Of William Carroll
ICONIC Perpetually inspired by walking around all five of New York City's neighborhoods, artist William Carroll churns out art based on the sights of the city.
This works so well that the New York based artist has now walked all over each of the five boroughs in the city, small memo pad and pen in hand so that he can quickly make sketches without missing a step. Later, Carroll's on-the-go drawings are transferred to a larger scale in spray paint.
"I've really explored New York from corner to corner," Carroll, who lives in the East Village, said.
SLO County art connoisseurs can now glimpse the country's art capital through Carroll's eyes (and those of his fellow NYC artists) at the SLO Museum of Art's new exhibit, Selections: NYC. The show came together when Manhattan-based artist Bill Weiss (who spends his winters in Los Osos) approached the museum with the idea about a year ago. SLOMA Executive Director Karen Kile said the work in the show is meant to be a reflection of the diversity found in the city's art districts, primarily the areas of Chelsea and the Lower East Side. Pieces from artists Louis Brawley, Brenda Goodman, Pamela Jordan, and Michael Pribich round out the show.
The exhibit is the first in a series of an annual show that will focus on contemporary artists from specific art hubs in the country
"It's fun to have a new look and new talent come in," Kile said. "It's an experience you'd have doing a walking tour of the Chelsea area."
Carroll, who was born in the Bronx, left the city for years to be in San Francisco, but eventually New York lured him back to the East Coast.
"My family is here. The art world is here. It's a no-brainer," Carroll said.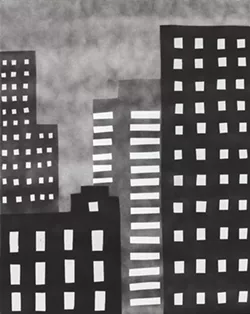 Photo Courtesy Of William Carroll
SKY HIGH Artist William Carroll is inspired by his East Village neighborhood, where buildings can only be built six stories tall and the sky can still be seen.
He settled in the East Village in the early '80s when it was an up-and-coming art scene, but before it was trendy. One of his favorite things about the neighborhood is that it requires you to look up at the buildings, which are only zoned to be six stories high.
"There's lots of sky," Carroll said. "To be in Manhattan and not be crushed is good."
His sketches turned modern, minimalist paintings are often inspired by the mash-up of different buildings, the dialogue between different periods and styles of houses, particularly early in the morning when the city is misty.
"I hope I caught the energy," Carroll said of his pieces. "I hope the works do have a real sense for the city and my love for it."
Photo Courtesy Of Bill Weiss
WHIMSICAL Manhattan artist Bill Weiss spends winters in Los Osos and crafts abstract pieces like Arrival, which is acrylic on cut and layered wood panel. Weiss pulled together a few East Coast artist friends to bring the Selections: NYC exhibit to SLOMA.
While Weiss, who curated the show, is also based in the NYC area most of the year, the inspiration for his abstract pieces comes from more universal concepts like whimsy and a meditative state of mind. His rainbow colored piece Arrival is acrylic on cut and layered wood panel and cheekily invites the viewer's stare to linger. His work has been described as playful and rigorous.
"What I'm really trying to do is create good, abstract paintings," Weiss said. "There's no real commentary. I just hope people will be exposed to the different types of work." Δ
NYC is on Arts Editor Ryah Cooley's travel bucket list. Contact her at rcooley@newtimesslo.com.