Like every other parent, when Leon Borensztein first brought his baby girl Sharon home several decades ago, he thought she was perfect. That illusion held up for the first few months of his daughter's life.
While out shooting portraits of other families, the photographer noticed that these kids did something his daughter didn't do. They smiled, made eye contact, and just generally engaged with him. By the time Borensztein's daughter was 6 months old, she would begin to be diagnosed with a variety of conditions, including being legally blind and autistic as well as having a seizure disorder and speech delay.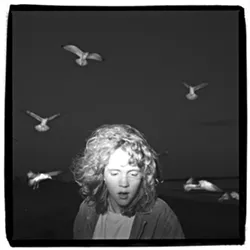 Photo Courtesey Of Leon Borensztein
CANDID Photographer Leon Borensztein's exhibit, Sharon, chronicles his disabled daughter's life from infancy to adulthood, capturing the emotional and mundane aspects of the human experience.
"I thought everything would be fine, and later we slowly started to learn it was something serious," Borensztein said. "She was my first child, so I didn't have anything to compare it to."
So the Oakland-based photographer did what any parent would do. He kept on taking photos of his daughter, documenting the good, the mundane, and the raw moments of Sharon's life. These highly personal and evocative images are currently on display at the San Luis Obispo Museum of Art as part of the exhibit simply called Sharon.
"Leon Borensztein's aesthetically compelling artwork raises awareness of people living with disabilities and creates a fine interpretation of their experiences," SLOMA Curator Ruta Saliklis said in a statement.
Photo Courtesey Of Leon Borensztein
NEW LIFE Leon Borensztein first noticed something was amiss when his infant daughter wouldn't make eye contact or engage when he took photos of her. She would later be diagnosed as being legally blind, autistic, and would also struggle with a seizure disorder and a speech delay.
Borensztein's series of black and white images, displayed in a retro-feeling Polaroid square shape, are simultaneously documentary and personal. No grip-and-grin by a birthday cake photos will be found in this bunch. In one photo, an adolescent Sharon looks down, seemingly in shock, as a bunch of birds fly behind her, a mass of her curly hair floating in the wind. In another, an infant Sharon is bathed in a sink, while her deep, dark eyes look up at her parent. Sharon, as a child, looks into the distance, one hand resting on her chin with a head that's covered by bandages.
For Borensztein, a photo is one worth taking if something resonates emotionally on an intuitive level.
"I feel something and I connect to it," Borensztein said.
While Sharon's mother was in the picture until his daughter was about 15, Borensztein found himself the single father of a disabled child for much of her life. So, he would naturally bring Sharon everywhere with him. Slowly he noticed he was invited to things less and less.
Photo Courtesey Of Leon Borensztein
RAW Leon Borensztein captures a poignant moment of his daughter Sharon healing from an injury.
"People don't realize what it is to be the single parent of a disabled child," Borensztein said. "I lost a lot of friends in the process. People were afraid of her."
Today Sharon is in her 30s and doing well. She lives in supported living with a peer roommate in Oakland and attends a day program where she gets to pursue her passions like animals, dancing, art, and music.
"I want her to live as full a life as possible," Borensztein said. "Disabled people are different, but they're the same like us. They have the same issues and desires." Δ
Arts Editor Ryah Cooley is flipping through old photo albums at rcooley@newtimesslo.com.