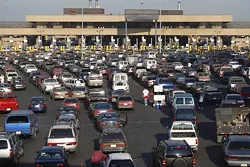 STOCK PHOTO
BORDERLINE : Two San Luis Obispo police officers were fired Aug. 2 after pleading guilty to attempting to bring unbranded pharmaceuticals into the United States from Mexico through the San Ysidro Point of Entry.
The two San Luis Obispo police officers convicted in federal court of attempting to illegally bring pharmaceuticals into the United States from Mexico have been fired following a three-month internal investigation by the city.
Officers Armando Limon and Daniel McDow were placed on paid administrative leave after being detained at the San Ysidro border checkpoint by U.S. Immigration and Customs (I.C.E.) officials on Sept. 15, 2009.
According to I.C.E. spokesperson Lauren Mack, the officers were in possession of "a significant quantity"—more than 850 pills—of pharmaceuticals labeled in Spanish, for which neither possessed a prescription.
She said they were found with three medications: methylphenidate, a U.S.-designated Schedule II controlled substance used to treat attention-deficit disorder; sibutramine, an appetite suppressant; and diethylpropion, a Schedule IV narcotic commonly prescribed for dieting. All three medications are known to be used for recreation; their abuse can be addictive and fatal, according to the National Institute on Drug Abuse.
The pair later pleaded guilty to one misdemeanor count each of introducing and delivering a misbranded drug into interstate commerce in a plea agreement offered by federal prosecutors on April 28.
Both officers originally faced up to a year in prison, as well as five years probation. As a result of the agreement, however, they received one year of unsupervised probation with no jail time.
The officers' attorney, Alison Berry Wilkinson, commented in an e-mail to New Times that plea agreements in these types of federal cases contain a standard clause that prohibits those convicted from possessing a firearm: "The U.S. Attorney's Office, recognizing that this was an understandable mistake that the officers made, voluntarily removed that clause from these plea agreements specifically to make sure the plea did not result in the loss of their jobs. That is highly unusual," she wrote.
The U.S. Attorney's Office declined to comment on the plea agreement.
"The judgment error made by the officers in this situation was to trust what the pharmacist told them was legal to bring into the United States," Wilkinson added. "This situation is analogous to the judgment error made when someone has that last glass of wine before leaving a restaurant, believing that they have not consumed enough to exceed the legal limit, only to discover that they were wrong. Regular citizens and officers make that judgment error all the time."
Wilkinson said the two plan to appeal their dismissal within the next few days.
According to City Attorney Christine Dietrick, the former officers have collected $305,228 in total compensation since going on leave in September; Limon received $154,697 and McDow $150,530. Both officers have been with the department for approximately nine years.
Dietrick said legal fees associated with an appeal would be split evenly between the city and the appellants, and that any personnel decision would ultimately only be advisory to the City Council, who would have the final say.
In an attempt to "restore the public's faith in the [department] and renew their commitment to this community's safety," Wilkinson wrote, the pair has offered to take unpaid suspensions, volunteer in the community to repay the debt incurred by their being on leave, and to "share their experiences as well as the lessons learned so that similar mistakes are not made by others."
"These are two hardworking, dedicated, effective officers," Wilkinson wrote, adding that Limon was the city's 2009 Officer of the Year.