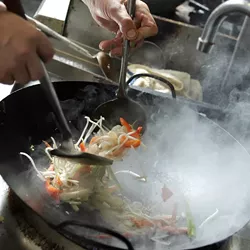 T
he first point I must make is that SLO natives need to know the opening of Mee Heng Low Noodle House should not be confused with the original Mee Heng Low opened by the Gin family. The early version was open during the time when SLO actually had a "Chinatown." Locals keep popping in hoping for the egg foo yung everyone came for at this historic restaurant. Second-generation San Luis Obispan, Lori (nee Mainini) Hall, describes it as fluffy and fresh, dressed with a delicious dark gravy, a dish even her children loved. The new noodle house, however, is nothing like its predecessor. Now it's a contemporary eatery run by two accomplished chefs who are highly respected among their peers.
The historic location has been restored by chefs Paul and Diane "DeeDee" Kwong, Central Coast professionals for more than 20 years. When I interviewed them, Paul recalled the story of a woman who stopped in and asked if they had rice: "I told her no, we're a noodle shop. She said, 'So if I want to order chop suey over rice, you can't give me rice?' No, I told her, we don't have any rice, we have noodles. This went on and on like a Monty Python skit, we must have repeated rice and noodles seven times. She just didn't want to believe we don't have rice," the good-natured chef laughed.
What they do offer are incredibly generous bowls and plates of noodle dishes, value-priced from $7 to $10, that you personalize for yourself. How fun: I love the concept. The unimaginative, of course, can choose something off the daily specials board, which provided me with my favorite dish, so far. Noodles, pasta, no matter what it's named, it's my soul food.
On my last visit I ordered the daily special of twice-cooked pork over flat noodles with cabbage, bok choy, bean sprouts only lightly dressed with soy sauce, garlic, and spices, and I was so pleased. The spicy Kurobuta pork (known as black Berkshire pork elsewhere) was perfectly spiced, deliciously tender, and a wonderful contrast to the noodles and veggies. I like the fact these chefs abhor over-gravied dishes that are so old school and out of tune with current trends toward healthier cooking. I ate it until I was stuffed and still couldn't finish it. I enjoyed this dish with Chinese green tea, brewed in a special tea cup. Regular readers know I prefer the appropriate wine; Riesling, Gewurztraminer, or Pinot Gris would be terrific here, but the Kwongs are currently in the process of getting their beer and wine license approved. Once they have it they plan to offer special beers from local expert Firestone Walker Brewery and our excellent local wines.

JUST NOODLING: Mee Heng Low Noodle House is located at 815 Palm St., SLO. It's open Monday – Saturday, 11 a.m.– 9 p.m. Call them at 594-1500.
Last summer when I first heard about Mee Heng Low Noodle House in SLO, I was eager to run right over and check it out. But it's hardly fair to any restaurant to have a reviewer show up when they've only been open a few months. Having walked in their clogs (the preferred kitchen-gear of chefs like the Food Network's Mario Batali), I know how stressful it can be to open a new restaurant, everything that can go wrong will go wrong. And that old saw is true no matter how experienced the chef who owns and operates the restaurant.
In this case, both of the Kwongs are highly experienced chefs who've worked with some of the most talented chefs in America. Between them they've worked with this country's renowned chefs. DeeDee worked for Mark and Nancy Peel at Campanile Restaurant in L.A., Lydia Shire at the Four Seasons Beverly Hills, and Elke Gilmore of Chameleon in L.A. She and Paul both worked for Shire at the Four Seasons. Paul was at the Biltmore Hotel when he hired a talented young chef destined to become a star named Mario Batali. Professionally trained as a chef in England, Paul has worked in the upscale hotel restaurant industry for most of his 40-year career.
Many locals remember Paul from his popular SLO restaurant, the Rhythm Café. DeeDee noted: "Long before it became trendy, 90 percent of the produce was from local farms. The farmers would ask Paul what he wanted them to grow from the book of specialty produce and fruits." He closed the Rhythm Café in 1994 and spent the next five years at the Hilton Hotel in Santa Maria and then became chef at the Embassy Suites in San Luis Obispo, where he remained for a decade. Fatigued by the corporate world, he's finally realizing his dreams in creating the Chinese cuisine at Mee Heng Low.
Despite their combined skills, the Kwongs preferred a soft opening to get everything running smoothly at the noodle house. But in the first six months, even the best laid plans can run awry. They opened quietly on July 3, 2009, and news of the noodle shop spread quickly, faster than they ever imagined. DeeDee admits she was surprised: "People started finding out about it and we weren't ready. I would come to the shop and find a line formed up out front."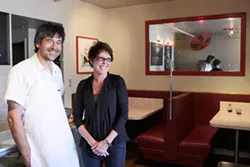 PHOTO BY STEVE E. MILLER
WELCOME : Paul and DeeDee Kwong have a good thing going at their newest venture, the beloved Chinese restaurant near the Palm Theatre on Monterey Street in downtown SLO.
After waiting as long as I could, I finally visited with an old friend, Linda Parker, and we shared several dishes: with the chow mein with fresh vegetables served on a crisp, fried noodle cake we chose chicken and peanut sauce, tangy and lightly spiced (not sweet). We enjoyed the subtle spiciness of the dish. Paul prefers to offer chile garlic sauce on each table so you can raise the spice level to your degree of heat. We also had the low mein—fresh big noodles with shrimp and black-bean sauce. I liked it more than my friend and thought it was similar to what I often had in San Francisco's Chinatown restaurants.
For dessert we tried the vanilla custard with macadamias and brittle. Surprisingly, the topping wasn't crunchy like a crème brulee, more a soft caramel with macadamias. Paul explained he can't caramelize the topping because it burns the macadamias. Nevertheless, it was delicious, a perfect custard that is exactly what he wanted: as you dig into it the caramel oozes into the custard for a sensational taste treat.
This restaurant offers comfort foods at a value pricing, enjoyable whether you dine in the small dining room or order take out. "There's nothing like the satisfaction of taking raw products and creating a delicious dish that makes people yell 'thank you' to me in the kitchen," Paul concluded.
You can reach New Times' Cuisine columnist at khardesty@newtimesslo.com.