Hayley Thomas is a ridiculously adorable 24-year-old with flaming orange hair and lipstick so red it seems to continually blow kisses from her face. She's wearing a form-fitting leopard-print dress and a cute-as-heck cropped jacket, with some sweet little black and white shoes. In short, she's tragically hip, making her the perfect person to reveal to the public SLO Town's underexposed musicians and artists.
PHOTOS BY GLEN STARKEY
HER WORLD: Hayley Thomas—local musician, journalist, and gal about town—unveils to the public her new free music and culture zine Swap!
PHOTO BY GLEN STARKEY
THE DOCTOR IS IN: Comic book, graphic novel, and game shop Dr. Cain's Comics and Games opens its doors to SLO's newest zine, Swap!
It's Friday, Jan. 13, but it feels like nothing unlucky could happen in Dr. Cain's Comics and Games, where a small mass of equally hip people mill around soaking up the scene and grabbing free copies of Hayley's new zine Swap!
In her editor's note, she's written, "Support from local businesses and the creative energy of a handful of likeminded folks have allowed me to take this first stumble into self-publishing with a song in my heart. It took a childlike willingness to try, a rejection of the status quo, and an earnest belief in the magic of public participation, but that participation begins and ends with you, dear reader."
The zine goes on to feature a story about Jono Fredrick's one-month foray into the wilds of Big Sur, a list of some concerts, a saga of one man's journey through seven of SLO Town's ubiquitous coffee houses, an interview with Nipomo rockers The Marquees, a profile of "Dirty" Curtis Campbell—one of Hayley's bandmates (she's in three bands: Hayburner, Magazine Dirty with Campbell, and Tarweed Two with her boyfriend and Dr. Cain's owner Reid Cain)—a look at local sci-fi/fantasy author Leonard Carpenter's work, a look at fan fiction, an interview with a band that hosts house concerts, and an interview with "two dudes in a sweet van on a 200 day tour."
There's a lot of surprisingly interesting writing packed into this little zine! Look out, Lynt, you've got some competition.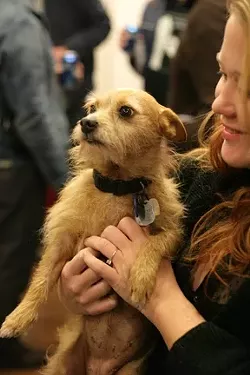 PHOTO BY GLEN STARKEY
SHOP DOG!: Mavis, a cairn terrier and Chihuahua mix that used to belong to me, is now Dr. Cain's new shop dog. Grrrrr! She snuggles up with Anna Robertshaw.
PHOTO BY GLEN STARKEY
MAKING THE SCENE : The crowds came and went through Dr. Cain's narrow shop.
"So Hayley," I ask, "are you going to put a Page Three Girl on page five like Lynt?"
"I want to do a fake Page Three Girl," she admits, before revealing that she's the community reporter of the Paso Robles Press. "I'm a writer first and foremost. I just feel like there're a lot of very talented and interesting people around here. I play music with a lot of these people, and I feel there's a plethora of stories, knowledge, and artwork out there, and I want Swap! to be a vehicle for that. This is my world, and I'm giving you a little peephole into it. I'm giving people who don't have a voice an opportunity to be creative."

GOT A STORY?: Swap! zine is always looking for stories and events to promote, so drop editor Hayley Thomas a line at swapzineslo@gmail.com and send her your writing, art, and ad inquiries. Her zine is available at select coffee shops, record stores, art galleries, bookstores, tattoo parlors, and hair salons.
Hayley, who's "half from L.A. and half from Atascadero," has only lived in SLO for about a year, and she admits, "It's kind of ambitious of me to think I have enough street-cred to do this," but that's not going to stop her from taking San Luis by storm. She's got one secret weapon that will propel her to greatness: I gave Reid, her boyfriend, my ex-dog Mavis, who's now Dr. Cain's shop dog. Pick up a copy of Swap! or Mavis'll gnaw your ankles! Grrrrr! ∆
Glen Starkey takes a beating and keeps on bleating. Keep up with him via twitter at twitter.com/glenstarkey, friend him at Myspace.com/glenstarkey, or contact him at gstarkey@newtimesslo.com.