PHOTO BY GLEN STARKEY
THE MAN OF THE HOUR : Michael Ackerman is living large at his opening for "Bare Naked Anima" at Sustenance Cooking Studio on Nov. 5.
Hey look! There's a big, fat, white canvas set up on an easel with a table of paints and brushes next to it. I can't resist defiling such a pristine canvas, so I squeeze out a big glop of red and have at it. Then some yellow. Ta-da! I just officially started the group painting at Michael Ackerman's art opening for "Bare Naked Anima," his show at Sustenance Cooking Studio (2033 Santa Barbara St., SLO).
I'm enjoying a frosty cold PBR when a person who embodies cheap beer walks in. It's Don Lampson, troubadour and raconteur. He's with his hotsy totsy babe Peg Grady, a terrific local artist.
"So are you sure we can paint on that?" she asks, gesturing to the now deflowered canvas. "I mean, you could be trying to lead me astray."
PHOTO BY GLEN STARKEY
ARTISTIC POWER COUPLE : Singer-songwriter Don Lampson and his artist partner Peg Grady make the scene.
"Peg, if I could make you do something you'd regret, believe me, I would," I say.
Then in walks the man of the hour, Michael Ackerman himself.
"Glen, I want you to know that the girl who left me behind is standing right over there," he says in reference to his tangle with the City of SLO over his former Garden Street gallery's metal façade that resulted in him losing a girlfriend. "She's a wonderful part of my life."
"I thought she left you?"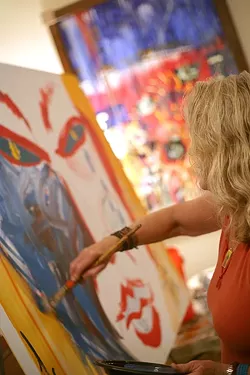 PHOTO BY GLEN STARKEY
A LITTLE DAB WON'T DO YOU : Barbara Morningstar takes a few well-placed swipes at the communal painting.
"The point is, she's here. I also invited the family members who left me."
They didn't come. Neither did Michael's dad. In fact, Michael tells me a few friends and family members who had planned to come changed their minds after last week's article. Too many yoni references. Oh well.
"That's fine with me, because I'm willing to face up to 100 percent of my horseshit," says Michael. "Reality is what we make precious, so my horseshit is reality."
I'm only one beer in, and I already have no idea what Michael's talking about, but there's Barbara Morningstar heading to the canvas to toss some paint around. My formerly beautiful beginning is quickly disappearing under layers of color. People are really getting into it, and like breathing, the crowd in Sustenance comes and goes, eating cheese, drinking Vin Fuzion wine, painting, and leaving.
PHOTO BY GLEN STARKEY
TAG TEAM : Abby Berger (left) and Sandra Pendell team up to whip the group painting into shape.
Speaking of weirdness, let me make a side note of Vin Fuzion. First, it's delicious, apparently sourced from 100 percent organic grapes. Then it's somehow "infused" with the properties and spirits of precious and semi-precious stones.
Hmm. A fruity nose with a hint of the healing powers of amethyst.
I drift from one group to another, enjoying the witty art opening banter. Art After Dark is truly a great way to meet people and get your free food and drink on, and of course, there's always the wonderful conversation.
PHOTO BY GLEN STARKEY
DESTROYER OF WORLDS : Mark Pietri tells me how he ruined Rodney Dangerfield's career.
"Come here often?" I ask this really, really hot chick.
"I work here, dumbass. I'm your girlfriend."
Damn that free PBR!
Then I see pianist Mark Pietri.
"Say something smart and funny, Mark."
"It was a drive-by arting," he offers, then adds, "Angels with Angles. Did you know I wrote that [film] for Rodney Dangerfield and Frank Gorshin? It's true! I had the dubious honor of killing two great actors' careers with one script. When I came on the project, I put Cuban cigars in it."
Sometimes Cuban cigars are all that's needed to kill a script. I mean, look what they did to this column.

Glen Starkey takes a beating and keeps on bleating. Keep up with him via twitter at twitter.com/glenstarkey, friend him at Myspace.com/glenstarkey, or contact him at gstarkey@newtimesslo.com.