There's more live music this week than I can shake a stick at. I know. I've been shaking a stick for, like, six days, nine hours, and 20 minutes. My arm's about to fall off and there's still some concerts that've not had a stick shaken at them. Shake, shake groan, wheeze, sigh.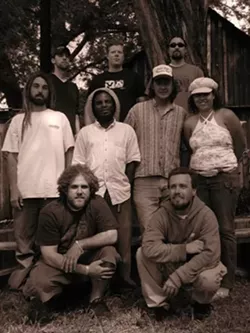 PHOTO COURTESY OF RESINATION
ONE NATION, UNDER JAH SLO : County's favorite reggae act, Resination, headlines the daylong SLO Music Fest II on Sept. 22 in the SLO Mission Plaza. In addition to all the bands, Democratic Presidential hopeful Dennis Kucinich will speak at 12:45 p.m.
# Okay, so instead of going strictly by date, I'm gonna break it down for you by date but within genre, and what better genre to start with than reggae, since the preponderance of shows this week are big smokable fatties?
First up is the SLO Music Fest II, a daylong festival featuring (mostly) reggae acts on Saturday, Sept. 22, in the SLO Mission Plaza from noon to 10 p.m. Resination, which not too long ago packed The Cliffs' Sunday afternoon outdoor concert series with a record-breaking crowd, will headline the festival, which also features Jamaican-born Ras Danny and the Reggae All Stars. Danny's recorded at Bob Marley's studio in Jamaica and is a seriously spiritual, rootsy Rastaman. The day also includes Sisteh FiYan, bluegrass and beyond act the Cuesta Ridge Mountain Boys (who happen to be my favorite local band to see live), Ras Rebel, The Kicks, Sacred Skin, and some kickin' DJing in between acts. There'll be food and vendors galore, and tickets for this all-day fest are only $20 advance (at Bali Isle call 544-7662 for info) or $25 at the gate, which opens at 11 a.m.
As an added bonus, my favorite Democratic presidential candidate, Dennis Kucinich, will hit the stage at 12:45 p.m. to talk about his vision for America. Even though Kucinich, who will be accompanied by his wife Elizabeth, doesn't have a snowball's chance in hell of winning the nomination, for my money he's the only candidate who stands by his ideals with integrity. The rest of the Demo field is populated by politicians more interested in being elected than telling the truth.
After the SLO Music Fest ends at 10ish, you can head to The Clubhouse, which is getting in on the reggae explosion, too, as they bring Natural Incense to the Foothill Boulevard club on Saturday, Sept. 22, beginning at 9:30 p.m. Formed last year down in Isla Vista, the trio has already mastered the dub-rock sound, sending out a positive vibe that is "expressed in true emotion through soundscapes that initiate an environment for all to love and respect one another and life itself," according to the band.
Let's continue with reggae legend Toots & The Maytals, who play Tuesday, Sept. 25, at Downtown Brew to support their newest CD, Light Your Light.
Frontman Toots Hibbert, the Grammy-winning "Skafather" of
PHOTO COURTESY OF THE HYDRAMATICS
GREASIER THAN A HEMI WITH A BLOWN HEAD GASKET: Slicked up rockabilly and roots rock kings The Hydramatics will deliver a dose of their patented rock'n'roll at the Frog and Peach on Sept. 22.
# Jamaican music, made his early rep playing on 45s, those 7-inch vinyl platters playing through sound systems and juke boxes in the Caribbean island. Now it's the 45th anniversary of Toots' entry into the recording industry. Either that's some kind of cosmic confluence of numbers or I've been smoking too much reefer: You decide. Wait, don't decide yet. Toots was born in 1945 in the Jamaican country town of Maypen, Clarendon. More 45s! This is scarier than Jim Carrey in The Number 23! Pass me the bong.
Toots is also credited with coining the term reggae. After he formed the Maytals in 1962, four years later, the band won the first Jamaican Festival Song competition with their hit "Bam, Bam," and two years after that the Maytals released their 1968 smash "Do the Reggay."
Toots recalled, "I say, let's do the reggae, and that's the way it is. Coming from the soul, from consciousness, life, and living. Reggae is a God music, coming from the vibes of the Rastafari it's coming from the dreadlocks."
Tickets for the 21-and-older Toots and the Maytals show are $26 advance at Boo Boo's and ticketweb.com.
Too pricey for your college budget, champ? Not quite 21? How about Groundation, who also plays Tuesday, Sept. 25, for an 18-and-older show at The Graduate. Tickets are $16.50 at Boo Boo Records and other Vallitix outlets ($20 at the door).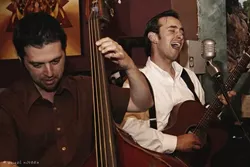 PHOTO BY ABIGAIL NOVEEN RICKERTSEN
SING IT, JODY! : The Johnny Starlings, fronted by Jody Mulgrew (right), play Linnaea's Cafe on Sept. 23, for a rare un-pass-the-hat show. This one will set you back $10 for tickets (available in advance at the cafe ).
# Groundation mixing reggae, jazz, and dub has become a worldwide movement creating a global community of fans that continues to grow. They've played shows in 14 countries spanning four continents, playing before 45,000 fans in Morocco, 10,000 people in Sao Paulo, Brazil and 15,000 during a headlining spot at SummerJam in Germany.
Hawaiian act Humble Soul & THC will open, as well as DJ Morning Rise Sound.
What's that, stoner? Still haven't had enough reggae? No problem! Downtown Brew comes to the rescue again when it brings Israel Vibrations to the club on Wednesday, Sept. 26. Israel Vibrations members Cecil Spence (Skelly) and Lascelle Bulgin (Wiss) were born in Jamaica, West Indies both victims of polio. As kids, the two met at the Mona Rehabilitation Center, where they developed survival skills and the willpower to overcome their affliction and tap into their creative abilities.

Santa Barbara locals Rebelution will open the 8 p.m., 21-and-older show, which costs $22 advance at Boo Boo's or $24 at the door.
Just so you know, there's a ton more reggae coming to Downtown Brew over the next couple weeks. Mark your calendars for the Expendables playing Thursday and Friday, Sept. 27 and 28 for Resination on Saturday, Oct. 6 Midnite on Sunday, Oct. 7 and Iration on Tuesday, Oct. 9.

Jazz you up
Eddy Burgos, the mastermind behind Numbskull Productions, is usually promoting punk shows, so when he wrote to me about jazz trumpeter Christian Scott, I was unprepared for so much gushing: "Starkey, you have to alert the masses about this guy, a young bebop cat that really gets it. He's really pushing the limits of the genre, just like his forefathers did. He's already signed to the powerful William Morris Agency. This is a bragging rights show if their ever was one."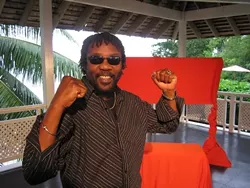 PHOTO COURTESY OF TOOTS AND THE MAYTALS
THE SKAFATHER : Grammy-winning Maytals frontman Toots Hibbert brings his band Toots & The Maytals to Downtown Brew on Sept. 25, one of half a dozen upcoming reggae shows at the club.
# Sure enough, I started checking around, and lo and behold Scott is being hailed as the new Miles Davis, and praise doesn't come much higher than that. His new Concord Jazz release, Anthem, finds Scott's horn soaring through a series of progressive grooves not the bebop retreads of the '90s that saw so many young players retreading rather than reinventing the genre, but a true reinterpretation of what bop sounds like while remaining true to its spirit of improvisation and outsider exploration.
At just 24, Scott is a plugged-in cat who works through neo-soul and hip-hop-influenced sounds on his way to his own spot in jazz history. And Anthem also serves as another historical marker the New Orleans' native wrote the compositions after Katrina.
"My life changed completely," he said. "So, the compositions on Anthem aren't just about one thing. They're about all kinds of things, while they definitely have some political undertones. But one thing is certain. The house I grew up in is gone. There's no home in the Ninth Ward."
See Christian Scott on Friday, Sept. 21, at 8 p.m. in Downtown Brew. This 21-and-older show costs $10 at the door.
The Mike Raynor Group continues with its City Lights Concerts series when it brings vocalist Sacha Boutros to the Inn at Morro Bay on Friday, Sept. 21, for a 7:30 p.m. show. Singing in English, Portuguese, and Spanish, the classically trained vocalist has a 4 1/2 octave range. She can sing anything from blues to opera, but when asked what her favorite genre is, she replied: "I love Jazz, so that's what I sing. It's in my soul."
Jazz guitarist Gary Lehrer will appear with his band, Wholly Jazz, at Taste of the Central Coast on Sunday, Sept. 23, at Cypress Ridge Golf Course from 3 to 5 p.m. Wholly Jazz plays modern interpretations of popular jazz standards. For more info, visit tasteofthecentralcoast.com or call 781-3535.

Folk, country, and bluegrass you up
Bluegrass studs The Chris Cairns Band will release their new CD, Hello Blue, on Friday, Sept. 21, when they play a 7 p.m. show at Morro Bay's Coalesce Bookstore (tickets are $15 call 772-2880). The Ventura-based progressive bluegrass act delivers a high-powered mix of original material, tight harmonies, and awe-inspiring instrumental work, and the players Chris Cairns (banjo, guitar, lead vocal), Tom Corbett (mandolin), Tom Lee (string bass, harmony vocal), and Mike Mullins (guitar, harmony vocal) are guaranteed to blow you away.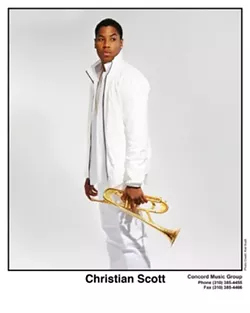 PHOTO COURTESY OF CHRISTIAN SCOTT
GREAT SCOTT! : Jazz trumpeter Christian Scott, who works neo-soul and hip-hop elements into his bebop, is being hailed as the next Miles Davis. See what all the fuss is about at Downtown Brew on Sept. 21.
# Americana/folk artist Brad "The Dudeboy" Rogers will make two upcoming special appearances in SLO Town, at Linnaea's Cafe on Friday, Sept. 21, 8 p.m. and at the Frog and Peach on Sunday, Sept. 23, 7 p.m. The Dudeboy tugs at the heartstrings, inserts a little reality check, and delivers a lot of heart.
Nashville-based singer/songwriter Mare Wakefield plays Linnaea's Cafe on Saturday, Sept. 22. Mare (pronounced like "Mary") struggled with an eating disorder as a teenager, so when she sings the chorus to her song "Barbie," she knows of what she speaks: No one really looks like Barbie, so come to the table and eat. "Barbie" is just one of the humorous and frequently poignant songs to expect at her 8 p.m. show.
Come Tuesday, Sept. 25, pipist Paddy Keenan and singer/guitarist John Walsh play an 8 p.m. show at Painted Sky in Cambria. The Celtic folk duo features Keenan's uilleann pipes. According to concert promoter and Painted Sky owner Steve Crimmel, "Recordings can't even come close to capturing the magic of [uilleann pipes'] sound. When I mention to our local musicians who really know Irish/Celtic music that I was able to book Paddy Keenan, they first thing they say after getting over the amazement is, 'When do tickets go on sale?'" The answer is now, friends. This all-ages show costs $22 advance, with tickets are Boo Boo's, the Cambria Business Center, or by calling 927-8330.

Rock and pop and hip hop you up
Get your steaming dose of rockabilly and roots music when The Hydramatics and The Crown Vics hit Frog and Peach on Saturday, Sept. 22, at 9 p.m. Cuffed jeans, greased hair, and hotrods optional.
The Johnny Starlings, with special guest Joey Ryan, play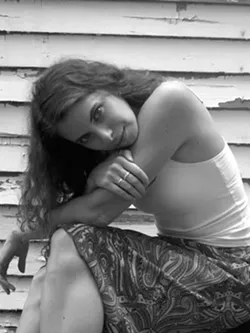 PHOTO COURTESY OF MARE WAKEFIELD
BETTER THAN BARBIE : Nashville-based singer/songwriter Mare Wakefield plays Linnaea's Cafe on Sept. 22, singing songs like the humorous "Barbie," made poignant by her own teenage eating disorder.
# Linnaea's Cafe on Sunday, Sept. 23, for a rare un-pass-the-hat show. This one will set you back $10 for tickets (available in advance at the cafe). The Johnny Starlings are fresh from a summer of warmly received performances, including a set at the Live Oak Music Festival. According to lead singer Jody Mulgrew, "Each time we've played Linnaea's we've packed the room and had to turn people away because of lack of space. It always breaks my heart, because it's one of my favorite rooms to play. We're grateful that the cafe is hosting this concert for us and giving people a chance to get their tickets early." Here's your chance to put your wallet where your ears are. Wanna see the Starlings and with L.A. songwriter and musical co-conspirator Joey Ryan? Cough up that sawbuck!
Oaktown hip hopper Del the Funky Homosapien returns to Downtown Brew on Sunday, Sept. 23, for an 18-and-older, 8 p.m., $24 advance (at Boo Boo's) show. Back in 1991, Del with his cousin Ice Cube's support and with part of Cube's backing band Da Lench Mob made his first solo album, I Wish My Brother George Was Here, marking the first appearance of Del's crew Hieroglyphics. He's grown considerably as an artist since then, which is why the public keeps demanding a return to SLO Town. Check it, yo.
After last week's schlockfest with middle-of-the-roaders Cartel, Cal Poly is trying to redeem itself with Everybody Else, a punchy little pop rock outfit with enough swagger and badtitude to make you forget they sound like The Archies almost! They play on Thursday, Sept. 27, for free at 11 a.m. in the University Union plaza, and for my money this band is a lot more interesting than Cartel, which played the 3,000-capacity Rec Center. On the band's new self-titled 12-track CD, the feel-good vibe is unrelenting, and the band says its philosophy is simple: "A good song will transcend its genre, its time, its popularity." Jump on the Everybody Else bandwagon before it's full up.

Accordion you up
Argentinean accordion wunderkind Chango Spaiuk plays Wednesday, Sept, 26, at 8 p.m. in SLO's The Monday Club for a $20 advance (at Boo Boo's, or $25 at the door), all-ages show. He's considered Argentina's leading interpreter of the Chamame, a lively brand of accordion music from the northeast part of the country where influences from Brazil and Paraguay not to mention a Ukrainian contingent that settled the area and the native Creole population come to bear. This marks the artist's first Central Coast appearance, and he's traveling with his five-piece band.

Classical and flamenco you up
The 2007 La Guitarra California Festival will be held from Friday, Sept. 21 to Sunday, Sept. 23, in the Performing Arts Center on the campus of Allan Hancock College in Santa Maria. The festival features an outstanding group of 23 highly acclaimed classical and flamenco musicians performing in 14 events: Pepe Romero (Spain), Scott Tennant (USA), Roland Dyens (France), Ana Vidovic (Croatia), Martha Masters (USA), Risa Carlson (England), Triada (three brothers from Bulgaria), Marcos Diaz (Spain), David Burgess (Brazil), Chris Burton Jacome Flamenco Trio, and local guitarists James Edwards, Tony Harmon, and Ray Pannell.
There will be 11 major concerts, three master classes, an unusual lecture/mini-concert, a guitar silent auction, dozens of guitar makers displaying their instruments, and a display of the famous Forderer Guitar Collection of Rare and Historical Guitars.
For more details, visit laguitarracalifornia.com. Call the box office at 922-8313 for ticket info.

Concert films!
Tuesday, Sept. 25, marks the first in a series of new and classic concert films being screened at the Fremont Theater. First up is Pearl Jam's Imagine in Cornice, filmed by legendary rock photographer Danny Clinch. Filmed during the band's 2006 tour, it features footage from venues in Northern Italy. It will be presented in high definition digital at 8 p.m. Tickets are on sale now.
Upcoming concert films include the Ramones' It's Alive 1974-76 Tom Petty's Runnin' Down a Dream Bob Marley's Live at the Rainbow and Jimi Hendrix's Live at Monterey. Keep your eyes on New Times for details. ?
CD Reviews
Broken Social Scene Presents: Kevin Drew Spirit If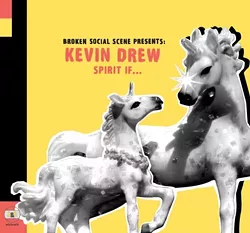 # The Canadian indie-rock collective Broken Social Scene pushed a large noticeable thumbtack into the musical landscape above our northern border and brought attention to a wide range of deserving artists who contributed to their sound: Feist, Stars, Amy Millan, Emily Haines of Metric, Memphis, and numerous more. But while these names grew under their own spotlight, BSS founder Kevin Drew has barely become a recognizable name equivalent to his cohorts. Now with a planned series titled Broken Social Scene Presents, each member will get a bold name on the marquee, with assistance from fellow scenesters. Still filled with the same orchestrated complexities and lush dynamics of BSS's previous two releases, Kevin Drew has slightly toned down the epic rocker in exchange for more straightforward though no less muscular song crafting. "Backed Out On The" features the shredding thunder of J. Mascis, and "Safety Bricks" has as much pop appeal as any track on Feist's Remainder album. Clocking in at more than an hour, there's plenty here to discover on your third or fourth straight listening.
Malik Miko Thorne, of Boo Boo Records and KCBX's "Night Train."
Federico Aubele Panamericana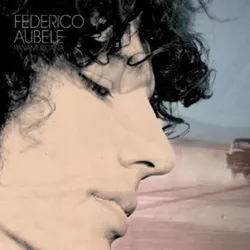 # On Panamericana, Argentine guitarist Federico Aubele replicates the sultry tango merged with intoxicating dub of his 2004 debut release, Gran Hotel Buenos Aires. With production assistance from the down-tempo electronic wizards of the Thievery Corporation, Aubele modernizes his compositions with flutters of background atmospheric echoes and sprinkles of synthesized effects, all hinting and often expounding on his appreciation of the headiness of Jamaican dub. But the heart of his album is still the tango ideas of composer Astor Piazzolla and the Latin guitar music of our neighbors to the south. With warm accordion tones, undulating with electronic effects and Aubele's deep tenor voice, "Pena" is the slow burning midnight dance, with the rose clutched between the teeth. Add the sexy Spanish vocals of Natalia Clavier, and collaborations with both Calexico (trumpet and wah guitars) and Los Fabulosos Cadillacs (horn section), and you have an album that translates the music of the Americas for a modern generation. If you like the retro-updated Parisian sound of Pink Martinis, think of this as its Latin companion.
Malik Miko Thorne, of Boo Boo Records and KCBX's "Night Train."
---
Glen Starkey comes in L and XL. Request him in a petite baby T and be denied at gstarkey@newtimesslo.com.