PHOTO BY STEVE E. MILLER
MAN OF THE HOUR! : Designer Francisco Castro and one of the models soak in the accolades after last Friday's show. May 21 will feature the collections of designer Kristina Michelle.
I
t's Friday, May 14, the day of Central Coast Fashion Week's second fashion show in a series of six. I'm chilling at home when I get a call from New Times'
receptionist Tanya Gallardo.
What do Brazilians call a bikini wax? I'll tell you one thing, they don't call it a Brazilian! Last week I thought I was being hilarious when I wrote this about Blade Runner Salon: "If I thought I could get away with a Brazilian, that's where I'd go. They're very gentle, I hear." Unfortunately, a towering Amazonian Brazilian model from the fashion show thinks I was making some veiled sexual innuendo about her, so she storms into the New Times office screaming for my head on a platter! Holy guacamole!
Thankfully I am not at the office because even after our charming receptionist explains I was referring to a bikini wax, the Amazon will not relent. "I don't believe you!" she screams in a charming Brazilian accent. What's a guy to do?
I hang up with Tanya and quickly text Central Coast Fashion Week owner Johnny Kenny, "There's some crazy Brazilian model who thinks I insulted her. WTF? Can you guarantee my safety tonight?"
LET'S PLAY DRESS UP!: This Friday, May 21, at 9:30 p.m. in Native Lounge, SLO Town's going to feel like Milan or Paris or New York when Central Coast Fashion Week continues as it hosts local designers, boutiques, and salons for "Haute Couture," this week with designer Kristina Michelle with hair and makeup by Tiger Lily and Avanti. Tickets are $10 each; entry to optimal VIP seating along the runway is $17 each. Buy tickets at Native Lounge from 5 to 9 p.m., Tuesdays through Saturdays, or online: centralcoastfashionweek.com. You must be 21 or older to attend. The shows run weekly through June.
He says he can, so here I am at 9:30 p.m. in front of Native as a line of fashionistas await entry into the hottest fashion extravaganza on the Central Coast. So much glitz and glamour! Even the VIP wristband I get is sparkly! Club music is thumping, so I head to the bar and immediately meet George Lukasheay, who's wearing knee-high jackboots, dark pants, and a cropped marching band jacket with military-style brass buttons and red piping. I mistake him for one of the models, but George is actually a fourth-year architecture student at Cal Poly with two piercings in one ear and four in the other. Where did he find this ensemble?
"I kind of take shit and modify it," he explains. "I grew up in the goth/industrial scene."
"Your hair is awesome," I venture.
"Normally I cut it myself about once a week," he says.
"I barely shave once a week," I add lamely, and then I see Johnny Kenny, who tells me how Central Coast Fashion Week, his company, is going to make our area "the Sundance Film Festival of fashion."
"We're going to be the premiere indie couture event, where we'll merge 30 indie designers with 30 indie bands," he says, gazing into the future where he sees a weeklong event peopled by the rich and famous. "We'll be a catalyst to launch these up-and-coming designers and bands to the next level!"
"That's pretty ambitious," I say incredulously. "Isn't SLO too small for that?"
"Sundance is a small town."
"Yeah, but it has Robert Redford, and you, sir, are no Robert Redford."
"We have Avila Beach, wine country, one of the best downtowns in the country," he says undeterred by my skepticism.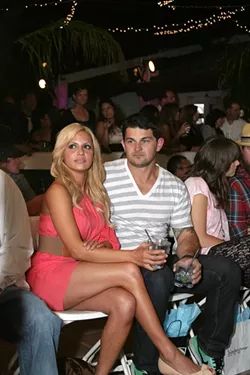 PHOTO BY GLEN STARKEY
CAUGHT! : Shireen Zorba (left), with companion Jeremiah Sites, gives one of the male models the Big Eye! Hubba hubba!
Johnny rushes off—he's got a fashion show to run, after all—but he sends over his lovely intern Jillian Bove, a 21-year-old Cal poly business major whose senior project is based on this event. She's wearing a fetching teal dress by French Connection and carrying a tawny-colored clutch by Michael Kors.
"What about your shoes?" I ask gamely.
"Oh, they're nobody special … well, Jessica Simpson, who's only good for shoes, not music."
Snarky! I like this one.
Hey, Chuck Liddell sighting! "Looking good, Chuck!"
Then I take my seat along the runway and meet Jillian's mom Jody Bove, who came down to see her daughter shine.
"So, what you wearing?" I ask, waiting to hear a list of designers.
"Ha ha ha! I don't know," she laughs.
"Your daughter knows what she's wearing!"
"Did she tell you I took her shopping for all that? She spent half an hour 'trying on' her clutch, posing in the mirror with it."
A group of guys has gathered in the back as the models strut down the runway, so I head over to listen in.
"It's like a drool fest … beyond," quips Andrew Turner, who with his partner Boone Bauer owns Pure Salon & Skincare in Grover Beach.
"This is nothing," says Boone. "I lived in Vegas for eight years, in the thick of it!"
After the show I see Shireen Zorba, who I totally caught giving the male models the Big Eye!
"Oh, I know them," she says dismissively. "I was trying to get them to laugh, and it worked!"
Oh crap! There's that Brazilian giant. I'm out of here!
Glen Starkey takes a beating and keeps on bleating. Contact him at gstarkey@newtimesslo.com.