He used to sneak into a trigonometry classroom at lunchtime in high school just to fill a chalkboard with caricatures.
Editorial cartoonist Russell Hodin said the trig teacher at Palisades High School knew about it but let it slide, until one day he drew something a little too critical of that teacher. That was the end of that.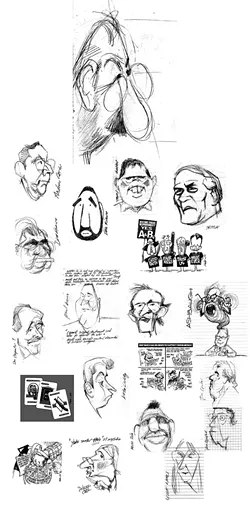 IMAGES COURTESY OF RUSSELL HODIN
SKETCHY BUSINESS : Notebook sketches of people like SLO City Councilmember John Ashbaugh and former SLO Mayor Ken Schwartz accompany finished cartoons in editorial cartoonist Russell Hodin's exhibit at Linnaea's Café.
"But it was pretty lightweight," he said, especially compared to some of the cartoons he draws today. A good for-instance would be the cartoon he penned for New Times' Oct. 13 issue—a Republican elephant up to his trunk in a toilet on top of a brown-colored United States. Yes, we got phone calls about it. And everyone's entitled to speak his or her mind, according to the First Amendment.
Free speech is messy and so is the American democratic system, which is something Hodin hopes you will reflect on as you view his Throw the Bums Out exhibition—a collection of cartoons and notebook sketches from 2007 to the present—installed at Linnaea's Café through the end of October.
"We expect our governments to function with some basic level of efficiency, … that they be capable of communicating and of reaching compromise, that they have a sense of responsibility to their community and to the future," his artist statement posted at Linnaea's reads. "It's actually a lot to ask, in the context of a messy system. But we need it to be messy. … Embrace it. It is the envy of the rest of the world and a great gift from our forebears."
After high school, Hodin's cartoon commentaries made appearances in UCLA's student newspaper, The Daily Bruin, while he attended school there. He moved on to Cal Poly, and then to Cuesta College because he was "sick of going to Poly," all the while focusing on fine art, drafting, and architecture.
In the 1980s, there were a couple of issues that really got SLO County riled up—including the potential proliferation of offshore oil platforms along the California coast and the state's push for local jurisdictions to commit to future allocations of state water because California wanted to build a water pipeline to connect Central Coast cities to the State Water Project.
"Those two issues, I did a slate of cartoons on each of them and took them around to all the [local] papers," Hodin said.
Eventually, a slot opened up at New Times and founder Steve Moss said "Yeah, let's do this!" Hodin said. "So for peanuts, I started."
He's done carpentry, architecture, and design for 25 years—at least, when he's not attending candidate forums, city council meetings, or county Board of Supervisor meetings with his sketchbook in hand.

POLITICAL REFLECTION: Embrace democratic messiness with New Times cartoonist Russell Hodin's exhibit at Linnaea's Cafe, 1110 Garden St. in SLO, through the end of October. Prints of his cartoons are for sale, too!
Hodin is intimately aware of the issues that have affected the county for the last three decades, and the politicians who have wrapped themselves up in the fights over environment, development, roads, etc. He studies the posture, movements, and facial expressions of politicians and activists who eventually become the subjects of his editorial cartoons. Butcher paper filled with some of those sketches is part of his exhibit at Linnaea's. They sidle up next to color-spotted cartoons of PG&E, President Barack Obama, county supervisors, and other hot topics that ran in New Times at one point in the last nine years.
And although he sometimes laments a lack of feedback on his work, he knows one thing's for certain: He couldn't do what he does well without a good editor.
"I have an editor at home, Elizabeth Johnson, she's an excellent artist and an excellent critic," Hodin said. "If she looks at something and goes, 'huh?' then I know I need to change it."
Editor Camillia Lanham knows she needs to give Hodin more feedback. Send her comments at clanham@newtimesslo.com.