Ed. note: In full compliance with confidentiality laws and the spirit of that code, this story assigns pseudonyms to certain children and parents mentioned in the case files. These cases, similar to the ones investigated by three separate incarnations of the San Luis Obispo County grand jury, cast personal light on a topic spotted with incidental and monochromatic coverage. It's essential in discussing the direction of a system under ongoing reform to illuminate authentic instances of apparent past abuses in order to identify the climates conducive to future ones.
A six-month nightmare ...
... for Marla* and her family began late in the fall of 1999. Like so many family disagreements, it sprouted from minor domestic tension, further escalated by misplaced aggression.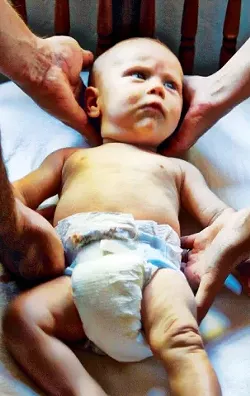 Photo by Jesse Acosta
REACHING OUT: : Is Child Welfare Services putting the county foster kids into the right hands? Tragic cases point to apparent systemic problems, but department officials maintain that they want to examine reported wrongs.
# Thirteen-year-old Carrie* already exhibited the signs of adolescent psychological and emotional problems stemming from the untimely death of her father long before Child Protective Services (CPS) entered the scene. Displaying symptoms of bipolar disorder, the child possessed a well-documented history of emotional disturbance reaching back to pre-adolescence.
Fundamentally, Carrie was a typical angst-riddled teenager only more so. Perpetually at odds with her mother, the girl appeared hell-bent on escaping a situation she viewed as repressive and unjust. One day, with the help of county officials, the rebellious teen finally found a way out. She filed physical abuse charges at the coaxing of a foster parent who appeared to stand in line for financial gain. A police investigation initially refuted the allegation, but when Carrie resubmitted charges a few days later, CPS swept in.

It was late that summer when Carrie first went into the home of foster caregiver Debra Lynn Kie. Marla, Carrie's mother, alleges that Kie made something of a living if not a profession off of receiving children and taking care funding under the table, though Marla knew nothing of the practice at the time. The mother said she naively agreed to pay a stipend of $800 a month, curiously requested in cash, for care of her daughter until Social Services placed the girl back at home toward the end of September. In the meantime, Carrie, far removed from any parental supervision, enjoyed a sweeping carte blanche.

Almost instantly upon the girl's return home, the conflicts resumed. Upset over being grounded for skipping a tutoring session, Carrie twice told investigators that Marla abused her, but no concrete grounds existed to take the child. Carrie took the initiative. One day, the girl went to school in her native Arroyo Grande and decided not to go back home. Marla wouldn't so much as see her daughter for another two months.

"It's frightening that, in America, a child can get on a bus one day for school, and never return home," Marla said of her daughter's disappearance.

Carrie wasn't hopping a train out of town she merely decided to move into the Kie house again, with Social Services' blessing. CPS officials opted to ignore the investigation information and, largely based on the testimony of a rebellious teenager, placed Carrie in foster care with Kie.

Marla alleged at this point that CPS supervisor Crystal Rose hit the distressed mother with an ultimatum either immediately accept the voluntary placement for Carrie or the agency would file dependency proceedings. Marla signed an agreement appended with a case plan timeline that Social Services later disregarded.

Eventually, the investigation results came back from the county sheriff's office, but changed nothing. When detective Steve Crawford dropped physical abuse charges, the focus swiftly strafed toward a verbal-abuse allegation.

In February of 2000, an examination of Carrie by county psychologist Dr. Janice Matlock revealed no evidence of verbal abuse. Even though observations made in previous psychological reports universally supported her conclusion, CPS kept the child in foster care. Spurned by Marla's outspoken impatience with the system, caseworkers explored the possibility of a dependency hearing as late as April two months after Matlock delivered her report to staff, a document that contradicted the basis for holding Carrie after Crawford dropped abuse charges.

Kie, with the help of a 14-year-old girl and a little frustration on behalf of the mother, apparently managed to play CPS like a drum.

"I am of the professional opinion that CPS allowed [Carrie] and Debbie Kie to manipulate the system," psychologist Matlock wrote in a letter to county officials.

She went on to explain several instances in the CPS case file in which the foster mother proved inattentive.

"The effect of this negligent environment on [Carrie] was to support her distorted belief that she should have absolute freedom to do as she pleases," Matlock wrote.

With verbal abuse charges dissolved, the reasoning again shifted. Next on the docket: Carrie could not return home because she constituted a danger to her younger siblings. This point of contention provided justification for holding the child until late in the spring. Caseworkers continued locking horns with Marla, though the mother's accounts differ drastically from the official documents. Marla claimed they threatened to make her the focus of an extensive county investigation, and even warned they might place her other children in foster care.

Meanwhile, CPS placed Carrie in a second home, apparently in response to the part of Matlock's report slamming Kie as negligent.

"Debbie Kie isolated Carrie from me," Marla explained in a 2001 complaint to state licensing official Pam Jordan. "I was getting calls from concerned parents about where and who they saw Carrie with. Debbie always had a story, but I started catching her in lies about where Carrie was."

During a late-April meeting between Marla, CPS caseworkers, school district officials, and county mental health examiners, the council of interested parties concluded that Carrie needed to return home.

Sources close to Marla said that her adamant disdain for the whole horrific process no matter how justifiable drew the fight out considerably. Case reports indicate palpable bitterness toward the mother, whose name frequently precedes adjectives like "angry" and "aggressive." Matlock reported that in conversations with Rose, the CPS supervisor harrumphed at the notion of apologizing for a mistake that cost Marla more than $7,000 in payments and kept Carrie away from her home for six months.

"Are you kidding?" Rose responded, according to the psychiatrist's testimony. "We never admit we were wrong."

Citing compliance with confidentiality laws, Rose declined to comment or discuss the case with New Times to any extent.

Despite sporting an extensive track record of minor fraud and numerous probation violations, Kie then a provider for Aspira Foster Care took many children into her home over a five-year period. Notarized county documents indicate that a procession of social workers and placed adolescents previously filed numerous complaints against the woman.

Employees with Aspira's Grover Beach office declined to comment, stating that no member of the current staff was around when Kie provided foster-care services for the agency.
In the darkest of days ...
... a group of retired North County residents banded together against the corruption they believed festered within the system. Retired county official Sue McMeans founded the Real F.A.C.T.S. (Forum on Abused Children and the System) with a few like-minded grandmothers, hoping to illuminate the need for oversight of CPS and SLO County Social Services at large.

During a substantial career with San Luis Obispo County, McMeans testified to witnessing the worst of the agency's ill tactics: Manipulated reports. Destroyed or discarded case information. Vindictive action against parents. Poor investigations. Even poorer background searches into licensed caregivers. The villainously creative practice of backdating documents.

Threats.
The more involved Real F.A.C.T.S. became in individual cases, the more McMeans said she became engulfed in the thick muck of civil rights abuses against families even herself. While awash in one case in 2000, McMeans claimed that former CPS supervisor Marilyn Stein told a few of the Real F.A.C.T.S. ladies to back off if they wanted to stay involved in the lives of their grandchildren.

"She told us to stop putting things in writing ... or else," McMeans recalled of the rendezvous. "She looked at me and said, 'Who do you think the judge will believe?'"

Marilyn Stein retired from Social Services after the department director demoted her for a separate incident. She responded that she has no recollection of this encounter with McMeans.

Not long after Real F.A.C.T.S. formed, a tempestuous Atascadero rancher-type with a thunderous voice walked into the Social Services office on south Higuera for the first time. He showed up aiming to secure medical assistance for a disabled friend getting low-balled by the county.

At first, Bob Kirk admitted, he didn't know quite how to play the game. He employed his usual blunt bravado against the officials, levying accusations with case files in hand. The tactic nearly landed him in a legal brew even Social Services top dog Lee Collins issued Kirk a warning.

"He was blunt and I was blunt back," Collins said. "He came in with nothing but allegations, and I told him to put up or shut up. Bring me documentation and facts."

"In those days, I was so innocent," Kirk said. "I was like a 5-year-old in my 60s. I just did not realize how corrupt the system was."

Eventually, Kirk got his bearings and ran into McMeans, at that point thoroughly overloaded with cases. Kirk picked up a few of the more contentious ones and became familiar with a bevy of questionable foster homes. For the next several years, the Atascadero man spent his time in and out of courtrooms, pushing cases in front of administrative judges. The strain started taking a toll on his health.

"The only way you can deal with these bastards is to appeal everything," he explained. "It's a pain, but a man's gotta look at himself in the mirror when he shaves."

In the winter of 2000, McMeans stumbled upon the case of a woman whose four kids were placed in an allegedly abusive home. The mother, Kelly*, became concerned when she noticed bruises and a protruding cheekbone on her younger daughter, 3-year-old Ashley*.

McMeans witnessed a CPS caseworker's inspection of the children, and what she saw simply stunned her. When Kelly asked Ashley where the bruises came from, Paul*, the girl's older brother, purportedly blurted out, "She still pees on the floor," and then quickly covered his mouth. Both McMeans and the mother interpreted Paul's reaction as a sign of abusive punishment, and Kelly promptly filed a complaint.

The matter, however, never reached judge or jury. CPS adamantly defended the foster caregivers and thoroughly dismissed and allegedly manipulated Kelly's allegation. A gleaming review of the foster home officially deflated the mother's charges, after a thorough investigation by social workers.

"Their idea of investigation was to call the foster parents," McMeans complained. "These were the people being accused of the abuse."

The care provider in question: Debra Kie of Arroyo Grande.

In 2003, Phillip Edward Kie, Debra's husband, faced charges for the molestation of four preteen girls and earned a swift conviction. Her previous husband, James Robert Haynes, also served time for committing several lewd acts upon a child between 1987 and 1988. This track record, however, wasn't what halted the flow of children into her home she eventually permanently adopted some.

Through cross-referencing court records with official records at the County Clerk-recorder's office, New Times found Kie listed under a different name. She failed to return phone calls requesting an interview. Collins stated that he believed she acted properly in reporting former husband Haynes to police immediately after she discovered what was happening. Still, a paper trail between the reportedly estranged couple endured after Phillip's arrest. He transferred power of attorney rights to Debra in the spring of 2003.

Unlike Marla, Kelly tragically never found a peaceful conclusion to her entanglement with Child Protective Services. She was brutally murdered in 2002, stabbed multiple times in Santa Maria.

The wave of reform ...
... in San Luis Obispo County was ultimately set into motion by further tragedy.

A 15-year-old South County girl died in foster care late in the summer of 2003 the most recent in a series of eyebrow-raising mishaps across the state. The death prompted the SLO grand jury, the appointed public watchdog, to review more than 17 cases and conduct many dozens of hours of interviews to determine whether county Social Services put this child in harm's way. The department claimed no evident foster-parent abuse or negligence. Nonetheless, a sibling refused to return to the caregiver.

What came out of the whitewash was a volley of criticisms that put the entire department on the defensive. Two grand jury reports this decade preceded the big slam against Social Services released in June of 2004 but provided meager insight into the system. The latest edition, conversely, encompassed almost half of the body's especially massive annual look into the county dealings.

Lambasted by county administration from its release, the report harpooned the department for flagrantly abusing its power, failing to ensure the safe placement of children, and managing its staff through oppressive autocratic means. At the apex of every assault: CPS (now called Child Welfare Services) and department director Lee Collins.

"It was infuriating to me," the director said. "They still owe the county and this entire staff an apology."

Brought from rural San Benito by county administrator David Edge, Collins took the helm of the goliath Social Services body in August of 2000. The would-be director possessed decades of experience in public administration, which included a lengthy stint at the head of that county's Department of Social Services. Nevertheless, some inside sources asserted that the leap in responsibility and the preexisting friendship between Edge and Collins indicates that the appointment proved somewhat of a hookup.

Activists, as well as former and current Social Services employees and associates, tend to differ vastly in their appraisal of Collins.

Some paint him as a devil overlooking Social Services' alleged cesspool of deception egotistical to the core and utterly solipsistic in his dealings. Others call his leadership a step in the right direction and claim that the sheer grandeur of his department often breeds misconduct. McMeans reported that she gets better responses to complaints with Collins than she did during the previous administration, but some issues the director still doesn't want to hear about. Alternative foster-care provider Jim Roberts pointed to a drastic improvement in placement-with-kin rates during Collins' term.

"Everyone can agree on vanilla. When you're a more exotic flavor, people tend to differ in their opinions," Collins responded.

Most critics, however, agree on one allegation: Certain social workers continue to twist documentation right under his nose, and the supervision system at Social Services often rewards such behavior.

Former employee Jill Harper of Templeton described a "blacklist" system that prevents concerned employees from making positive changes. She contended that fear and intimidation prove typical forms of influence or motivation within Social Services.

"Favoritism runs throughout the department, and if you dare speak up against a wrong and it sparks a nerve in the wrong person you are marked to be gotten ridden of," she explained.

Unwilling to see their names published, several employees testified that these administrative policies continue to hamper morale, even after the grand jury report highlighted the need for reform. A source inside the San Luis Obispo County Employee's Association reported an extremely disproportionate number of grievances filed against Social Services.

"Most of the workers at Social Services are completely disillusioned by Collins' actions," said one department employee.

Collins explained that the proper removal or demotion of several popular but grossly underperforming caseworkers prompted questioning and contempt among certain staff circles.

"I wish I could send a memo to everyone, but I can't. Meanwhile, the guy who got fired got to tell his side of it, and the mythology starts to take off," Collins said.

"The concept that I'm stifling dissent is laughable," he continued. "I honestly and sincerely want to know if something is wrong."

Following the 2003 grand jury report, Social Services installed a stewardship program to mitigate potential employee grievances. However, no such mechanism yet exists to curb the foul play reported by the subsequent grand jury.

In that regard, several recent case files reviewed by New Times cast doubt on the total reversal of a few dubious CWS practices. These cases rehash many of the problems illuminated by the 17 stories reviewed by the grand jury. Every family contacted declined to share specifics. Several cited potential CWS retribution as a motive to remain off the record.

But, as county administrators argued in 2004, these horror stories make up a sliver of the department's titanic caseload. A system-improvement plan, released by the county earlier this summer, shows substantial improvement in several keynote statistics. While still higher than state averages, the reoccurrence rates of maltreatment for children in foster care are universally on the decline. Simultaneously, the department's timely response rate climbed from 72 percent in 2003 to 89 percent two years later just a few points below the California mean.

Most of these trends first turned in the summer of 2004, when the grand jury levied its critique of the department.
Despite the recent progress ...
... critics maintain that certain systemic barriers prevent the true enforcement of any real accountability within the department. After bad publicity in the wake of the most recent grand jury report, McMeans of Real F.A.C.T.S explained that the threats and blatantly vindictive decision-making finally trickled out. However, it's still impossible to realistically pursue a complaint against abusive situations especially from outside the Social Services juggernaut since the department holds lordship over its own documents.

While conducting its own internal investigation with all mechanisms fully at the department's discretion Social Services has 90 days, by law, to review a case.

"This gives them plenty of time to cook up stories," McMeans said. "I know how they work. I've seen them do it."

Department heads retorted that allegations flow like wine, but specific examples of undetected misconduct prove more viscous.

Is this practice common? It's impossible to know, but the legal climate would certainly permit it. Unlike other county paperwork, case files can't be siphoned out through the Freedom of Information Act. It's just not applicable. Even grand jury members, with all their subpoena power, stated that the body felt fairly impotent in accessing some of the documents.

"Regardless of how illegal their means are, they have confidentiality and they don't get caught," activist Kirk railed.

Earlier this year, the county dished out a settlement amounting to just shy of $1 million to several children bounced around and into the home of a couple with a dubious past. Collins told New Times that certain winds prevented Social Services from investigating the Paso Robles couple. However, a cursory public records search turned up a notable black spot in their legal history.

Apparently, in 1995, a teacher in Paso Robles noticed a bruise that curiously resembled a belt buckle on the leg of a young girl. Despite a damning police report, the district attorney eventually dropped charges a situation that furrowed the brow of now-deceased local attorney Bob Lilley. Regardless of this outcome, Collins admitted, the county should not have placed more children with the couple.

Yet, by all available accounts, no CWS employees faced perjury charges for falsifying public documents, as was the case with one social worker who skipped out of investigating child abuse in the North County. Relatively few staffers in the debacle were even terminated.

In a cyclical mechanism of self-preservation, confidentiality laws appear to be the main cog. Individual case files, in the interest of protecting placed children, remain absolutely shielded. The reasoning is sound, of course. Advocates of these laws argue that they protect children's privacy and keep information out of the hands of individuals who might employ it to ill ends. Judges can release segments of such files in the event of a major crime but they very rarely do.

Burbank attorney John Cahill regularly argues on behalf of parents and children fighting CWS action statewide. He told New Times that even in the judicial arena, getting specific case files typically requires a subpoena and a fight.

As a result of this, he stated, "There's a definite lack of quality across the state. Often they're not providing a service, they're providing a threat."

Several years back, Cahill proposed the idea of installing independent oversight to review Social Services conduct in dealing with cases. At a recent conference of social workers in Fresno, Sacramento counselor James Ewart joined a panel to advocate transparency initiatives in state code. He later compared the incident to standing before a firing squad.

"Hostile," Ewart described of the response he received from the social services professionals and students in attendance. "It was very apparent from the questions asked that the universities teach against this notion."

Critics of this policy, including a vocal group of California Social Services directors, fear that opening the court proceedings and allowing documentation would let loose a tide of unscrupulous and sensationalistic reporting of sensitive matters. Director Collins said that he remained open to the possibility of external oversight with certain reticence.
The lingering ambiguity ...
... of confidentiality laws in the dealings of Child Welfare Services, merely by forbidding independent oversight, fosters an atmosphere for corruption to endure. Still, it's a matter of hearsay whether Social Services still commits the volume of abuses alleged by scores of parents and grandparents countywide. Without certain proof, department officials argue, keeping vigilant guard over these records remains critical to protecting children placed in foster care. But who can protect children from the follies and subsequent inaction of Social Services a tradition, at the very least, embedded in the history of the department in this county and state?

The issue ultimately pans out to public trust in the department's ability or willingness to provide proper internal oversight in the future. It requires absolute faith in the leadership of Director Collins and confidence in the effectiveness of the channels of internal surveillance watching over the county's largest and most complex organization. Finally, since the laws in place blur the entire CWS process beyond any hope for transparency, it demands that the public accept the results an internal investigation may bear out as absolute truth.

Certainly, this all constitutes a broad leap of faith perhaps worthy of providence. Unfortunately, with the exception of those inside the Social Services machine, it's any citizen's guess as to whether or not that trust is well-placed.

To compound matters, the funding scheme seems to foster the removal of children, even if the department's purported modus operandi is the reunification of families.

"It's pretty simple: Kids are big business, and the funding is not family-friendly," Real F.A.C.T.S. McMeans lamented.

Depression-era-beauty-queen-turned-Gotham-politician Bess Myerson once pontificated, "The accomplice to the crime of corruption is frequently our own indifference." But wherein lies the proper course when indifference is actually mandated? This is the crux of the transparency movement, critics argue, and anything less proves a perilous gamble.

The next Marla and Carrie are up for ante.

Staff writer Patrick M. Klemz isn't the gambling sort. He can be contacted at pklemz@newtimesslo.com.