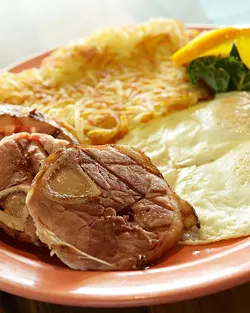 PHOTO BY STEVE E. MILLER
INDULGE : Try the savory, generous eggs Benedict or the lower-cal Port San Luis Bene dish for a real breakfast treat at the Quarterdeck.
I live in Pismo Beach and drive past the Quarterdeck Seafood Restaurant almost daily, but I never gave a second thought to stopping in for a meal. In all honesty, I thought it was a coffee shop more akin to Denny's than my preference in eateries. And I abhor chain restaurants no matter who runs them. Nonetheless, I accepted an invitation to breakfast at the Quarterdeck from my pal Rhonda O'Dell, a New Times original hired by our beloved founder Steve Moss. Steve was also my mentor, who brought me on board in 1996. Following breakfast with Rhonda, I went back for lunch and my reaction reminded me of rock'n'roll legend Bo Diddley's hit song, "You can't judge a book by looking at the cover."

Thinking back, I realized that the Quarterdeck surprised me before I ever walked through the front door. It happened during chef Doug MacMillan's inaugural Vodka Martini Shakedown at Rosa's Ristorante in Pismo Beach last July. Quarterdeck bartender Paula Nichols' delicious and inventive "Absolutely Peachy-tini" earned my first-place vote. That's when I first realized there was more going on at the Quarterdeck than it appeared.


THE QUARTERDECK SEAFOOD RESTAURANT: 1500 W. Branch St. Arroyo Grande 481-3474
When I stopped in for breakfast with Rhonda we ordered a half traditional Benedict ($5.75), Port San Luis Bene (their low carb eggs Benedict at $10.95), a half-order of French toast ($4.50), and a side of the country-style ham steak (under traditional meals, it's just $8.50 with two eggs, hash browns, and choice of bread/pastry), all of which was delicious. It's so important, I said to Rhonda like the devil's advocate, to forget about diets and sample a broad assortment of specialties from the new breakfast menu, and the resulting feast really was a treat.
"Our breakfast is the best-kept secret on the Central Coast. We've been serving breakfast for seven months and people are still discovering it," said owner Cyndy Jones, who's owned the Quarterdeck since it opened 13 years ago. I was pleased to discover this local eatery is no chain restaurant. The food was fresh, hot, and tasty. I especially liked the thick-sliced, bone-in ham steak, one of the best breakfast hams I've ever tasted. Even though we had the half-order of French toast, two thick-cut slices with butter and maple syrup, I would have found it plentiful alone. The regular ham in the Benedict was quite tasty, although I wished for the country-style ham. But it's understandable that they can't make Benedict with a bone-in ham.
When Cyndy sat down with us, I told her I had judged the Vodka Martini Shakedown and that Paula's Absolutely Peachy-tini earned first place with every one of the eight judges in agreement. Pretty damn impressive results, I told her. A benefit for St. Patrick's Church Outreach and the Food Bank, that fundraiser was attended by nearly 200 people. Cyndy said she has already signed Paula up to represent the Quarterdeck again this year when it takes place at Rosa's in Pismo Beach on Sunday, May 17 (contact Rosa's for more information at 773-0551).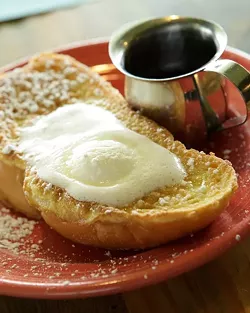 Cyndy, a restaurant veteran of nearly four decades, is passionate about her business. She told me the cooks change the deep-fryer oil daily, unlike most restaurants. Not only that, they filter the oil midday and at day's end it's recycled to a man who fuels his car with it. That's not all that's green about the Quarterdeck. They serve to-go orders including coffee and leftovers in recyclable containers of heavy-grade materials, never Styrofoam.
Like me and anyone else who's made a career of working in the restaurant industry, she worked her way up the ladder. Cyndy started at the tender age of 14 in a pizza parlor and by 17 was training servers for IHOP (International House of Pancakes). She left the corporate chain to marry Tim Jones, who recently retired from transportation for Cal Poly. Married 35 years, now that he's retired she says he's the man "who can fix anything that goes wrong around here."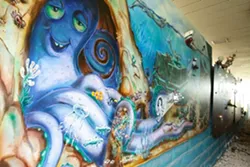 After they were married, Tim encouraged Cyndy to become a general manager at IHOP. There, Cyndy recalled, she was able to learn to do everything a manager needs to know about running a restaurant, from front of the house to staffing the grill. She left the corporate world once again, but this time it was to work in local eateries. She worked at Covany's Brewery, Pierside, the Village Café, and the original Quarterdeck in Grover Beach (where Von's is located now). She noted most of her current menu is from the original Quarterdeck. During the early years in the business she befriended Sherry Witt and they traded hours to babysit for each other. Sherry's now general manager at the Quarterdeck.
At lunch at the Quarterdeck, I found the food just as fresh and satisfying as breakfast was. The house salad with crisp lettuces, carrots, cucumbers, and house-made croutons came with my choice of blue cheese dressing on the side. It was delicious. Cyndy couldn't resist showing off the chef's soup-du-jour, chicken enchilada ($3.95 a cup), which I enjoyed. I only wished for crispy blue corn chips to sprinkle over it.
The Quarterdeck offers a full children's menu with such favorites as deep-fried fish and chips, or grilled fish with rice for a healthy alternative. When they served my order of the "1/2 Quarterdeck Combo" ($10.95) with cod, shrimp, scallops, clams, and squid, it was deep fried but perfectly cooked. The thick-crusted fish was crispy and cooked just right, an unbelievably generous serving that overflowed the basket atop a handful of fat, crispy fries.
At lunch I enjoyed the perfect complement to an array of fish dishes: Tolosa No-Oak Chardonnay, a generous serving, only $6. In fact, all of the wines by the glass or bottle are listed at lower-than-usual prices for a restaurant; bottles cost from $18 to $30 for an array of good quality white and red Central Coast wines. "We support everything local that we can," said Cyndy. "If it's on our menu, we're proud of it. We keep a diverse menu that has something for everyone."
You can reach New Times Cuisine columnist at khardesty@newtimesslo.com.