It's rare to find a clothing brand that intends to be more than just a tick in the fashion world. Cue in Something Sacred and its owner, Jon Broyles, and that rarity becomes a reality.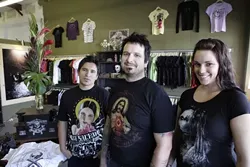 SACRED THREADS: : (From left to right) Art director Jaime Alatore, owner Jon Broyes and Lauren Carlsted, who does marketing and public relations, show off their original T-shirt designs at the Something Sacred store in San Luis Obispo on Los Osos Valley Road.
# When Broyles first began Something Sacred in 1998, it was a band management and development company. Working with local bands, it was Broyles' job to negotiate contracts and get bands signed to major record labels. From there Something Sacred developed a following from fans who wanted to represent the company and the bands promoted.
"We are all about art whether it be graphically or musically," Broyles said, "and people wanted to wear stuff to represent us. Then two years ago there was a demand for clothing from people and retail companies. At that point we crossed over."
Fast forward nine years and be introduced to a clothing company with a cult following whose apparel is available in four clothing chains, 80 boutiques, and over 1000 stores internationally including Japan, Canada, Germany and South America.


"One of the first stores to give us a chance was Esteem and we became the third-best-selling brand for Esteem in our first year," Broyles said.
By setting itself apart from other clothing brands, Broyles aims to make Something Sacred into a name that is more than just clothing. Wanting to bridge the gap between the fashion industry and humanitarian work, Broyles brings awareness, funds, and counseling to charitable organizations just getting started.
"I don't want to just do cool shirts, I want to be tied into people's lives," Broyles said. "It's about being involved in things that aren't necessarily just about us. We've never pushed that but just let our stuff speak for itself.
"What sets us apart is our relations with people," Broyles said. "We can emotionally connect, we can be real with people. The people that have been following us for nine years now are a family and that comes back to our relations."
Artistically, Something Sacred focuses around iconic images such as Russian, Greek and Middle Eastern Orthodox. Broyles has done designs for big name bands such as P.O.D. and others ranging from country to rock. While 95 percent of his time is devoted to his clothing, Broyles continues to work with bands such as Briartone and Blesk. With continued fan support from the music and art scenes, Broyles hopes to continue his success and make the San Luis Obispo store the first in a line of many.
"You're going to look at us and see that we have a heart to give back. We don't advertise it, we just do it."
The Something Sacred clothing store is located at 12306 Los Osos Valley Road in San Luis Obispo between the Honda and Toyota dealerships and can be reached at 545-5887. Clothing can also be purchased online at www.somethingsacred.com.