Before he was 25, Rich Robinson—brother of Black Crowes' front man Chris—seemingly had it all: fame, fortune, a beautiful wife. Then he lost it all.
"How he managed to make it through with graciousness and his sense of self intact is examined on his new solo album, Through a Crooked Sun," according to his bio materials.
"The sun was a fitting metaphor to examine my life, because in many ways what was going on both nourished me and blinded me at the same time," Rich said. "I was living this life that was askew. My relationships with the people that were supposed to be my closest seemed damaged. My marriage was not a good fit for either of us, and we weren't facing up to that. Though I love my brother, the fact that my working environment can be challenging has been well chronicled. Nothing was working like it should have been, but by many people's standards, it was a dream come true."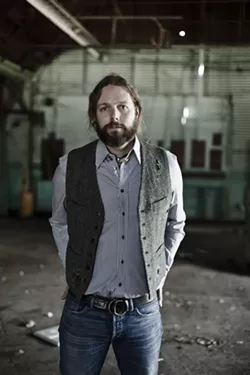 PHOTO BY JOSHUA BLACK WILKINS
STILL THERE : Despite some personal setbacks, Black Crowes guitarist Rich Robinson has returned with a terrific new solo album and a show on Nov. 16 at SLO Brew.
Eventually he had to distance himself, reappraise, reevaluate, and the result is a series of beautiful personal songs. Yes, his pain is your gain. On Wednesday, Nov. 16, Black Crowes guitarist Rich Robinson (8 p.m.; 21-and-older; $15) appears with opener Dylan LeBlanc at SLO Brew.
But that's not all! SLO Brew's got your music needs covered every day this week except Monday, so kick things off on Thursday, Nov. 10, with Through the Roots (7:30 p.m.; all ages; $10) and opening acts Bare Feet and The Amp Monkeys. Mixing reggae, rock, and pop, Through the Roots delivers a tantalizing sound and good vibes.
On Friday, Nov. 11, High on Fire (6:30 p.m.; all ages; $12) and opening act Indian will deliver an evening of good, old fashioned, honest rock'n'roll.
Local favorites Still Time take center stage on Saturday, Nov. 12 (7:30 p.m.; all ages; $14 presale or $16 at the door), with opening act The Ragged Jubilee. If you like Ben Harper or Dave Matthews, you're going to dig Still Time.
Get ready to skank to some sweet reggae, punk, and new wave sounds when The Expendables play Sunday, Nov. 13 (7 p.m.; all ages; $20).
The Dirty Heads keep getting hotter and hotter, so see what the fuss is about on Tuesday, Nov. 15 (7:30 p.m.; all ages; $17 presale or $18 at the door), with opening acts Pacific Dub and Micah Brown. The Heads' mix of reggae, hip-hop, and folk-influenced party music is the cure to all that ails you.
Shockingly good!

PHOTO COURTESY OF CADILLAC ANGELS

ROCK ROYALTY : Amazing roots guitarist Tony Balbinot fronts his band the Cadillac Angels on Nov. 11 at the Z Club.
The Z Club is stepping up its game with a show by the Cadillac Angels on Friday, Nov. 11, at 9:30 p.m.
"This is a new venue for us," said Angels front man Tony Balbinot. "I don't know too much about this venue, but I will say this: They do return phone calls, they are polite on the phone, they speak in a professional manner, and seem very enthusiastic about live music. All of this sets them apart from about 90 percent of the club owners most musicians have to deal with!"
Tony should know. This guy's been at it longer than most, a longevity predicated on his relentless touring, recording, and a work ethic straight out of the Midwest! So what's new with Tony and the gang?
"First off, our new CD Kicks Like a Mule has been selected for the top 100 picks for new CDs in 2011 by Real Blues Magazine. We're currently at No. 48 and climbing ... Hooray! The current 25th anniversary issue of Vintage Guitar magazine, available at all the disappearing bookstores, gave us a great double CD review of Lonesome Traveler and Kicks Like a Mule. Sam Bolle will be playing bass with me at Club Z. I've known Sam a long time, and you may recognize him as Dick Dale's bass player. Last but not least, my old Gibson guitar amp hit me with about 200 volts the other night due to faulty club wiring?!? Say it can't happen in this modern world! We didn't need stage lights after that because I was glowing red. Luckily I'm used to being shocked."
Check out the retro sounds of Cadillac Angels and Tony's freakishly awesome guitar playing. Since he's fond of vintage equipment, he just might electrocute himself again.
Half is better than none!
Last year the Oprah Winfrey Network followed mother and daughter country duo the Judds on their final tour, but though mom's retired, Wynnona is still at it, and on Sunday, Nov. 13, she continues her "Thanks & Giving" tour with a stop at the Cohan Center. In the spirit of the holidays, Wynnona is looking forward to thanking her fans for their continued support.
"It means a lot to me to have such dedicated and hardworking fans that have been with me throughout my journey," she said in press materials. "Thanking each person is always hard to do, but I'm going to meet as many fans as possible and express my appreciation to them in person."
You'll also hear classicis such as "Mama He's Crazy," "Why Not Me," and "Grandpa (Tell Me 'Bout the Good Old Days)." And after the tour ends later this month, Wynonna returns to the studio to continue working on her eighth studio album for Curb Records, so you can be sure to hear some new music from this five-time Grammy Award winner Rolling Stone magazine has called "the greatest female country singer since Patsy Cline."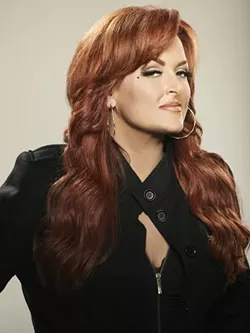 PHOTO COURTESY OF CAL POLY ARTS
COUNTRY QUEEN : Wynnona, one half of the Judds, has gone solo after the retirement of her mother. See the gal Rolling Stone magazine calls "the greatest female country singer since Patsy Cline" on Nov. 13 at the PAC.
"My show is a little about telling stories as well as my music," Wynnona added. "I've learned a lot along the way. I've seen the light and the dark, the pain and the pleasure. I share a lot with [my] audiences. I'm in a really good place … I can relax and enjoy the journey. I love the fans. The people are invigorating for me [and] I hope audiences feel rejuvenated after seeing my show."
Student and adult tickets range from $24 to $76. Call 756-2787.
Still playing
Steve Key's Songwriters at Play showcases have a bevy of talent booked for you starting Thursday, Nov. 10, at the Porch when Austin-based storyteller and songwriter Eric Hisaw headlines (6:30 p.m.; all ages; pass the hat). "My lyrics have been really influenced by short stories written by Sam Shephard, Dagoberto Gilb, Raymond Carver, and Larry Brown," Hisaw said. "As a songwriter, I've looked to Billy Joe Shaver, Kris Kristofferson, Gene Clark, Townes Van Zandt, and Chuck Berry."
PHOTO COURTESY OF ROB KIMBALL
JUST FOLKS : KCBX radio personality Rob Kimball headlines Steve Key's Songwriters at Play showcase at Sculpterra on Nov. 13.
The fun continues on Sunday, Nov. 13, when folk artist and KCBX radio personality Rob Kimball headlines the Sculpterra showcase (1 p.m.; all ages; pass the hat). This longtime Central Coast troubadour plays a repertoire of '60s and '70s folk ballads. He'll be joined by guest performers Dorian Michael, Ryan Dishen, Paul Inman's Delivery, and Ynana Rose of the Swingin' Doors.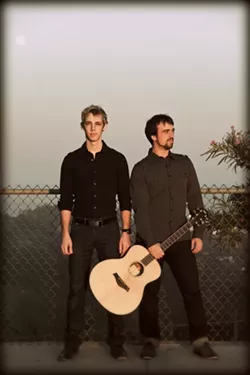 PHOTO COURTESY OF DERIK NELSON AND JACK KOVACS
JAZZY DUO : Derik Nelson and Jack Kovacs headline Steve Key's Songwriters at Play showcase at Kreuzberg on Nov. 15.
Then, on Tuesday, Nov. 15, check out Derik Nelson and Jack Kovacs, the featured performers at Kreuzberg (6:30 p.m.; all ages; pass the hat). The duo delivers pop-jazz originals. While studying music at USC, Nelson received a songwriting scholarship from Brian Wilson of the Beach Boys!
All showcases include one featured act and five to six others playing four-song sets.
More music …
PHOTO BY ANDY SHENG
CHANSON CHANTEUSE : Jessica Fichot and her fiery band return for another show at Steynberg Gallery on Nov. 10.
It's hard not to be charmed by Jessica Fichot, the French-Chinese chanteuse, as she's accompanied by her accordion, toy piano, and fiery band. She returns for another show at Steynberg Gallery to deliver her multilingual fusion of original French chanson, Gypsy jazz, and international folk on Thursday, Nov. 10, at 7:30 p.m. ($10 presale or $12 at the door; call 547-0278).
L.A.-based roots rock and Americana band Rob Larkin & The Wayward Ones are making their first foray into the Central Coast this month starting with a show Thursday, Nov. 10, at the Pour House in Paso Robles. You can also catch them Friday, Nov. 11 at Rooney's Irish Pub in Old Town Orcutt, and Saturday, Nov. 12, at Last Stage West between A-Town and Morro Bay. "We really want to build a strong presence in the Central Coast," said band member Rob Larkin. "I've always loved the region, and our music suits it well (in my humble opinion)." Check out these newcomers.
On Saturday, Nov. 12, at 8 p.m., the SLO Symphony will be joined by Roger Wilkie, a founding member of the Grammy Award-winning Angeles String Quartet and a frequent soloist with Santa Barbara's Camerata Pacifica, in a concert of Modern Masterpieces at the Performing Arts Center's Christopher Cohan Center. Hear Max Bruch's most famous work, his Violin Concerto No.1 in G minor. Also hear Beethoven's Overture to Fidelio and one of the most beautiful symphonies in the repertoire, Finnish composer Jean Sibelius's Symphony No. 5 in E-flat Major. Tickets range from $18 to $68. Call 756-2787 or visit slosymphony.com. A no-ties-allowed free dress rehearsal is open to the public, including young children, at 1 p.m.
PHOTO COURTESY OF JANAM
MUSICAL TRAVELOGUE : Janam will send your ears on a worldwide whirlwind tour on Nov. 12 at Steynberg Gallery.
Janam is one of those groups that manages to transport listeners to far-flung exotic locales "from Appalachia and Asia Minor to Eastern Europe," according to the San Francisco Chronicle. On Saturday, Nov. 12, sit back at the Steynberg Gallery and take a musical journey you won't soon forget. Tickets for the 8 p.m. show cost $15. Call 547-0278.
On Saturday, Nov. 12, D'Anbino plays host to the amazing guitar work of Guy Budd and the Gypsy Souls from 8 to 10 p.m. Blending blues, rock, funk, and jazz with Budd's stunning fret work and smoky vocals, this local super group also features Howard Emmons (drummer and owner of the Drum Circuit), bassist Wil Anderson, and keyboardist Ken Burton. Admission is $10 ($5 for Record Club members).
San Diego-based indie rock-pop soundsmith Echo Revolution hits the Frog and Peach on Saturday, Nov. 12. The band's music has been heard on MTV's Real World and Jersey Shore, and they were recently nominated for "Best Pop Album" in the 2010 San Diego Music Awards. From the sounds of British Invasion all the way to Depeche Mode, these guys will lead the revolution.
Homelessness is a continuing problem in SLO County, despite the efforts of many good people and organizations, but now's not the time to throw up our hands and cry uncle. On Sunday, Nov. 13, the venerated SLO County Band will perform its 17th annual Benefit Concert for the Homeless at 3 p.m. in Mount Carmel Lutheran Church (1701 Fredericks St., SLO). The band is proud to announce that this year's guest conductor will be Dave Hovde, KSBY-TV chief meteorologist. Listen to some great music and give a little. You'll feel better! Trust me!
Bob and Wendy will be joined by Ranchers for Peace on Sunday, Nov. 13, at the Steynberg Gallery for a 3 p.m. concert ($8; 547-0278). "Out of left field, Ranchers for Peace happened rather by accident, unless you count family planning," according to their bio. "Ray Duncan, daughter of Charles Duncan, sings genetically linked harmonies on his little miracles of songs, and she will also perform her own powerful music." By the way, Charles produced Bob and Wendy's album, Behind the Blue, which rose to No. 12 on the Freeform Americana Chart.
Walker Fields (née Brad Senne) and his buddy Minor Kingdom will roll through SLO on Tuesday, Nov. 15, with an afternoon in-store set at Boo Boo Records followed by an 8 p.m. show in Linnaea's Café. Walker Fields explores the realms of folk, blues, and delta blues music.
On Tuesday, Nov. 15, at 10 p.m. in Frog and Peach, check out GrooveSession, a heavy hitting, high-energy, "FunkyJazzyBluesRock" three-piece band out of Ontario, Calif. According to the band, "Defying musical boundaries, GrooveSession blends elements of rock'n'roll, funk, jazz, soul, and blues with choice influences ranging from Led Zeppelin to Herbie Hancock. This combination of authentic songwriting and dynamic musicianship possesses people to dance, epitomizing what a great live music experience is all about. It is a new sound for today's youthful music scene and an appreciated approach to yesterday's music masters with each performance being played as if it could be the last."
Humboldt County-based Steel Toed Slippers is heading back for another show at Frog and Peach on Wednesday, Nov. 16. They're touring in support of their forthcoming release Here Comes, which was produced by legendary Little Feat bassist Kenny Gradney and eight-time Grammy winner Johnny Lee Schell (Bonnie Raitt and BB King). "This three-piece power trio combines funky rock grooves with some crazy time signatures to produce a new fresh original sound that leaves the audience wanting more," according to the band.

Keep up with Glen Starkey via twitter at twitter.com/glenstarkey, friend him at Myspace.com/glenstarkey, or contact him at gstarkey@newtimesslo.com.