An exhibit by Jack Artusio, titled 13 Recent Abstract Paintings, is the local artist's first show in 11 years. Currently hanging at Steynberg Gallery, the 13 in question are a far cry from the landscape and figurative paintings to which Artusio had previously devoted much of his career. Rather than striving for the detailed realism of the old masters he had long emulated, Artusio instead reveals a body of work that is bold, bright, and unapologetically brushy, its fluid curves and hallucinatory shapes evoking a sophisticated sort of psychedelia.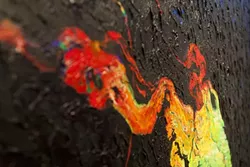 PHOTOS BY STEVE E. MILLER
SAFETY IN ABSTRACTION: Painter Jack Artusio had devoted his career to landscape and figurative work before he began working as an art teacher at the California Men's Colony and Atascadero State Hospital. The limitations of subject matter within those correctional facilities—no weapons, nudity, or gang-related imagery were permitted, for example—eventually forced Artusio and his students to go abstract.
Strangest of all, Artusio may have the prison system to thank for this creative metamorphosis: The 13 paintings on display all began as smaller studies the artist created while teaching art at the California Men's Colony and Atascadero State Hospital. As part of the now-defunct Arts in Corrections program, Artusio taught painting to inmates in both facilities from 2001 until the program's closing due to budget cuts in 2008. (Artusio's supervisor, as a matter of fact, was none other than Deborah Tobola, a longtime advocate for arts instruction in correctional facilities who went on to found the Poetic Justice Project, a local theater group comprised of formerly incarcerated actors.)
Artusio faced significant challenges when it came to the kind of imagery he and his incarcerated students were allowed to depict in their work. Nudity, violence, weapons, tattoos, or anything gang-related, for example, were strictly forbidden. The artist recalls teaching a class in which a student was working on a seemingly benign landscape with a cabin—but when the teacher's back was turned, the student added a man aiming a scoped rifle at the cabin. After that incident, Artusio quit teaching representational, well, anything in Arts in Corrections.
A KNIFE TO THE ART : Artusio used a pallet knife to create the highly textured effect depicted in this closeup.
"When I saw that guy with the scope, I said no," he recalled, over coffee at Steynberg. "This is an abstract painting class."
His students and he began creating abstract art using lid covers as tools. Artusio himself wasn't an abstract painter, and after years of painstakingly recreating what he saw, the artist said, he found it difficult not to depict some object in particular, instead creating lines and forms freely. The challenge also seemed to be a healthy one for his students.
"I was in a very unique position," Artusio said of working with inmates at ASH and CMC. "I was the only person who wasn't sizing them up. … When they began to go through the process that I had to go through—letting go—I began to see something change in them."
Not many artists can say they learned to loosen up in prison.

WELCOME BACK, JACK: Jack Artusio's 13 Recent Abstract Paintings hangs through the month of February at Steynberg Gallery, 1531 Monterey St. in San Luis Obispo. Call 547-0278 or visit steynberggallery.com.
The abstract images Artusio painted on small sheets of paper would much later be recreated as large-scale acrylic works on canvas, 13 of which hang at Steynberg. Artusio used a pallet knife for these larger works, giving the pieces their heavily textured look. The paintings are equally inspired by Native American rock painting as by the album covers and posters of the 1960s—the latter an area of modern art history Artusio insists is woefully under-appreciated.
Taking in Artusio's Through the Looking Glass, I instantly see a woman in a bustled red dress, an interpretation that seems to amuse the artist. Other pieces—with their rich impasto and uses of blues, greens, and reds—bring to mind relief maps: unknown islands floating in seas of blue-green, or, in one case, inky black with primary colors jutting through where frothy peaks might normally have been.
His Still Life—Foreign, Strange, Winged is an abstracted still life that, because no distinction is made between background and foreground, appears to be floating: his explanation for the "winged" part of the name. This title, he goes on to add, is in fact borrowed from the notes of the Russian mystic composer Alexander Scriabin, known for his atonal compositions, who included the French directions étrange, ailé in the sheet music for a sonata. (Is that important to understanding Artusio's paintings? Probably not, but it is interesting.)
Scriabin's music, which Artusio often listened to as he painted, was heavily influenced by synesthesia. Incidentally, the condition in which one sense triggers another—one might ascribe, as Scriabin did, specific colors to specific musical notes—is also a side effect of LSD, the drug that gave rise to the psychedelic art and music from which the artist also takes inspiration.
However, despite all efforts to give free reign to abstraction, to the articulate description of nothing in particular, Artusio's classical background comes through in his dutiful depiction of depth and shadow. His abstract pieces, the artist notes, are nonetheless lit at a 45-degree angle, as if he were painting, say, a bowl of fruit—not the wild, amorphous creatures of the imagination that instead cover the walls.
Arts Editor Anna Weltner is woefully under-appreciated. Contact her at aweltner@newtimesslo.com.