Though it looks like the plan to blast sea life with 200-plus-decibel sounds to map the fault line we already knows lies off the coast of Diablo Canyon Nuclear Power Plant is off the table for now, that's no reason to let our guard down against further destruction of our ocean, which is why environmental group the C.O.A.S.T Alliance is playing host to the "S.O.S! Save Our Seas Music Festival" on Sunday, Nov. 11, at Tidelands Park in Morro Bay.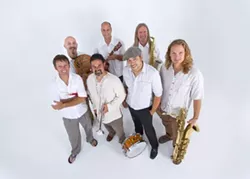 PHOTO COURTESY OF ZONGO ALL-STARS
SEVEN SEAS : The septet Zongo All-Stars headline the C.O.A.S.T Alliance free "S.O.S! Save Our Seas Music Festival" on Nov. 11 at Tidelands Park in Morro Bay.
Starting at 11 a.m. and running till sundown, you'll hear the likes of Molly McCabe and Aaron Ochs, Dr. Danger, Mathias & The Cry, and the Zongo All-Stars. Fred Collins will kick off the festival with a Chumash blessing. The whole shebang is free!
The C.O.A.S.T Alliance is the broad-based group of organizations and individuals dedicated to stopping PG&E's high-intensity seismic test in Estero Bay, and spokesperson Mandy Davis said, "The intention of the S.O.S! Festival is simple—to come together in celebration of our rich coastal waters and educate the public about the threat to our ocean home that high-intensity acoustic seismic testing would pose. All participants are donating their time, creativity, and expertise to make this powerful statement for the oceans heard. Bring a picnic, friends, dancing feet, and a big love for the oceans."
If you love the ocean, come and show it!
SLO Brew-ki-oh-ki-ay!
PHOTO COURTESY OF LINDSEY STIRLING
PIXIE! : If you're wondering what's been missing from your musical life, it's Lindsey Stirling, a YouTube sensation who mixes classical violin and dance. See her Nov. 13 at SLO Brew.
Yippee-ki-oh-ki-ay, cowpokes! SLO Brew kicks off its week with a hootin' hollerin' concert by Chaparral, with the Chris Gardner Band opening on Saturday, Nov. 10 (7 p.m.; all ages; $8 presale or $10 at the door). Hailing from the heart of California's agricultural Mecca, Chaparral found itself playing on the same stage as some of the biggest names in country before they even released their first album, 2011's California Line. Mixing classic and contemporary country with some blues and rock'n'roll thrown in, that band appeals across genres. Opening act the Chris Gardner Band is out of Nashville, and just released their debut The Answer.
Shift gears to some urban sounds when hip-hop act Blackalicious plays Sunday, Nov. 11 (8 p.m.; all ages; $18 presale or $20 at the door), with Mod Sun and local act KauzaFex opening. Blackalicious, a Sacramento-based duo that's been together for more than a decade, is known for its tongue-twisting rhymes that never stoop to misogyny or glorifying violence. Sunny, breezy, 24-year-old reggae-tinged hip-hop act Mod Sun brings a decidedly Cali-cool emphasis to his sound. Underground hip-hop act KauzaFex isn't going to stay underground for long. They've already had winning tracks in the New Times Music Awards.
If you're wondering what's been missing from your musical life, it's Lindsey Stirling, a YouTube sensation who blends classical violin, modern dance, and … Legend of Zelda? She recently released her self-titled debut album, which hit No. 1 on iTunes' Top 15 Most-Downloaded Electronic albums. She's got more than 137 million YouTube views. And she plays covers of soundtrack themes from games like Legend of Zelda and Skyrim, making the pixie-esque cutie the darling of gaming geeks everywhere! "My musical style is a reflection of my personality," Lindsey said in press materials, "and through it I hope to share my belief that no one should be afraid to be themselves. All my songs were created to depict specific themes that I pulled from my own life experiences. 'Spontaneous Me' is about having the courage to love yourself for who you are." Check her out on YouTube, then join the fun on Tuesday, Nov. 13 (8 p.m.; all ages; $18 presale or $20 at the door).
Come Wednesday, Nov. 14, head to the Brew to see Tyler Ward (8 p.m.; all ages ; $12 advance or $15 at the door). Ward, another YouTube sensation, has nearly a million subscribers … even though he still lives in his parents' basement. The young dude has more than 270,000,000 views! Megan Nicole and Mike Annuzzi will open the show.
Whispering strings
I'm listening to Acoustically Speaking, the new CD by guitarist Martin Paris, listening to its rich melodies, its lyrical and intricate compositions, the sound of Martin's fingers making that joyous high-pitched screech as they slide across the fret board.
Well known on the winery circuit, Martin's finger-style playing moves through genres like wind through California's native grasses, blending pop, folk, blues, and Celtic sounds into lush ballads and breezy tunes.
Martin Paris performs a CD release concert on Saturday, Nov. 10, at 7:30 p.m. at Castoro Cellars in Templeton. The new album is Martin's third on the Grammy Award-winning label Solid Air Records, and during the concert he'll perform with his trio.
The concert costs just $10 (call 238-0725), but bring an extra $10 to buy his new album. Fans of Phil Keaggy, Tommy Emmanuel, Peppino D'Agostino, and Laurence Juber will definitely appreciate his style. Learn more about this artist at martinparismusic.com.
Songwriters will play!
Steve Key's Songwriters at Play showcases keep the music alive every week, and this week's no different. Things kick off on Thursday, Nov. 8, with Brent and Brad of the Dr. Danger blues band (6:30 p.m.; all ages; pass the hat). Brent on piano and Brad on guitar are well known for their ripping style of blues, honky-tonk, doo-wop, psychedelic, and pedal-to-the-metal rockers, and to keep you guessing, they'll throw in a few steamy ballads. Guest performers on this show include Jody Mulgrew, Rob Kimball, and The Aaron White Band from L.A.
Key and company keep the music coming on Sunday, Nov. 11, when Steve Meckfessel headlines the Sculpterra Winery showcase (1 p.m.; all ages; pass the hat). He's touring in support of Under Beautiful Skies, which has received airplay in the United States, Canada, and Australia. Guest performers include Noah Needleman, Connie Lim, Ynana Rose, and Eugene Joseph.
After an overly long hiatus, über-MILFy (Sorry, Poncho!) chemistry professor and folk rocker Kristen Black is back in the spotlight with her new trio—mandolinist Mark Travis and bassist Greg Steers—to headline the Tuesday, Nov. 13, showcase at Kreuzberg (6:30 p.m.; all ages; pass the hat). Black's songs are whip smart and oftentimes outrageously funny. Guest performers include Luis Lappostol, Pi Jacobs, and Tiana Star.
Finally, on Wednesday, Nov. 14, the Songwriters at Play gang will offer a tribute to Joni Mitchell at the Upper Crust Trattoria (7 p.m.; all ages; $10). "Hard to believe, but Joni Mitchell turns 69 in November, so we'll celebrate her birthday with a special tribute concert," said series co-producer Bonnie Nelson. "Steve Key hosts and kicks it off with two songs from the Hejira album, followed by Dulcie Taylor, Sandii Castleberry, Chick Tuesday, Aaron Porter, Kiki Ebsen, Holly Ann Phillips, Ted Waterhouse, Holly Gruendyke, Rob Kimball, and maybe more!
More music …
"Bands roll into SLO all the time, of course. But how many of them filmed a video for their factory-farming song at a KFC?" Mark Sunman of the Haymarket Squares said in a recent e-mail. "Or [how many] helped occupy a university building to protest a speech by Arizona's notorious Sheriff Joe [Arpiao]? Or invented a new musical genre: punkgrass? Clearly, [we] aren't your usual touring band. Armed with righteous indignation, exquisite harmonies, and acoustic instruments (mandolin, upright bass, guitar, resonator, and accordion), [we] have a growing nationwide following on the strength of songs like 'Gateway Drug,' which humorously catalogs the 'dangers' of a certain weed, or 'The Rapture,' a little ditty about the day when believers will leave the world to the rest of us." The Haymarket Squares play Frog and Peach on Thursday, Nov. 8.
Mimi Blais, Queen of the Ragtime Piano, plays Friday, Nov. 9, at 7 p.m. in the Community Room of the Oak Creek Commons in Paso Robles. She's been called the new Victor Borge of modern musicians! The suggested donation is $15.
Bob Sima plays the next Música Del Río House Concerts in Atascadero on Friday, Nov. 9, at 8 p.m. ($15; call 466-6941 for reservations and directions). Sima's slogan is "Good Music for Good People," but as concert organizer Fred Munroe says, "This may be the understatement of the decade. If it is possible to 'channel' many long gone and sorely missed troubadours simultaneously into the fingers and voice of one singer-songwriter-guitarist, Bob Sima may be doing it. If he dared to tell anyone that was really happening, we may only get to hear him on visitor's day at the home. So keep this under your hat." Acoustic Guitar magazine raved: "For anyone who wishes Van Morrison was still making rustic acoustic soul records like Tupelo Honey, Bob Sima's CD Pour It On is going to be the find of the year."
Ommm! Let go of your stress and get your chi in line this Saturday, Nov. 10, when Fran Dukehart and the Sukha Wellness Center in Avila Beach join forces to bring you're a day of meditation and music with Lebanese musician Tony Khalife, who will be performing an evening of sacred music that Dukehart describes as "the happiest music you have ever heard." The Educational Wellness Retreat is called "Healing from the Heart," and it's a unique seven-hour body/mind/spirit renewal. From 2 to 6:30 p.m. there's Kundalini Healing Yoga with a gourmet vegetarian dinner for $55, and from 7 to 9 p.m. there's Sacred Music, a Healing Ceremony, Sound Yoga, and Kirtan for $20, or do it all for $70. Call to reserve your space and buy your tickets by phone at 801-8088, online at sukhawellnesscenter.com, or at the door. Namaste!
Whether you're celebrating victory or trying to wash away the sting of defeat, the SLO Symphony's concert of "Life's Joys" offers just the ticket for the post-election bliss or blues. Pianist Rina Dokshitsky joins the orchestra in a program of Wagner, Mozart, and Mendelssohn on Saturday, Nov. 10, at 8 p.m. in the Christopher Cohan Center of the PAC. Tickets cost $20 to $75 (756-4849), or come to the free "no ties allowed" dress rehearsal at 1 p.m. Originally from Israel, Dokshitsky made a name for herself at the age of 13 when she performed with the Israel Philharmonic under the direction of Zubin Mehta. Many awards followed, and she eventually earned her bachelor's and master's degrees from the New England Conservatory under the direction of pianist and educator Russell Sherman.
The Good Fiction—comprised of Shannon McMurray (guitar), Ben Hinch (bass/vocals), and Hale Savard (drums)—brings its Elvis Costello-esque sounds to Sweet Sprigs Saloon on Saturday, Nov. 10. Formed in 2007, the band released its debut EP Paso, which led to its first international tour in 2008. Their follow-up EP Blue Sky Money saw the band return to Europe, and now they're releasing a full-length album titled Escape Pod. If you like Costello, the Gaslight Anthem, and the Hold Steady, you'll dig this act that puts songwriting at the forefront.
Bluegrass banjo master Alan Munde joins with father-son team Tom and Patrick Sauber and opening act Erin Inglish for a sizzling, crackling night of bluegrass music on Wednesday, Nov. 14, at Steynberg Gallery at 8 p.m., for $15 (call 547-0278 for advance tickets). Munde, you may remember, began his long career in bluegrass music with the 1968 recording of "Poor Richard's Almanac." Good stuff, people!

Keep up with Glen Starkey via twitter at twitter.com/glenstarkey, friend him at facebook.com/glenstarkey or myspace.com/glenstarkey, or contact him at gstarkey@newtimesslo.com.