PHOTO BY STEVE E MILLER
NO TICKLISH IVORIES HERE : One of Bob B. Hobbs' earliest musical creations, the Piano Harp Sounding Machine, looks like an ancient instrument.
# For the grand finale of his Sept. 20 concert, "Gonzgo: Instruments of Sound," Bob B. Hobbs plans to have audience members throw SuperBalls at a Wurlitzer piano that he stripped down to its bare bones. This playfulness, bordering on absurdity, is what drove him to create the six musical structures that currently reside at ARTS Space Obispo.
"The spirit of nonsense is a pretty important part of life," explained Hobbs, who started playing the drums at the age of five, and made a point of taking music and art classes in school whenever possible. And his exhibit, comprised of six individual musical installations, is full of both nonsense and passion.
The first installation, a trio of gongs suspended from the frame of a front porch swing, looks the most like a traditional musical instrument and one of the simplest installations in terms of construction. But according to Hobbs, drilling holes into the steel frame wasn't easy.
Across from the gongs stands a more complex structure titled Chimes and Gongs, which Hobbs made five or six years ago. A row of golf club shafts of varying lengths makes up the "chime" portion of the structure, which is supported by a frame that Hobbs suspects was once a clothing rack. In addition to chimes, pots from Scolari's and a large shell casing balance out the piece.
"They're all either stainless steel or aluminum, and those conduct sounds really well," Hobbs said, explaining his choice of musical props.
With drumsticks of varying lengths propped against the piece, it's clear that the metal is meant to be interacted with, an invitation that's both a parent's worst nightmare and the perfect tool to expand people's perception of how music is made and who does the making.
PHOTO BY STEVE E MILLER
ELEMENTAL : A playful rainstick suspended in the air is a colorful Gonzgo installation.
# In the farthest corner of the room stands the Aqua Bell, with a clapper that allows the piece to produce a loud peal. Near a door stands a large metal sheet, which Hobbs calls his standard thunder sheet, except that he attached 27 bells that jangle when the piece writhes.
And the piece that will be featured in the SuperBall-riddled grand finale? Hobbs found the Wurlitzer piano, abandoned, while living in Berkeley. He stripped it down to the harp and sounding board, creating a 300-pound piece that looks at least 500 years old. The regal-looking instrument appears misplaced amid all of the other metal contraptions, but as Hobbs' first hybrid musical instrument, it serves as a jumping off point for everything that's followed. Piano Harp Sounding Machine as Hobbs calls his creation made an appearance in Macbeth at the Berkeley Shakespeare Festival. Its long strings, when thumped, strummed, tapped, or stroked, produce a variety of sounds, including an eerie echo and whale-like call.

Hobbs' rainstick has the distinction of being both the prickliest and most vibrant of his installations. The large metal cylinder is suspended mid-air with multi-colored and-sized sticks jutting out at different angles. The piece is the third rainstick Hobbs has made, and he completed it about a week before the pieces were installed at ARTS Space Obispo. But the fact that it's the third of its kind doesn't mean that Hobbs is done experimenting with the design. Dissatisfied with the amount of noise the stick produces, he plans to fill it with something besides the garbanzo beans that slide through it, replicating the soothing sound of rain. A dozen jacks hang around the stick, adding texture and color to the open ceiling.
"It's another question mark," Hobbs said of the seemingly purposeless children's toys. "What are these for?"
Surprisingly enough, the pieces in Gonzgo don't even begin to approach Hobbs' complete musical collection. Because he's spent so many years pursuing his hobby, he says that people have a tendency to give him random materials junk in the eyes of some, but the stuff of sound and song in his.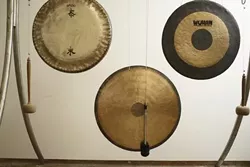 PHOTO BY STEVE E MILLER
METALLIC TRIO : Hobbs suspended three gongs from a front porch swing frame.
# He keeps most of his pieces in a storage unit. When it came time to select the ones he wanted to exhibit, Hobbs said that he had two criteria: Whether or not the piece already had a frame or stand, and whether the small show space had room for the piece.
"Finding opportunities to use this stuff doesn't always come along," Hobbs acknowledged. "I wasn't necessarily surprised that they wanted this in here, but it's such an odd thing."
Many of the pieces have found their way into gallery exhibits, both in San Francisco and San Luis Obispo, but most of the time they merely serve as a source of inspiration and pleasure for their creator.
Music lovers dropping by the gallery, drawn by the appeal of hybrid noisemakers, can also attend Hobbs' Gonzgo concert on Sept. 20. Accompanied by Howard Emmons who recently purchased The Drum Circuit in San Luis Obispo Hobbs is planning a concert the likes of which few have ever seen. Emmons refers to the event as "organized improvisation." Audience members should come with an open, inquiring mind and a healthy appreciation for nonsense.
INFOBOX: Makin' music
"Gonzgo: Instruments of Sound" will be on display through Sept. 20 at ARTS Space Obispo in the Creamery. The instrument creator, Bob B. Hobbs, will perform his creations accompanied by Howard Emmons on Sept. 20 from 7 to 8:30 p.m.
Arts Editor Ashley Schwellenbach takes chocolate, film, and animals seriously. Call her a heathen at aschwellenbach@newtimesslo.com.