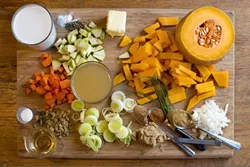 PHOTO BY STEVE E. MILLER
INGREDIENT SPREAD: Staff Photographer Steve E. Miller took it upon himself to try out the recipe for the butternut squash soup in this week's cuisine column and an assortment of the ingredients is pictured here. Steve notes that because of the differences in ovens, you might need to modify the timing of the parts of the recipe to suit your own appliance. Overall, the soup came out deliciously!
Few comfort foods are as righteous at soothing both body and soul as a great bowl of soup. While it's delicious when it has just finished cooking on the stovetop and it's hot—it's far more heartwarming when the soup has a chance to sit a day or two to allow the flavors to meld into one delectable meal in a bowl. My appreciation for the great soups I've eaten throughout my life motivated me to set my focus on a one-day event in Cambria called Soupabration.
Now in its third year, this charming event brings together the best chefs in and around Cambria to compete against each other in winning the celebrity judges' award and the people's choice. For locals, it's a great way to discover which chefs are truly talented and passionate about their craft. After all, if they can win you over during a contest like this you're sure to love the foods they're preparing in their restaurants. It takes place on Sunday, Oct. 20, from 2 until 5:30 p.m. at Camp Ocean Pines in Cambria. Guests can enjoy sampling each competing chef's soups (some of them make two versions), among other local artisan foods including: We Olive, Red Moose Cookie Company, Mama Ganache Chocolates, Dakota's Pop Parlor, and Bassetti Vineyards.
Now that Cambria has several of its own wineries and vineyards, there will be plenty of varieties and blends available for tasting, including: Bassetti Vineyards, Black Hand Cellars, Cayucos Cellars, Harmony Cellars, Hearst Ranch Winery, Lone Madrone, Moonstone Cellars, Sculpterra Winery, Stolo Family Vineyards, and Twin Coyotes Winery. Tickets cost $45 each for soup and food sampling, or $60 each for soup, food, and wine sampling and a commemorative wineglass. A benefit for Pacific Wildlife Care, these extraordinary humanitarians will have ambassadors, human and wildlife, there to meet and greet guests attending Soupabration. The event will feature a silent auction, plus a raffle and wine wheel to win prizes. For more information go to pacificwildlifecare.org or call 927-3357.
My interest for Soupabration grew further when I learned a very talented local chef earned the seasonal soup award during the first two competing years. It wasn't surprising to learn it was executive chef Matt Beckett of Linn's in Cambria. I've covered this talented, passionate chef since I first met him at the SLO Country Club, and when he was at Cornerview Restaurant in SLO. When the latter closed in 2010, the Linn family hired him as their new chef and it's been an excellent collaboration. Beckett generously provided his award-winning soup recipe so that anyone can make it at home, with a variation. First of all, this top-notch chef makes his own stock with fresh, seasonal ingredients. For lighter soups he suggests roasting the stock vegetables lightly, but if it's a heavier soup, like lentil, he roasts the veggies longer to make the stock more robust.
"Having a seasonal menu is number one on my criteria. It's all about living where we do, and it's a big bonus having Linn's farm-grown produce," explained Beckett, who has daily access to the Linn's 8,000-square-foot greenhouse year round. The chef competes by making two soups each year, but this year he's challenged himself to make one that's sure to please celebrity chef Rahm Fama, star of the Food Network show Meat & Potatoes. Last year, Fama admitted to Beckett that the Soupabration competitors have never made a soup with enough meat to please him. I was impressed by the fact Fama grew up in New Mexico and earned his first kitchen job at celebrity chef Mark Miller's Coyote Café. There, he discovered professional cooking was his calling. Beckett's gumbo is sure to win over chef Fama this year.
"Some overdo soups but you don't want it too heavy or too light, texture really helps," Beckett noted. "This year I'm making gumbo for chef Rahm. He prefers meat so it will have Andouille sausage, chicken, and shrimp, plus okra, tomatoes, peppers, and other vegetables from the farm. I make it California style, no roux."
Are you ready for some good soup? I am!

Contact Cuisine columnist Kathy Marcks Hardesty at khardesty@newtimesslo.com.
Roasted Butternut Squash Soup
Winner of Best Seasonal Soup at Soupabration
By Chef Matt Beckett, Linn's of Cambria
1- 2 / 3 lb. butternut squash, whole
4 Granny Smith apples, diced
1 leek, diced medium
2 medium carrots, diced medium
1 onion, diced medium
4 tbsp. oil
2 tbsp. butter
2 tbsp. brown sugar
1 tbsp. nutmeg
1 tsp. cinnamon
1 tsp. cumin
6 cups chicken stock (or substitute vegetable stock to make it vegetarian)
1 cup crème fraîche
salt and fresh pepper to taste
candied pepitas (recipe follows)

Preheat oven to 400F and roast whole squash 10 to 20 minutes until skin blisters. Cool enough to peel away skin. Chop squash neck into small dice, set aside. Cut large portion in half, remove seeds from cavity, cut into chunks. Melt butter and pour over squash, sprinkle with brown sugar and spices. Toss squash, leeks, carrots, and onions with 2 tablespoons oil, and roast 20 minutes or until golden. Add combination to stock in large stock pot and bring to a boil, simmer 10 to 15 minutes. Carefully puree hot soup with hand blender, then add crème fraîche. Heat a sauté pan with 2 tbsp. oil, sauté diced squash neck and apples until al dente. Add to soup and season with salt and pepper. Serve soup with chopped chives and candied pepitas.
To make this soup Asian in style, substitute same amount of spices above with curry powder or garam masala, adjusting amount depending on your preference for spicy heat. Instead of crème fraîche add 1 cup coconut milk and proceed as directed.

Candied Pepitas
1 cup pepitas (pumpkin seeds)
1 tbsp. rice vinegar
1 tbsp. sugar

Toss all together and bake on nonstick sheet-pan in 350F oven for 10 to 12 minutes until golden.