What's it rated? R
What's it worth? Full price
Where's it showing? The Palm, Stadium 10, Bay
Writer-director Sofia Coppola (The Virgin Suicides, Lost in Translation, Marie Antoinette) helms this Civil War-era story about a wounded Union soldier named Cpl. John McBurney (Colin Farrell), who's taken in by head mistresses Miss Martha (Nicole Kidman) of a Virginia girls' school. However, after saving the enemy soldier, Miss Martha and her charges—Edwina (Kirsten Dunst), Alicia (Elle Fanning), Jane (Angourie Rice), Amy (Oona Laurence), and the other students—must confront sexual tensions, rivalries, and unexpected events. The film is based on Thomas Cullinan's novel as well as Albert Maltz and Irene Kamp's screenplay for the 1971 Clint Eastwood film of the same name. (93 min.)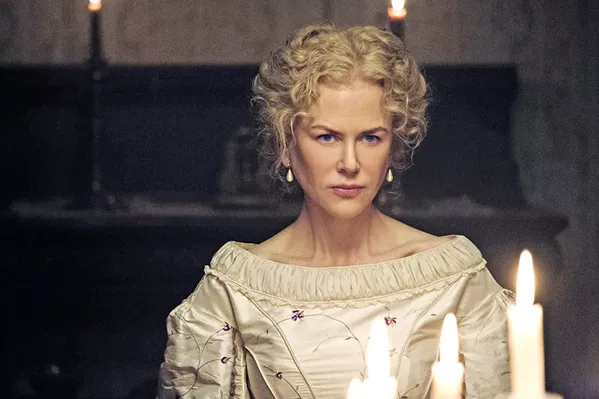 Photo Courtesy Of American Zoetrope
LADY OF THE HOUSE Nicole Kidman stars as Miss Martha, the headmistress of a Southern girls' school who agrees to take in a wounded Union soldier until he's well enough to be turned over to the Confederacy and sent to military prison.
Writer-director Sofia Coppola (The Virgin Suicides, Lost in Translation, Marie Antoinette) helms this Civil War-era story about a wounded Union soldier named Cpl. John McBurney (Colin Farrell), who's taken in by head mistresses Miss Martha (Nicole Kidman) of a Virginia girls' school. However, after saving the enemy soldier, Miss Martha and her charges—Edwina (Kirsten Dunst), Alicia (Elle Fanning), Jane (Angourie Rice), Amy (Oona Laurence), and the other students—must confront sexual tensions, rivalries, and unexpected events. The film is based on Thomas Cullinan's novel as well as Albert Maltz and Irene Kamp's screenplay for the a 1971 Clint Eastwood film of the same name
It's been a long time since I've seen the 1971 original film, but I don't remember it being as dark and brooding as Coppola's new version, which is set to a slow simmer that builds slowly until finally boiling over in unexpected ways.
It begins with young mushroom hunter Amy out in the wilds of Virginia, with the distant sounds of canon and musket fire always in the background. When she comes across the wounded McBurney, she's startled but intrigued, which basically sums up the entire seven-member population of the girls' school. Some, like Alicia and Jane, have clear distrust for the Northerner, while others like Edwina and Amy are fascinated to be in such close proximity to a man.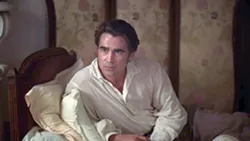 Photo Courtesy Of American Zoetrope
LOTHARIO Colin Farrell is Cpl. John McBurney, who, once ensconced in the girls' school, begins to wield his charms on the women and girls there.
After some minor cajoling, Miss Martha is convinced the "Christian" thing to do is to allow Cpl. McBurney to recover from his wounds before contacting the Confederate soldiers and having him hauled off to a military prison. Sexual tension immediately brims over as Miss Martha and Edwina tend to McBurney's badly damaged leg, and over the next several days as his condition improves, he begins to work his charms on the various women.
It's a quiet, one might even say slow, first third, but by the middle third as McBurney tries to ingratiate himself by tending the garden and paying private compliments to the various girls, the rivalries begin to form as McBurney is invited to now dine with the ladies. Catty exchanges about who's trying harder to dress up and flirt ensue, setting up the final act for when things turn batshit crazy and betrayal and competition swirl throughout the household. It's an interesting take on a story that probably didn't need updating, but it's still deft filmmaking from filmmaking royalty.
The performances certainly make the film watchable. Kidman is excellent, playing Martha with a slavish adherence to decorum. When Edwina wears an off-the-shoulder dress to dinner, Miss Martha directs her to cover her shoulders with her shawl. Dunst's Edwina is quiet and melancholy. She's of marrying age, but three years into a bloody war, all the available men have gone off to fight and die. Fanning's Alicia is by far the most conniving, explained by her youth and her budding sexuality. McBurney's attention is like a drug to her.
I've never been a big Farrell fan, but he plays McBurney effectively, coming off at first as a gentleman happy to be a prisoner and away from the fray, but soon it's clear he's a wolf in the hen house, offering each lady exactly what she needs to become enamored of him. Flirting with underage girls is never a good idea, however, and as McBurney's real character is revealed, his charms over the women fade.
About the only character who doesn't fall victim to his roguish charms is Jane, who Rice plays as distrustful and guarded.
Without these engaging performances, Coppola's Southern Gothic approach to direction, and her fine dialogue, the film might have bordered on boring, but instead it's an insightful look at female sexuality at a time of extreme patriarchy. It's definitely worth a look. (93 min.)
—Glen Starkey