On February 6, 2007, in anticipation of approving the Chinatown Project and the Garden Street Terraces Project, the City Council approved increasing building heights from 50 feet to 75 feet in the SLO Downtown Commercial Core based on the following findings:
1. increasing affordable and workplace housing;
2. increasing pedestrian amenities;
3. increasing view access;
4. historic preservation.
Very few of these findings will be fulfilled through the construction of the proposed (as of today) Garden Street Terraces Project.
Artist renderungs by David Lee
View along Garden Alley
Why has the proposed project fallen short of the city's findings for this type of project? Due to economic reasons, the developer has made significant cuts to the housing component. Although the developer has pledged to make significant improvements to the "walkability" of Garden Street, very little improvement has yet been proposed for Garden Alley or for the sidewalks along Broad and Marsh Streets. Moreover, the current proposed project will cast shadows on more than 51 percent of some existing building roofs facing Higuera Street and across Garden Alley (roofs that should be eventually be installed with solar panels and skylights), and it would cast shadows on some south facing walls across Garden street.
The average building height will range from four to five stories, with exceptions for the several 74-foot-high elevator towers. Views of the Morros will be compromised and though there will be some view access from two proposed publicly accessible view decks, neither will provide views of surrounding natural features.
With regard to historic preservation and "sense of place": The project's proposed demolition or partial demolition of seven historically-listed properties and its unprecedented scale will hardly fit the downtown core area's sense of place. Also of concern is the removal of 19 of 23 40-year-old street trees. So beware of those "before and after" digital renderings of the project, in which the mature ficus trees remain miraculously intact!
Ironically, none of this would have happened had the "Conceptual Physical Plan for the City's Center" been incorporated into the City's General Plan. This document was compiled by an illustrious group of concerned citizens including former Mayor Ken Schwartz, Pierre Rademaker, Charles Crotser, Brian Starr, Rod Levin and Andrew Merriam. In 1992, it was reviewed and endorsed by both the Council and all the City advisory bodies, but unfortunately, this physical plan remains only an "advisory" document.
The Garden Street Terraces project is located in Area 4 of the that document and the guidelines pertaining to this area should certainly apply today: "The mid-portion of each block should be used for public walkways and small plazas, with landscaping and seating…Residential uses should be encouraged on upper stories, oriented away from the street frontages … Where possible, connections to Higuera and Marsh should be encouraged between the interior plazas and paths …" Sadly, the current proposal has not fully developed its mid-block public walkways, nor has the current proposal fully addressed the idea of placing new housing units above and behind street-level businesses.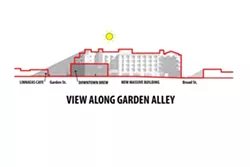 Artist renderungs by David Lee
View along Garden Alley
The present E.I.R., along with the council and several advisory bodies, has recommended 15-foot setbacks above the second floors of the proposed development along Marsh and Broad Street. But much more should be done. An argument that has apparently fallen on deaf ears is that the Garden Street "terraces" project should be designed along the concept of terraces! Stepping back the massing will provide more access to sunlight to the adjoining streets, alleys and sidewalks. Stepping back the massing will scale back the perceived building mass from the street, will minimize wind turbulence, and will ease street noise that would otherwise invade the proposed upper floor residences and hotel rooms.
Regarding the current architectural design of Garden Street Terraces (issues that will be discussed at the C.H.C. and A.R.C. meetings scheduled to take place sometime after June 1), Sara McEre has offered several observations:
"To make these buildings more interesting and welcoming, their colors would want to enhance our moods. The project would have substantial cornices, giving a feeling of shelter. The windows would have generous sills and interesting frames. The many balconies would be more generous in proportion and detail. All throughout San Luis Obispo, residents have worked hard to make their houses and commercial buildings more welcoming and interesting. Each one of these successful creations is a gift to our unique San Luis Obispo. This project must show us that it, too, will be a gift to our town."
Too many residents are willing to leave the decisions that will shape the future of downtown in the hands of our elected and appointed officials. The downtown belongs to us all and we all need to speak out on our behalf to better represent our collective vision. The opportunity to do so is next Tuesday, June 1 at 7 p.m. in city hall, when the proposed redesign of Garden Street Terraces is presented to the City Council. Please attend and make your voice heard!
Allan Cooper, a resident of San Luis Obispo, represents the group Save Our Downtown. Send comments via the editor at econnolly@newtimesslo.com.