I was expecting the Winchester Mystery House to be tucked away in a forest outside the city limits like Wayne Manor. Either that or in the middle of Nowhere, with a capital N (the unearthly, Lynchian wasteland in Courage the Cowardly Dog). You can imagine my surprise upon finding the landmark among bustling streets, sharing an intersection with Santana Row, a massive, upscale shopping district located in the heart of west San Jose.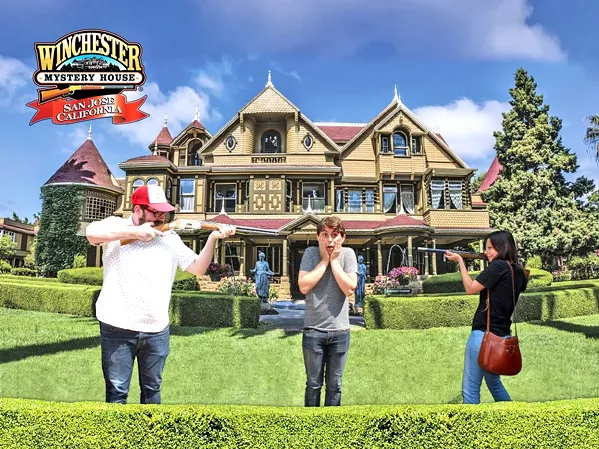 Photo Courtesy Of Caleb Wiseblood
SILLY SOUVENIR The Home Alone face was my gut reaction to Chris and Alli pointing rifles at me.
I'm relieved as well. My trepidation about visiting a supposedly haunted house subsides as I realize there's a Veggie Grill and other suppliers of serenity less than a mile away. Even the parking lot helps a bit; seeing touristy couples and families scurry out of their vehicles like they're heading into Disneyland gives me hope. How scary can this really be, right? I always get that same feeling when I see young children waiting in line for the same roller coaster as me. The mentality is: If they can handle this, then so can I. The immortal lyrics of Ray Parker Jr. become my mantra as we approach the front entrance. "I ain't afraid of no ghost!"
A gift shop serves as the portal to the outdoor patio where the house tour begins. The amount of knick-knacks available at outrageous prices calms my initial fear even more. I fill my head with snarky jabs at consumerism to keep the apparition apprehension at bay. The tour begins shortly and we make our way to the front of the mansion.
The tour guide leads our group, made up of 35 or so, down a hallway to a staircase, only the first of many. Throughout the tour, she tells the tale of Sarah Winchester, widow of rifle manufacturer William Winchester, in bits and pieces. According to tabloids at the time, a spiritual medium gave Sarah very specific instructions after William's death in 1881—to continuously build a home for herself and the ghosts of Winchester rifle victims to reside in.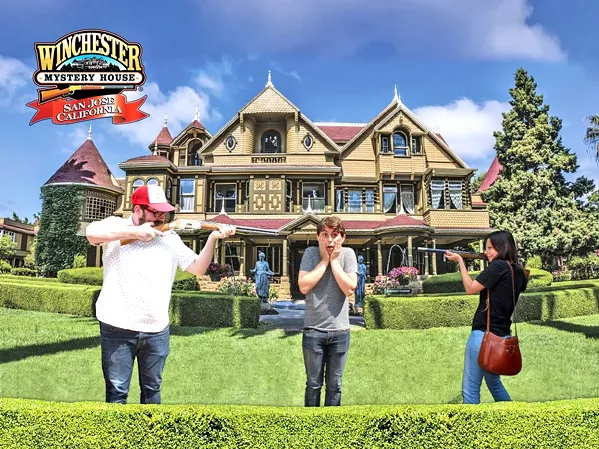 Photo Courtesy Of Caleb Wiseblood
SILLY SOUVENIR The Home Alone face was my gut reaction to Chris and Alli pointing rifles at me.
After purchasing an unfinished farmhouse in 1884, construction of the mansion began without an architect or blueprints. And it never stopped, not until Sarah's death in 1922. The results of the continual building and remodeling of the mansion are beautiful to behold, and I'm far more fascinated than afraid, even as I hear our guide explain a theory about why so many of the doors and staircases in the mansion go straight into brick walls or gaps seven stories high. Some of the oddities were meant to serve as secret entrances and exits for good spirits, she says, while others were intended to confuse and mislead evil spirits.
Luckily for me, there's just way too much to admire. Every architectural peculiarity is bubble gum to the eyes. Photography is prohibited inside the mansion, so I take a ton of mental snapshots. Unfortunately, the image I remember most is a framed photo of one of Sarah's workers, an elderly gardener in overalls. The overalls aren't what make this unfortunate, rather the tour guide's anecdote about various sightings of the man over the years by staff members and guests. Get out of my head! Δ
Calendar Editor Caleb Wiseblood misses the well-intentioned ghosts of his youth, like Casper and Space Ghost. Contact him at cwiseblood@newtimesslo.com.