If you think you don't like poetry, Rachel Kann will disabuse you of that notion. The Write Club Los Angeles champ and resident writer for Hevria has seen her work highlighted everywhere from on KCRW's Morning Becomes Eclectic to NPR. She's released two albums, Ptolemaic Complex and Word to the WHY?S, and she's about to release her third, The Upward Spiral, produced by Jaz 1. This ain't grandma reading Robert Frost out of Readers Digest, people! Rachel Kann is a performer!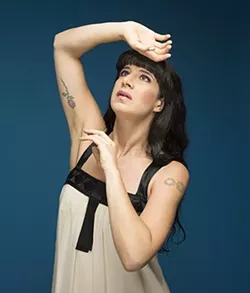 PHOTO BY TESS.LOTTA PHOTO/GRAPHICS
IRREVERENTLY REVERENT: Award-winning spoken word artist Rachel Kann, who grew up in SLO Town but lives and works in LA, returns home for two collaborative shows with a cappella group Beautiful Chorus on May 31.
The TEDx UCLA poet's spoken word shows are mesmerizing as she delivers her words in a driving cadence, propelling her ideas forward with a surprising ferocity. Her meanings are frequently multiple.
In "Getting Drunk On Purim," for instance, Kann speaks of her connection to the divine as if it were a tryst between lovers: "Tonight, I will wine and dine divine inspiration,/ I will start with tremendous illumination./ Your presence is undeniable,/ A revealed miracle spreading across every inch of my skin./ I am altered./ I am over the top./ I am inebriated on lack of limitation./ I have set myself free of my own volition./ I am high on your divine floodlight./ I am gracious dveikut,/ Cleaved to receive./ I am mekabel, arced back,/ Preening wildflower./ I am filling myself with brightness/ So that darkness has nowhere to hide./ This love is reckless and essential./ This love is fearless and steadfast./ As the moon rises high into the midnight sky,/ I will gladly do/ That which I have been/ Commanded to do:/ Get out of control,/ Allow myself the freedom to dive headlong into the/ Crystalline honey nectar ocean of you./ Such all-consuming beauty,/ I swoon."
As someone who's followed Kann's career, she seems more than ever to have embraced her Jewish heritage. Purim, means drawn "lots" and refers to the Jewish holiday Akkadian, which commemorates the saving of the Jews from Haman, who, according to the Book of Esther, planned to kill them all in ancient Persia. Dveikut means dedication or clinging to God. Mekabel means to receive.
"I suppose the reason my Judaism is more front and center in my poetry is because it's more front and center in my life," Kann explains. "I've always been a mystic, and mysticism has always played a huge part in my poetry, and now, it's just more … Jewish."
Her mysticism hasn't only been divinely inspired. She embraces exploration and experimentation in all forms.
PHOTO COURTESY OF BEAUTIFUL CHORUS
A MULTITUDE OF VOICES: Led by Alexandrah Love, a cappella ensemble Beautiful Chorus created original works specifically to accompany spoken word artist Rachel Kann.
In "Get High," Kann writes, "I'm so high right now./ Oh my G!d, I'm so high./ I'm a hedonistic ascetic,/ an ascetic hedonist,/ irreverently reverent,/ a healthy skeptic with a hankering for transcendence./ I'm an OG tripper./ Been spinning in circles/ to make myself dizzy/ since I was like, 3./ My first album,/ (grabbed from the 'Freebie Basket' at Booboo's Records,)/ was a scratched/ copy of Sgt. Pepper's./ I was 7./ The pre-teen me and my/ coven of reincarnated witches/ would choke each other out/ until the thrumming rush/ of checkerboard fuzz/ swallowed us./ I voluntarily spent my/ junior high/ lunches/ in the library,/ poring over the PDR and Encyclopedia/ of Psychoactive Drugs./ Before I was even legal,/ I'd already ingested all manner and manifestation/ from ridiculous to sublime/ in the name of research and exploration,/ and here I still am, y'all—to my own amazement."
These are but snippets of her much longer poems, many running seven or eight minutes long, and when she returns to her SLO Town hometown for two shows this Sunday, May 31, she'll be collaborating with four members of a vocal group called Beautiful Chorus, which is led by Alexandrah Love.
"The collaboration between me and Beautiful Chorus is debuting in SLO," Kann says. "Although Alexandrah and I have been friends and colleagues—I deeply admire her—for about a decade, this is our first time collaborating, which we have been trying to do since forever. We're delighted. In a nutshell, she's composed some original vocal arrangements to be sung a cappella by Beautiful Chorus under my poems. She's created these pieces precisely to go along with my specific poems. The collaboration between us will be a super spiritual, funky fresh love fest."
I sort of think of Rachel Kann as the spoken word equivalent to Sarah Silverman—she looks at the world in a fresh way, never shies away from irreverence, and she's funny and surprising as heck.

MYSTIC WITNESS: Spoken word artist Rachel Kann and a cappella choir Beautiful Chorus will collaborate on two free shows this Sunday, May 31, at 3 p.m. in Steynberg Gallery and at 7 p.m. at Cal Poly in building 38, room 204. "We will pass the hat but there will be no pressure," Kann says. "And we'll be presenting some unique material each time, so feel free and encouraged to come to both shows." Learn more at rachelkann.com.
"I'm honored that you would compare me to Sarah Silverman; I find her exquisite," Kann says. "With that said, I never intend to be provocative simply for the sake of provoking. If I have questions that need to be asked, I do not hold my tongue, and I use my poetry as a place to ask such questions. But I am not confrontational simply to be inflammatory."
What Kann definitely is, is a wholly exuberant human being living every moment to the fullest and making art the central principle of her life.
"Get your tushy to these shows because we intend to rock your world with some poetry and vocals to mystically uplift your soul in a totally funky joyous way!"
Glen Starkey takes a beating and keeps on bleating. Keep up with him via twitter at twitter.com/glenstarkey, friend him at facebook.com/glenstarkey, or contact him at gstarkey@newtimesslo.com.