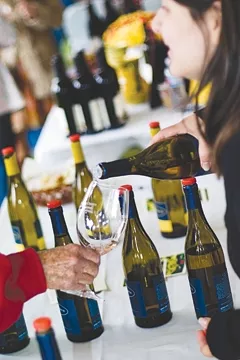 PHOTO BY BOB DICKEY
SUBLIME : Experience superb wines, gorgeous settings, and delectable cuisine at the Santa Barbara County Vintners' Festival
One of my favorite tastings, the Santa Barbara County (SBC) Vintners' Festival, celebrates its 27th year of turning wine lovers on to the marvelous varietals produced in the Santa Maria, Los Alamos, and Santa Ynez valleys and the Santa Rita Hills wine regions. Hosted by the SBC Vintners' Association, the grand festival will be held in Lompoc's River Park again this year. I've attended it the last two years and it's a glorious locale for showing off the spectacular wine and food available in Santa Barbara wine country.

And it's not just the grand tasting that makes this event worth driving to; it's the open house parties during the four-day weekend where you'll enjoy wine tasting, great food, and entertainment at every stop. Do check out the Saturday night winemakers' dinners taking place in such outstanding restaurants as the Ballard Inn (Santa Ynez Valley) featuring Richard Longoria Wines, Lido at Dolphin Bay Resort (Shell Beach) featuring Cambria Vineyard, and many dinners by premier chefs at the wineries. The SBC Vintners Association Executive Director Jim Fiolek said this event usually sells out, and your best price is buying a ticket in advance for $75 per person, or you'll pay $85 at the gate—if there's any room.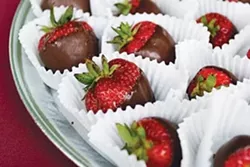 "Every member of the association, large or small, participates. It's expected of our members and they all commit to it," Fiolek explained of this festival, which was designed to showcase Santa Barbara County wines. "This year we have a new addition: Barrie Lynn, cheese impresario from Beverly Hills, conducting a seminar on how to get the most out of tasting cheese." Like wine tasting, the more you understand about each distinctive variety, the better you become at evaluating cheese.
When this festival started in 1983, there were only a handful of professional winemakers who gathered to promote what they believed were world-class wines. Then, few wine geeks believed Santa Barbara County would ever compete with Napa Valley, or Sonoma County for that matter, but the vintners proved themselves and now they're at the top of their game. In fact I've attended their fabulous festivals since 1991, and several years before that at trade tastings when I lived in San Francisco. Winemaker Richard "Rick" Longoria, one of SBC's finest Pinot Noir producers, says he remembers the Vintners' Festival started with 13 wineries in 1983. They also started traveling to such cities as San Francisco, New York, and Boston to promote Santa Barbara wines. Now, thanks to the acclaim of wine critics and wine connoisseurs around the world, people come to them. He noted: "We're seeing more trade and people from out of state who come to taste the wine from a lot of different winemakers in one place."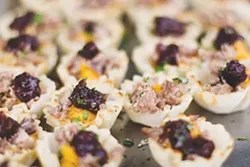 Having been to both trade and consumer tastings, I can promise the wines poured at this event will impress the most finicky wine drinker. People who love SBC wines travel great distances to get to these producers for a chance to taste any of their wines. Although Santa Barbara County is known foremost for Pinot Noir, Chardonnay, and Syrah, locals know there's just as much magic in such lesser-known varieties as Pinot Blanc, Grenache Blanc, Grenache Noir, and the Cabernet Franc. 

These varieties are grown in superlative vineyards so individual, even if two producers make wines from the same vineyard, you won't find their wines alike.
It's not just the great wines that have these zealots queued up, you'll find them mobbing the great restaurant booths, all of which are well worth the wait. Among my longtime favorites: Hitching Post, which usually serves up savory beef hot off the grill with crispy French fries; and the ever-changing delights from Ballard Inn in Ballard; Brothers' at Mattei's Tavern in Los Olivos; Full of Life Flatbread (aka American Flatbread) in Los Alamos; Grappolo in Santa Ynez Valley; and Wine Cottage Bistro in Orcutt. Between the wineries and restaurants all serving awesome treats, they'll have you craving more long after the Vintners' Festival has concluded.
You can reach New Times' Cuisine columnist at khardesty@newtimesslo.com.