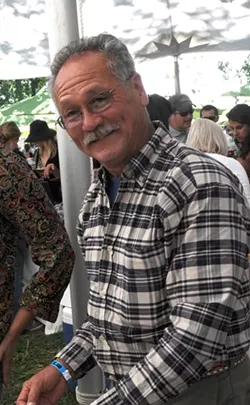 PHOTO BY DAN HARDESTY
GROW-IT-RALPH: Farmer Ralph Johnson sells his freshly harvested produce at the Arroyo Grande, Baywood, Morro Bay, San Luis Obispo, and Templeton farmers markets.
The bright, sunshine-filled days of spring urge tiny sprouts to begin bursting through the rich earth in flourishing farms all over the Central Coast. Those delicate, tiny green leaves pushing through the tilled soil will soon yield sweet ripened strawberries, brilliant blueberries, leeks, and miniature lettuces that will soon be harvested for the farmers markets. During the recent Earth Day Food & Wine Festival, I feasted on many noteworthy delicious spring dishes prepared by chefs and farmers alike.
Johnson Farms
I was particularly surprised by farmer Ralph Johnson's amazing quinoa grown on his farm, which he prepared as an appetizer. He generously provided his recipe that features his top-notch lettuces and onions sold at markets all over SLO County.
There's only one person on my mind when I want heirloom lettuces: It's Johnson. I go directly to his table at farmers market on Wednesday in Arroyo Grande, picking up everything he has in season from lettuces and herbs to hot and sweet peppers. I can hardly wait for his strawberries (soon to come) that are so sweet and luscious they never require the addition of sugar. Yet until the Earth Day fesitval, I had never tasted any dish he had prepared himself. I believe he could sell that pre-made salad at the market, it was messy but delicious. If a person is that passionate about growing food, it only makes sense he's keen about it preparing it too, right?
Quinoa salad lettuce wrap by Ralph Johnson
1 cup freshly dried quinoa
(1 cup dry yields approximately 3 cups cooked)
1 tablespoon extra virgin olive oil
1/4 tsp. Hawaiian sea salt
1/4 cup carrot, grated
1/4 cup spring peas, shelled
Fresh thyme, chopped
Whole lettuce leaves (the wrap)
Vidalia onion, smoked, dried, and crumbled
Extra virgin olive oil (EVOO)
Meyer lemon bliss balsamic vinegar
Pomegranate balsamic vinegar reduction
PHOTO BY DAN HARDESTY
WRAP-IT-RALPH: Ralph Johnson's quinoa salad lettuce wraps may be a bit messy but they taste great.
Lightly toast quinoa in a dry, nonstick skillet (it will pop). Stir 1 tbsp. EVOO into quinoa. Add 2 cups water and Hawaiian sea salt and cook 15 to 20 minutes. Allow it to cool and refrigerate. Prepare carrots then mix with peas and thyme, adding enough lemon bliss balsamic to lightly coat vegetables, and refrigerate. Separate lettuce leaves and rinse. When ready to serve, mix the vegetables into the quinoa. Place mixture on lettuce leaves, and sprinkle dried onions over the top. Add a drizzle of the reduced balsamic on top.
This makes a tasty appetizer that can be easily prepped ahead and assembled at the last minute, or a light lunch. He recommends soaking the quinoa in fresh water at least 8 minutes then rinsing until the water runs clear to remove bitter outer coating. Johnson used apple wood to smoke the onions. He purchased peas and carrots at the farmers market, and the oil and balsamic vinegars from Global Gardens (a distinctive brand produced in Los Alamos; go to globalgardensonline.com).
Meagen Loring Catering
The seasonal bounty inspired a call to Maegen Loring, one of the most talented and popular chefs on the Central Coast. Her fans will follow her anywhere, and I have bad news and good news to tell. She is no longer an executive chef at Lido in Shell Beach. The good news is that she has re-established her Maegen Loring Catering Company, and she promises her new website will be discoverable soon. Contact her at maegen@theneoncarrot.com.
Trio of Crostini by Chef Maegen Loring
Serves 8
1 French baguette
EVOO
6 garlic cloves, peeled
Thinly slice baguette at an angle. In a sauté pan, cover the bottom with EVOO.
Over medium heat fry bread slices until golden, adding more oil as needed between batches. Cut garlic cloves in half and rub cut side over each baguette slice. Set aside while preparing the toppings. Crostini can be pre-assembled and arranged on a platter, but will get soggy if left sitting too long. A simple alternative is to offer fillings in bowls with the crostini on the side, allowing guests to assemble their own.
Roasted peppers with gremolata
2 red bell peppers
2 yellow bell peppers
1 tsp. cumin seeds
4 cloves garlic, minced
1/2 cup EVOO
Salt and pepper to taste
Zest of one lemon, finely chopped
2 tbsp. of chopped flat leaf parsley
Place peppers under a heated broiler and cook until blackened. While still hot, place peppers in a sealed plastic bag and allow to cool. Peel off the blackened skin and cut pepper open to remove the pod and seeds. Slice flesh in thin strips and place in a bowl. Add the cumin seeds, half of the chopped garlic, EVOO, and salt and pepper to taste. Prepare gremolata by mixing garlic, lemon zest, and chopped parsley in a bowl. Place a spoonful of peppers on a crostini slice and top with a pinch of gremolata.
Spring pea puree with truffle oil and parmesan
1 large potato, peeled and cubed
1-1/2 cups fresh spring peas (or frozen peas defrosted)
1/2 cup EVOO
2 cloves garlic, finely minced
Salt and pepper to taste
6 mint leaves, finely chopped
Truffle oil
Block of parmesan
Place potatoes in a saucepan, cover with water, bring to a boil and cook until soft.
Drain potatoes and mash with EVOO. Place peas in a food processor, chop until smooth, add garlic, salt, pepper, and mint, blend until smooth. In a bowl, stir the pea puree into the potato mixture. With a potato peeler, shave small pieces of cheese off the block. Place a spoonful of pea puree on a crostini, garnish with a drop of truffle oil and parmesan shavings.
Fig and Gorgonzola Topping
1-12 oz. pkg. Black Mission figs
1 cup gorgonzola cheese, crumbled
1/4 cup heavy cream, liquidSalt and pepper to taste
Toasted or candied pecan halves
Chop figs in small pieces (pea-sized) and mix with next three ingredients. Mound a spoonful on a crostini and warm in a 350-degree oven until the cheese melts. Garnish with a pecan.
With these simple but delicious recipes, everyone will think you're a chef. There's no secret to making great food; it's easy. It's all about buying fresh, good quality ingredients and letting them shine.
Contact Cuisine columnist Kathy Marcks Hardesty at khardesty@newtimesslo.com.