You may not know it, but you've heard Arthur Adams. The soul, jazz, and bluesman played on Bonnie Raitt's Nick of Time album (a triple Grammy winner!); recorded five albums with the Crusaders, including Street Life (which topped the Billboard jazz, R&B, and rock charts); and backed everyone from B. B. King, Lowell Fulson, Al Jarreau, and Nina Simone to Jerry Garcia, Lou Rawls, James Brown, and more.
PHOTO COURTESY OF ARTHUR ADAMS
ARTHUR! ARTHUR! : Soul, jazz, and bluesman Arthur Adams plays the SLO Vets Hall on March 17.
The man's a living legend!
On Saturday, March 17, you can hear him play the SLO Blues Society show at the SLO Vets Hall at 8 p.m. (21 and older, please). Come at 7:30 p.m. for a free dance lesson. The Cinders will open the show, which costs $20 at the door, or $17 if you're a Blues Society member. What's that? Too rich for your blood? The Blues Society events are run entirely by volunteers, who set up, sell tickets and drinks, or clean up after the show. Volunteers get free admission to the show and a drink ticket. If you're interested in working a shift at the show, leave a message at 541-7930 and someone will contact you.
If you've never been to one of these shows, they're a refreshing change from the downtown bar scene. Most attendees are, shall we say, on the mature side.
As for Adams, he recorded the first of his seven solo albums—It's Private Tonight—in 1972, and his most recent is Stomp the Floor (Delta Groove, 2009), which "combines the complex rhythms of jazz with blues leads reminiscent of his friend B. B. King, while showcasing his sweet and soulful tenor voice (comparable to Aaron Neville), with lyrics and melodies that are solidly blues," according to his press release.
Stomp the Floor was nominated for a Blues Foundation award for best Soul Blues Album of the Year, and of the album, Adams says, "I've done it exactly the way I feel it. It's all me; not all traditional blues, not all R&B, not all jazz, but a little of all of it."
Green Brew
The green beer will flow pretty much anywhere you go this St. Paddy's Day, which happens to fall on Saturday, March 17, but if you want some awesome folk rock to roll through the holiday, head to SLO Brew when Still Time will headline the show (doors at 7 p.m.; 21-and-older). Mixing the sounds of classic rock, folk, jazz, reggae, and more, this feel-good band delivers radio-friendly songs in the vein of Ben Harper and Dave Matthews.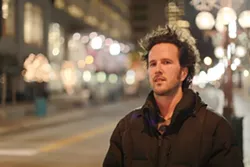 PHOTO COURTESY OF MASON JENNINGS
MINNESOTA MAN: Incredible singer-songwriter Mason Jennings plays SLO Brew on March 18.
On Saturday, March 18, Mason Jennings returns to SLO Brew (doors at 4 p.m.; 21-and-older; $22 presale or $25 at the door). Jennings was handpicked by music supervisor Randall Poster to perform two Dylan songs, "The Times They Are a-Changin'" and "The Lonesome Death of Hattie Carroll" in Todd Haynes' critically acclaimed film I'm Not There, both on the soundtrack album and lip-synched by Christian Bale in the movie. He's touring in support of his newest album, Minnesota, perhaps his most intimate to date. What Bruce Springsteen did for Nebraska, Jennings is doing for Minnesota.
Later that same evening at SLO Brew, check out Street Dogs during the Crooked Drunken Sons Tour 2012 (doors at 8:30 p.m.; all ages; $12 presale or $14 at the door), which also includes opening acts Devils Brigade (featuring Matt Freeman of Rancid) and Old Man Markley.
Some trick!
Holy cow, Scott Cooper's new CD A Leg Trick is a phat collection of 11 bluesy, jammy, Americana tunes that kick off with "Dance the Night," a sax- and piano-driven walking blues tune that could have come out of the Little Charlie and the Nightcats playbook. Next up is pedal-steel-driven boogie "Down in the Slough." Polished and infectious, it's a CD you can love on the first listen.
It certainly doesn't hurt that the entire record is populated by notable players such as Bill Payne of Little Feat, Ben Ellman of Galactic, Dale Ockerman of the Doobie Brothers, Tammi Brown of Eric Clapton, and more.
"I have a couple SLO performances in support of my brand new CD, A Leg Trick," Cooper said. "I have a solid following in SLO from my performances there with Grateful Dead tribute band the China Cats. I play the Bob Weir role in that band, but this CD is all my original material (plus one cover of Warren Zevon's 'Accidentally Like a Martyr.')"
PHOTO COURTESY OF SCOTT COOPER
JAM MASTER: Scott Cooper plays two shows: Fins on March 17 and Sculpterra on March 18.
It's a pretty sweet CD, so bring some extra cash to buy a copy and head down to Fins on Saturday, March 17, from 5 to 8 p.m., or Sculpterra on Sunday, March 18, from 1 to 4 p.m., when Scott Cooper headlines the Songwriters at Play showcase.
And while we're on the subject, Tiana Star is the featured performer on Thursday, March 15, at The Porch (6:30 p.m.; all ages; pass the hat) Songwriters showcase. She's often compared to Sarah McLachlan or Natalie Merchant.
On Monday, March 19, at The Spot, see headliner John Batdorf as well as opening acts Ranchers for Peace and Rob Kimball (7 p.m.; all ages; $10 at the door). Batdorf, formerly of Atlantic Records artists Batdorf & Rodney, celebrates his new CD One Last Wish, filled with "positive anthems of hope, recovery, gratitude, and never giving up on your dreams."
Then, on Tuesday, March 20, check out Christina Bailey of Honeymoon at Kreuzberg (6:30 p.m.; all ages; pass the hat). Shannon Savage (formerly of the band That Evening Sun) will play a guest set.
All of the showcases include one featured act and five to six others playing four-song sets.
Sedition?
PHOTO COURTESY OF YOUNG IRELAND
AUTHENTIC! : Father-and-son duo Young Ireland (Patrick and Michael O'Hara, shown here with cellist Bob Liepman) play March 18 at the Red Barn.
I'm pretty sure the father-son duo Young Ireland isn't fomenting revolution, but they are named after a mid-19th century political movement that led to changes in Irish nationalism and whose leaders were tried for sedition and sentenced to Van Diemen's Land (aka the penal colony on Tasmania).
"We've got a real great show planned for Sunday, March 18, for Irish and non-Irish alike," said Patrick O'Hara. "[We've] been practicing with Bob Liepman and Patrick Pearson and have created a special event EP with them on it. This is our third independent show (and biggest) and we are bringing in Pearson of Cuesta Ridge to play lead guitar with us, and his wife Dana is going to play flute. Liepman (Bob and Wendy) is also going to accompany us on cello and mandocello."
If you listened to Sonnie Brown's Song Town on KCBX 90.1FM last weekend, you heard Young Ireland, who sounded great, by the way. Patrick's son Michael has a sweet, pure voice, and with the added musicianship of Pearson and Liepman, this ought to be a fantastic show.
It happens at Red Barn, the South Bay Community Park in Los Osos, at 4 p.m. A $10 donation is suggested, and all ages are welcome! Hear the duo's original ballads that "reflect the spirit of the Irish struggles and traditions in both Ireland and America from the 1600s to the modern day. Their acoustic music is driven by compelling harmonies and storytelling, inspired by the prolific work of Irish folk singer-songwriter Christy Moore, as well as musical master storytellers like Shane McGowan. In addition to their own music and classic Irish favorites, they bring their own folk style to the songs of popular Irish rock bands the Pogues and the Waterboys."
More music …
Beware the Ides of March! No, that's not right. Be excited for the Ides of March! That's better. On Thursday, March 15, the Shrouded Strangers will play Kreuzberg, bringing their patented psych pop and touring in support of their new record, Lost Forever, which comes out March 20 via Trade Root Music.
The Last Tomorrow plays the SLO Down Pub on Thursday, March 15, to bring their blues, rock, folk, country, and bluegrass—or, as they say, music "from St. Patrick to St. Jagger."
Who is Jahny Wallz? Technically, he's Ivan Paredes, whose influences include Latin, rock, soul, and reggae. A product of Southern California, he sings and writes about "love, struggle, and hope." Check him out on Thursday, March 15, at Frog and Peach.
Mimi Blais returns for a house concert at Stanley and Carol Stern's on Friday, March 16 ($20; call 528-6557 or e-mail sstern3126@aol.com for reservations and directions). Blais is a trained classical pianist who plays everything from ragtime to jazz to folk to blues. Think of her as a modern, female Victor Borge.
The D'Anbino Family Band performs Friday, March 16, from 8 to 10 p.m. Join owners John D'Andrea on sax and Carmine Rubino on bass as they are joined by their friends on stage for a fun jam session of blues and jazz at D'Anbino Tasting Room. Admission is $10 ($5 for Record Club members).
The D'Anbino Tasting Room will be host to pianist Bryan Lloyd on Saturday, March 17, from 1:30 to 4:30 p.m. when he performs as a solo act accompanying himself with bass and drums. Expect some tasty cover songs! Admission is $10 ($5 for Record Club members). Later that same night, join The Strata-tones from 8 to 10 p.m. when they deliver "Bright lights, big city, and the 1950s blues scene. Downtown in the alley R&B. Take no prisoners. No one gets out without feeling the groove. So put on your best two-tone slides and walk through the door. They'll be waiting for you." Admission is $10 ($5 for Record Club members).
PHOTO COURTESY OFJOHN McCUTCHEON
GET HAMMERED! : Hammered dulcimer player, singer, and storyteller John McCutcheon plays Cal Poly's Spanos Theatre on March 17.
SLOfolks has partnered with Cal Poly Arts to bring you folk singer-songwriter and raconteur John McCutcheon on Saturday, March 17, at Cal Poly's Spanos Theater at 8 p.m. ($25 general admission or $20 for students; 756-2787). Not only can McCutcheon sing beautifully and regale audiences with incredible stories, but he's one of the best hammered dulcimer players you're ever likely to hear. His 30 recordings have garnered every imaginable honor, including seven Grammy nominations.
Rehab plays Saturday, March 17, at The Ranch (10 p.m.; 16 and older welcome; $15 at the door or online at liveattheranch.com/tickets.html). The Georgia band will deliver an eclectic mix of southern rock, country, and hip-hop, touring through town in support of their newest CD, Gullible's Travels.
The Famous Jazz Artist Series continues on Sunday, March 18, at D'Anbino Tasting Room with West Coast guitar legend Ron Eschete, performing with Luther Hughes and Paul Kreibich (bass and drums) as well as show co-producers Charlie and Sandi Shoemake (vibraphone and vocals). There's a 1:30 p.m. show ($15), a 5 p.m. show ($12), or see both for $20. Call 927-0567.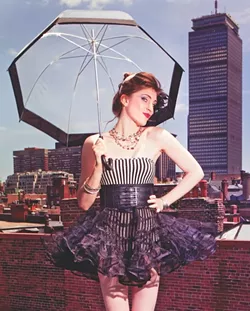 PHOTO COURTESY OF NICOLE STROMSOE
VOX ARRESTA! : Nicole Stromsoe is one of several jazz vocalists appearing at Unity Hall on March 18.
Word on the street is that the most beautiful-sounding instrument is the human voice, so clearly those on the street have never heard me sing. Whatever! Some more talented vocalists will be on hand come Sunday, March 18, when the SLO County Jazz Federation presents its annual Vocal Showcase with Dawn Lambeth, Nicole Stromsoe, Julia and Brett Mitchell, Jim Conroy, Judy Philbin, Camie Schneider, SinNombrE, and Lee Staton at 7:30 p.m. in Unity Hall. Tickets are $15 general admission, $12 for Jazz Fed members, and $5 for students.
PHOTO COURTESY OF THE SF JAZZ COLLECTIVE
ISN'T SHE LOVELY? : Jazz fans won't want to miss The SF Jazz Collective doing "The Music of Stevie Wonder" on March 22 at Cal Poly's Spanos Theatre.
They're a little bit country and a little bit punk'n'roll. Paladino is a family-style collaboration with "one foot in the world of traditional country-folk and one foot in raw, elemental punk rock." That band has two local shows to support its new self-titled debut, on Wednesday, March 21, at Frog and Peach (10 p.m.; free), and Thursday, March 22, at The Pour House (10 p.m.; $5). According to their bio, "Lead singer Jonathan Harkham's vocals and lyrics bring to mind Velvet Underground-era Lou Reed, Will Oldham, and Bill Callahan of Smog. Chris Isom contributes mesmerizing guitar leads that touch upon Sun Records, Mexican balladry, and modern psychedelia. Rhythm guitarist Adrienne Isom's vocals recall, at times, Wanda Jackson and, at others, Moe Tucker. The charismatic Georgia native Rothschild lends electric energy and pure southern soul. And the Gene-Krupa-loving Rygiewicz brings an authentic jazz vibe to Paladino's music."
Jazz fans won't want to miss The SF Jazz Collective, an incredible jazz ensemble that will present a special show called "The Music of Stevie Wonder" on Thursday, March 22, at Cal Poly's Spanos Theatre. Taking on the music of Stevie Wonder? They're either crazy or have some boulders swinging between their legs. Student and adult tickets are $30 and $38 (756-2787). ∆
Keep up with Glen Starkey via twitter at twitter.com/glenstarkey, friend him at facebook.com/glenstarkey or myspace.com/glenstarkey, or contact him at gstarkey@newtimesslo.com.