New Times I've heard a lot about you but have never spoken with you.
Drew Silvaggio I am the Artistic Director of the Civic Ballet of SLO. I'm in charge of casting, directing, choreography, and coming up with the overall feel of the show, making artistic decisions pertinent to the show.
New Times Where are you from?
Silvaggio I was born and raised in SLO, and moved to Philadelphia after high school where I attended the University of the Arts, for musical theater. Then I moved to New York City, where I hurt myself, so I moved back to SLO…but there was this wonderful job waiting for me.
New Times How many years has the Civic Ballet been performing The Nutcracker?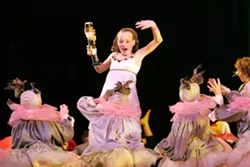 PHOTOS COURTESY BARRY GOYETTE
KING OF MICE: Civic Ballet of SLO presents The Nutcracker Dec. 13-14 at the PAC in SLO. Here is a rundown of what's happening Nutcracker-wise throughout the weekend. Dec. 13 at 1:15 p.m.: Sugar Plum Tea Party special event. 2 p.m.: Matinee performance. 7 p.m
Silvaggio This will be the 31st performance of Nutcracker. It is definitely a holiday tradition on the Central Coast.
New Times How old are you?
Silvaggio I'm 28, oh wait, I just had my birthday so I'm actually 29! [Laughs]. I have been Artistic Director for five years.
New Times Tell me about the history of the Civic Ballet.
Silvaggio It started with The Nutcracker. The mission statement was that they wanted a professional ballet company on the Central Coast. The people of the community, they got to see professional dancers, coupled with an intense training of the dancers. It was run out of the Academy of Dance, which it still is. It got its nonprofit status in 1977. And the dance company has been growing ever since. There is so much talent here on the Central Coast with dancing, but there was really no showcase for it. That was the impetus for starting the company—giving a place where artists can perform. The payoff is the performance.
New Times What else happens at Civic Ballet?
Silvaggio We follow up The Nutcracker with a spring gala, which is so fun because I have been able to do so many original pieces, like Sidewalk Stories.
New Times Tell me about this year's production. Is there a fresh take on The Nutcracker? Any particular influences you drew upon?
Silvaggio Every year we realize that a lot of our patronage is the same. One of the really great things about our Nutcracker [compared to] all other productions throughout the country is we have re-choreographed, re-cast, redo the steps every single year. You're going to see a new production every year. New dolls. That keeps it fresh for the dancers too, [as well as the audience] since one of our dancers, Jackie Lee, has been in all 31 Nutcrackers.
New Times Wow. How long does it take to prepare for The Nutcracker?
Silvaggio I start working with the dancers in September and preparation work that happens on my end [starting in] July. Casting, what the production is going to look like, sound like, and new ideas or costumes.
New Times I heard about a special guest. Can you tell me anything about that?
Silvaggio Ooh, I am going to hold off that. I'll let you know if it works out. It will be great if it does, but if not, it will still be an awesome production.
New Times What can the audience expect from this show?
Silvaggio It is spectacular. The ballet will capture your attention. Beautiful costumes, dancing, a gorgeous score by Tchaikovsky, amazing dancing. It sounds cliché but it really is fun for the whole family. There is action, drama, emotion. It is all rolled up in this ballet.
New Times What excites you for 2009?
Silvaggio We are doing a new performance series at the SLO Little Theatre with the ballet, in a more intimate atmosphere, giving the audience another view of dance.
New Times What do you want for Christmas?
Silvaggio A new iPod would be great. And of course world peace and for the economic disaster to be over!
---
Christy Heron can be reached at cheron@newtimesslo.com.