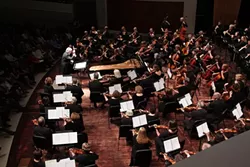 PHOTO COURTESY OF LISA NAUFUL
DEFYING GRAVITY : The SLO Symphony brought its audience to new heights with Debussy's Nocturnes and Holst's The Planets.
The Cohan Center levitated between 6 and 7 feet on a recent Saturday night as the Canzona Women's Ensemble performed Debussy and Holst with the Symphony.

OK, I'm exaggerating. The building didn't actually lift off its foundation. The audience didn't literally float above their seats. It is a physical fact that the law of gravity was in full effect all evening.

However, it is also a musical "fact" that gravity can go in many directions, and maestro Michael Nowak steered the orchestra and chorus straight into celestial realms. If the ideas of "angels," or "ascent into heaven," or "beyond the infinite" have ever suggested sounds to you, well, those sounds were on full display that Saturday night.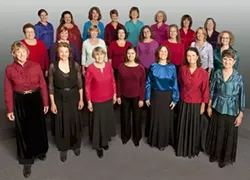 PHOTO COURTESY OF JILL ANDERSON
INVISIBLE ANGELS : The members of Canzona Women's Ensemble sang behind an opaque black curtain that some audience members mistook for a solid wall.
Aaron and Lyn Baker sponsored the evening's concert, which offered two ideally paired works: Claude Debussy's 20-minute Nocturnes from 1899 and Gustav Holst's The Planets, a 50-minute orchestral suite from 1917. Both pieces have lots of percussive color, both operate at a high level of drama, and both end with a women's chorus singing wordless syllables. Also, the Holst is full of memorable melodies and loud passages, and its sensibility is mystical and astrology-based. It's in seven distinct sections, like tracks on an album. In short, if you like Pink Floyd, The Planets is your perfect "gateway drug" into classical music.

The Debussy went first, and everything about it felt right. In the "Clouds" section, the tempo moved convincingly, the strings sounded transparent, and the sections fell into a seamless weave. The "Festivals" section showed Debussy's melodic originality and gave the percussionists such a role that I feel I must honor them: Courtney Wolfe and John Astaire, tympani; and Marshall Granger, Dennis Cementina, and John Beck, bells, cymbals, tambourine, and other sublime noisemakers.

The last section, "Sirens," featured Canzona's first invisible harmonic lift. Because of the simple-but-brilliant decision to have the two dozen singers stand behind an opaque black curtain, their bodiless voices appeared "suddenly," surprising us. The sound balance between the singers and orchestra was perfect where I was sitting. Nowak made larger gestures for the singers, who were following him on a TV monitor.
GLEAM ON: If you want to hear more of Canzona Women's Ensemble, they'll be performing highlights from five centuries of French-inspired music in their "Singtime in Paris" concert at the Cuesta CPAC, March 23 at 4 p.m. Tickets are $20 in advance or $25 at the door, and student tickets are $10. For more information call 542-0506 or visit canzonawomen.org. On May 3 the SLO Symphony will play Stravinsky's Petrushka and Beethoven's Violin Concerto in D Major, Op. 61; the concert will feature Jennifer Frautschi on violin. For more information, call 543-3533 or visit slosymphony.org.
The voices blended gorgeously, fitting into the poetry of the whole work as though the sea were singing itself into a mood of calm alertness.
The Planets, as Nowak explained, is the first piece of music to end with a fade-out into silence (another unintended connection between Holst and rock). Dynamically, it's a roller-coaster ride. I can't remember our Symphony sounding as full-on loud as in the development of the "Mars" movement. But the second movement, "Venus," recalled the delicacy of Debussy. Concertmaster Pam Dassenko had a lovely violin solo, and Nancy Nagano had a nice turn on cello, too.
What I liked best about the concert was the way Nowak allowed each section of The Planets to have its own character. The "Mercury" part was frisky and open-hearted, "Jupiter" sweeping and anthemic.
The "Neptune" movement, with the reentry of the invisible chorus, is what we all were waiting for. As Canzona co-director Jill Anderson described it, the women's voices must stay "soft and floaty and high up." The voices are another balanced sound-color in Holst's astrological weave. Some recordings over-emphasize the chorus to the point that it dominates, but Nowak knew better. The evening ended in a perfectly ethereal gleam.
James Cushing is a million miles away, but at the same time, he's right here in your, uh, picture frame. He can be reached via Arts Editor Erin C. Messer at emesser@newtimesslo.com.