David Sedaris--author, man of humor and brilliant depravity--once said of the art of stand-up comedy, "People ask me, 'Have you ever considered doing stand-up?' To me it would be less offensive if someone asked me, 'Have you ever considered dental implants?'"
And, that, ladies and gentlemen, is a punch line.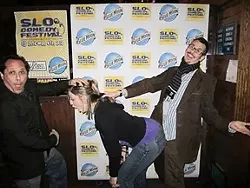 PHOTO COURTESY OF THE SAN LUIS OBISPO COMEDY FESTIVAL
LOL: THE SAN LUIS OBISPO COMEDY FESTIVAL BRINGS THE YUK-YUKS: The San Luis Obispo Comedy Festival is a four-day event starting on Feb. 28, featuring acts from 40 comedians from around the world. See the line-up and venue location and grab tickets (including festival passes) at slocomedyfestival.com
But maybe Sedaris is getting at something. Stand-up comedy has always been the grunt horse of the entertainment industry. Many of the irreverent, hilarious faces American households are used to seeing on sitcoms and in movie theaters got their start by perspiring into microphones in college bars frequented by bunches of loud fratboys who will spend a large portion of the stand-up set arguing over which bro will be buying the next round of Rohyphenol.
Stand-up, as the name suggests, is the act of standing up and trying to remain funny to a broad and diverse audience of paying (or sometimes non-paying) guests, for a short or long period of time. In other words, stand-up is the door-to-door salesman of comedy: You gotta make your pitch quick, and you gotta make your pitch stick.
But stand-up is also a refined and beautiful art form when done correctly (in other words: Don't ask Daniel Tosh to give you pro-tips on rape joke etiquette).
So what does all of this have to do with the crunchy, politically correct San Luis Obispo? Well, there are some who theorize (ahem … Oprah) that we are the happiest place on Earth because we get outside and breathe fresh air and shit. Nah, we are the happiest place on Earth because for the last two years we have been privy to a festival of the talented, gross, politically incorrect subset of our species known as stand-up comics.
And for the third year in a row, San Luis Obispo will be blessed with the presence of 40 individuals lucky to have been born into just enough dysfunction to make them funny.
The San Luis Obispo Comedy Festival is a four-day, 40-comic event running Feb. 28 to March 3 that will bring you to your knees (this is an appropriate place for sexual innuendo, right?) with tears in your eyes—and if you're lucky, some of it will be funny.
See acts from around the country, like Ro Delle Grazie, a New York native who studied under Lisa Lampanelli (which makes sense, because Grazie majored in "ball busting," Lampanelli's field of expertise). And Dwayne Gill, a cop (apparently police officers can find humor in things that don't involve macing college students) from Michigan who was mentioned in the Boston Globe once.
But seriously, with 40 talented individuals from all walks of life wanting to tickle your funny bone … and maybe even other … special places (judging from last year's Facebook photos), you can't go wrong.
And the line-up happens to be pretty diverse, too. The ladies are powering up this year, and there will be nine female comics gracing the stage—like Allison Weber, who, in a recent Scottsdale performance, sang a song about the pitfalls of pubic hair and relationships, to the tune of "Should I Stay or Should I Go" by the Clash. The ladies are really trimming up the sexist overgrowth in comedy. Sorry, that entendre was just begging for it.
The festival will take place in several locations throughout San Luis Obispo, like Tap It Brewing Co., Steynberg Gallery, Mee Heng Low Noodle House, Creekside Brewing, MoTav, Creeky Tiki, and the Graduate, to name a few.
The festival is structured to provide audiences a wide array of comedic experiences. Some shows will come with a theme, like "90 Minute Abs" at the Creeky Tiki, which promises that if you're not 100 percent completely satisfied with the first 90 minutes, they'll "throw in an extra minute of comedy absolutely free! (Friday and Saturday at 9 p.m.; tickets are $15 in advance and $20 at the door.) Some shows will come with food, like the Mee Heng Low Comedy Show (Friday and Saturday at 5 p.m.; tickets are $8 in advance and $10 at the door).
The online schedule provides prices, locations, and audience ratings for each show. (The lowest audience rating is "Light Restriction," so it might be best to keep the youngsters' innocence intact and leave them at home.) You can also preview a lot of the acts through their website links and YouTube clips.
Ticket prices vary from $8 to $20 per show, but you can also buy an all-inclusive festival pass at $84.70 a pop through PayPal. Only a limited number of passes are available, so if that's your plan, you'd better get on it.
With two years under their belt, it's hard to believe that anything less than hardy amusement will come out of the efforts of these brave few souls who choose a life of heckling and mother-in-law jokes. Whether you're a budding stand-up comic or a Louis C.K. aficionado, there's something for you at this festival of mayhem and poop gags. ∆
Calendar Editor Maeva Considine was told she was funny after she repeated a joke found on an abandoned Popsicle stick in the third grade. That was her first and only attempt at humor. Send joke suggestions or whoopee cushions to mconsidine@newtimesslo.com.