When I suggest to Noi Klinpratoom that she's a fine example of a true Baywood celebrity, she lets out a birdlike chirp of a laugh. Although she's a humble chef, she doesn't deny my assertion, either. Truthfully, she's bigger than simply a San Luis Obispo area sensation—people across the Central Coast equate the name "Noi's" with to-die-for Thai takeout. I, myself, have to hold back the urge to ask for an autographed menu.
We're sitting in the sun-dappled patio of her second Baywood restaurant she opened about two years ago, simply called Noi and Doi's 2nd Street Cafe (formerly called Naked Sea Cafe). We can smell the fresh, salty air wafting in off the bay, a clear blue strip on the horizon.
PHOTO BY HAYLEY THOMAS
SISTER ACT: From left, 2nd Street Cafe co-owners and sisters Doi and Noi Klinpratoom are a seasoned pair who serve up fresh seafood, soups, and salads with a side of small-town charm.
"Seeing the bay from my kitchen, that feels good," Noi says. "I don't want to be in the dark, in the back. I want to be where my customers are."
It doesn't take long for a fan to pop by. Noi takes her time conversing with this restaurant regular, who also just so happens to have sculpted a large dolphin hanging on the short fence that divides the patio from Baywood's sleepy square.
It's a very "Baywood" moment, and it shows why she and her husband of more than 20 years, Ron Miner, have continued to run Noi's Little Thai Takeout, located just a block up the street.
Since opening the small yet mighty diner in 1994, the traditional Thai menu has never changed, and you could argue that neither have the employees or customers. Just ask Noi: She'll tell you that her friends are fiercely loyal and know exactly what they want to order (and if you're a regular, she probably knows your full name and spice tolerance).
"My customers are family. I've known them since their kids were little; now they're teenagers," Noi says.
As it turns out, family, and a love of family-honored Thai recipes, is the big reason behind Noi's, and it's certainly the big reason behind 2nd Street Cafe, which Noi happily runs alongside her sister and co-owner/chef Doi, an accomplished cook in her own right. But before you get all excited thinking this is simply an extension of Noi's Thai food, let me reel back a bit. Doi Klinpratoom, who owned her own restaurant in Morro Bay (Thai Bounty), brings her singular skills to the establishment, which serves up distinctly American flavors with a subtle Asian twist. Doi knows her stuff. She even owned an American restaurant in Thailand (that's where Doi first met her sister's future husband, Ron).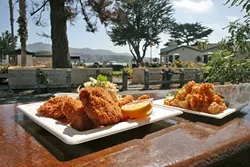 PHOTO BY HAYLEY THOMAS
CATCH OF THE DAY: Comforting, fresh, and surprisingly light, 2nd Street Cafe serves up the traditional fish and chips, coconut battered shrimp, and light-as-air fried calamari served with from-scratch dipping sauces. Not into fried? Order anything grilled to your liking.
"My sister is a great cook—much, much better than me," Noi says. "She can cook anything: Thai, Italian, anything. Our family loves to eat. Ever since we were little, our parents would always take us out to different restaurants. Our friends in Thailand owned restaurants; we grew up with it."
So, why open a new restaurant when Noi's enjoys such a fantastic cult following? Well, Noi says her staff—many of whom have been with the restaurant for two decades—deserved a well-earned break. You may have noticed that hours at Noi's have become more and more sparse. Still, people kept calling and requesting more and more food.
So, Noi planned on opening the second restaurant location to accommodate catering orders. She even considered doing some Thai cooking classes.
"Another restaurant was never in the plan; I just wanted the extra kitchen space," she says. "Now, I look around and wonder, 'How did this all happen?'"
When Doi joined the team after leaving her restaurant in Morro Bay, the sisters took the opportunity to give Baywood another place to nosh, and I would be lying if I didn't mention that the sisters' friends, landlord, and customers were all in support of a second restaurant. See, here's the big reveal:
"We serve the same Noi's Thai menu when Noi's is closed," Noi says, adding: "I just tell people, 'If we're closed over there, come on over here.'"
When Noi's is open, however, 2nd Street Cafe serves up its standard American menu, which spans lightly battered fish and chips served with house-made tarter sauce, fantastically light fried calamari served with Asian slaw and a sprinkle of cilantro, and diner-style tuna sandwiches served with a fresh side salad toped with from-scratch balsamic dressing (you can also get a cup of Thai coconut soup or clam chowder if you're in the mood for something steamy).

A COZY CATCH DOWN BY THE BAY: Dive into salty ocean flavors at Noi and Doi's 2nd Street Cafe, at 1325 2nd St. in Baywood, across the way from famous sister restaurant Noi's. The cafe is open seven days a week from 10 a.m. to 8 p.m. For more information, call 439-3442.
With Doi's culinary creativity, Noi's stellar reputation, and her husband's building skills, it seemed like a no-brainer. The 2nd Street Cafe has now grown into its potential. The cozy restaurant is decked out with tropical landscaping and two lush outdoor patio areas. It's light, bright, and fresh—just like the super casual menu.
"I have a lot of older customers that come in and say they aren't feeling well. They order the soup and eat it all; they say they feel better," Noi says. "I didn't know if people would trust me to do something different—to cook American food—but they are, and I thank my sister for helping make this restaurant great. For three months, I gave away food. I wanted people to try it, to know if I was doing it right."
The feedback has come in. Folks are loving the sisters' combination of comfort flavors and light, Thai-influenced touch. It's the kind of menu that could only come from these skilled sisters who care so greatly about quality, flavor, and service.
"I feel confidence when I can tell customers how quality my food is. I don't want to take all the profit in my pocket. I want the customer to experience the quality of the food," Noi says. "My sister and I want the customer to eat it and really feel it. That's what matters most."
Hayley Thomas is in love with Doi's famous crispy fried calamari with chili dipping sauce. She can be reached at hthomas@newtimesslo.com.