Aiming to reverse a decision made by state regulators earlier this year, state Senator Bill Monning (D-Carmel) and Assemblyman Jordan Cunningham (R-San Luis Obispo) have co-authored legislation to preserve a settlement struck between PG&E and SLO County agencies to lighten the economic hit of Diablo Canyon Power Plant's closure.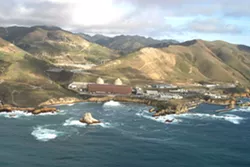 File Photo By Steve E. Miller
SB 1090 State Sen. Bill Monning (D-Carmel) and Assemblyman Jordan Cunningham (R-SLO) have co-authored legislation that would restore $85 million for SLO agencies while PG&E prepares to decommission the Diablo Canyon Power Plant.
Senate Bill 1090 would require the state Public Utilities Commission (PUC) to approve $85 million in community mitigation funds—which the PUC denied in January while signing off on the Diablo Canyon decommission.
Paid for by PG&E ratepayers, the $85 million would be split between SLO County, local cities, and the San Luis Coastal Unified School District (SLCUSD) and used to address the looming loss of the plant's estimated $1 billion annual surge to local governments and the economy.
"It's basic fairness," Cunningham told New Times. "Diablo's provided, for almost three decades, a base load of energy to our state—at one point 10 to 12 percent of the total energy grid. In doing that, we've enjoyed the benefits of employment, but everyone who's lived in SLO County has a bit of risk. ... [The mitigation money] is a very small amount and purchases some insurance, both for our economy and our public safety, so SLO County can have a smooth transition to the post-Diablo era."
In addition to securing the local funds, SB 1090 would add $141 million to a $242 million employee retention package approved by the PUC. It also requires that the PUC avoid any greenhouse gas emission increases when Diablo shutters for good in 2025.
"The safe decommissioning of Diablo is intricately linked to retaining skilled workers, so we don't see a degradation of the workforce while the plant is still operating," Monning told New Times. "It's a public safety issue that goes beyond the boundaries of SLO County."
Monning and Cunningham's next steps are to convince their colleagues in Sacramento to feel the same way. Both legislators indicated that pushing the bill through the Senate, Assembly, and governor would be an uphill battle that could require some compromise.
"You rarely get everything you ask for in state legislation. I've learned that already," Cunningham said. "We're asking for everything, and we'll see what we have to do. Some bill at the end of the day that gets some mitigation money to the Central Coast is better than the status quo." Δ