PHOTO BY THERABEE HONEY
HONEY DO: Atascadero-based Therabee Honey creates "culinary honey" by mixing raw, organic honey with herbs, spices, and florals. These amped-up concoctions can add zing to sauces, toppings, barbecue or your next cocktail party cheese plate.
Love is about the little things.
Every morning, my early bird husband springs out of bed, throws on his all-purpose Levis and lets the chickens out of their coop. Then, he consumes a bowl of cereal in front of the computer. At exactly 7:30 a.m. sharp, I can hear him filling our bright yellow teapot, a favorite wedding gift. I roll over and squeeze our two snoring dogs, knowing that caffeine—precious, life-giving caffeine—is on its way.
My favorite part of this simple ritual, besides the caffeine kick, is the hefty squirt of honey so lovingly deposited in my daily Earl Gray. Packed with beneficial vitamins and enzymes, raw, local honey is a precious commodity that I can feel truly virtuous about squirting onto my Greek yogurt, corn bread, or even fried chicken, if I'm in that Southern frame of mind.
Naturally sweet and remarkably fragrant, a new generation of local honey products are making their mark in Central Coast cocktails, dressings, sauces, baked goods—even barbecue. It goes to show: The fate of the mighty honeybee might be up in the air, but the fruit of its labor remains golden.
Martha Van Inwegen of Therabee Honey receives expressions of pure puzzlement when she espouses cooking with "culinary honey." That's because "culinary honey" is a term she and her husband, Curt, trademarked themselves. The business made its debut at Sunset Magazine's Savor the Central Coast last year.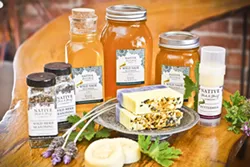 PHOTO BY NATIVE HERBS & HONEY
HOW SWEET IT IS: Native Herbs & Honey Co. of Los Osos produces raw, wild sage honey, wild herb seasoning, and natural soaps. These sweet-smelling (and tasting) products can be found at the company's new storefront located at 1001 Santa Ynez Avenue in Los Osos.
"The idea of culinary honey sparks interest in people," Martha said, speaking over the sound of whirring machines. The Atascadero-based beekeepers start out with pure, raw, unheated, unfiltered honey and pair it with local and organic herbs, spices, and flowers. These additions infuse playful notes into the mix, thanks to a few days or weeks emulsifying in the sun.
The result is a natural, no-fuss product that Martha said adds that "wow factor" to salad dressings, dessert toppings, and dipping sauces. At a recent Taste of Templeton event, Martha combined tomatoes, chipotle chilies, and olive oil with their Therabee Chipotle Cacao Culinary Honey to create a sticky, sweet adobo sauce that won over crowds.
Drizzle Therabee's Ginger Hibiscus variety on aged blue cheese, as Arroyo Grande's Comfort Market has been known to do, and you will quickly discover just how wicked ho-hum honey can become.
And the bees? They're hanging in there, despite dwindling numbers and mysterious epidemics like Colony Collapse Disorder.
"Everyone asks how the bees are doing; it's that personal connection people have," Curt said. "We have a demonstration hive that we bring to schools … . We want to expand awareness about honey as a whole, natural food, as well as the bees that make it."
PHOTO BY HENRY BRUINGTON
GROWING UP: Native Herbs & Honey Co.'s storefront features natural honey products alongside organic produce from Chumash Farms, pictured. The plethora of fruits, veggies, and herbs grow vertically through tubes, using substantially less water and space than a traditional plot of land. The small farm currently supplies to Bliss Cafe in downtown SLO as well as Shine Cafe in Morro Bay.
When Colony Collapse Disorder hit Los Osos-based Native Herbs and Honey Co. Owners Violet Cavanaugh and Aaron Pruitt, it hit hard. The couple started their beekeeping business eight years ago with the hopes of bringing all-natural honey to area farmer's markets.
"We would buy 50 hives, and lose 30 of them; it was hard on us," Cavanaugh said. "If you can imagine a small business that sustains a 70 percent loss every year, that's incredible—and on top of the drought."
The duo diversified, purchasing an all-natural soap and beeswax candle company. Still, funds were tight. Recently, peer-to-peer lending group SLOW Money SLO stepped in to help. These funds allowed the couple to acquire late North County beekeeper Paul Stoltey's equipment, including a truck that can move 132 hives in a single trip. In essence, Native Herbs and Honey grew from a "backyard beekeeping" operation to a commercial business in about a week.
"Our motto is that our products are 'made in a good way,'" Cavanaugh said. "SLOW Money wants their funds to do good for the community, for local food and for farming."
On July 1, the Chumash descendant celebrated the opening of Native Herbs & Honey's first, brick-and-mortar storefront, located in Los Osos. Not only is the shop stocked with Native Herbs & Honey's popular straw-hued Wild Sage Honey and aromatic Wild Herb Seasoning, but also a diverse bounty sourced from nearby Chumash Farms. The organic farm—which provides produce to Bliss Café in SLO and Shine Café in Morro Bay—is owned by Cavanaugh's father, Fred Collins, and staffed by sister, Charity Collins.

A recent trip to the Chumash Farms greenhouse sent me down the sustainable rabbit hole. The farm utilizes a vertical growing method that includes hundreds of hollow pipes fixed into the ground. Kale, strawberries, mint, tomatoes, and cabbage (among other edibles) thrive in the space- and water-conserving environment.
Although wild bees love pollinating the farm, you won't find the couple's hardworking honeybees anywhere in sight. In fact, their hives boast far better real estate than that of the most lavish vacation homes. Where are the bees? Why, buzzing at an elevation of 1,300 feet atop Cerro Romauldo, nestled behind Camp San Luis. The undeveloped, Chumash-owned land is vibrant with streams, wildlife, and dutiful yellow workers.
"The bees can see the ocean from the top of the mountain—it's totally pristine land," Cavanaugh said. "It's safe to say, they're very happy bees."
Happy honey comes from happy bees
Find more information and uses for local honey at Therabeehoney.com. For more on Native Herbs and Honey and their new storefront, visit nativeherbsandhoney.com or stop by the store, located at 1001 Santa Ynez Avenue in Los Osos.
Recipe: TheraBee Chipotle Tomato Sauce

Ingredients:
2 tbsp. extra-virgin olive oil
1 small white onion, finely chopped
2 garlic cloves, minced
1 28-ounce can of whole tomatoes 
with juice, pureed
1 tbsp. of TheraBee Chipotle Cacao Honey
Kosher salt to taste
2 to 4 chilies from a can of chipotles en adobo (to taste)
Directions: Warm the olive oil in a medium saucepan over medium-high heat. Add the onion and sauté until translucent, about three minutes. Add the garlic and sauté for one minute. Add the tomatoes with their juices and simmer, uncovered, until slightly thickened; about 10 to 15 minutes. Add TheraBee Chipotle Cacao Honey and salt to taste. Let cool till warm and put into a blender. Add the Chipotles and puree.