As California Department of Fish and Game Warden Ryan Hanson drove toward the Piedras Blancas Lighthouse on his way south to Morro Bay, he didn't exactly have "catch Mexican drug cartels and human traffickers" on his day's agenda.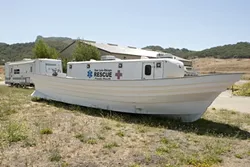 PHOTOS BY STEVE E. MILLER
SEAWORTHY AND THEN SOME : Panga boats, such as the one discovered in a desolate beach a few miles north of Piedras Blancas (pictured), have become the new favorite for smugglers bringing marijuana—and people—farther and farther north up the California coast.
It was just after 8 a.m. on a gloomy, windswept May morning near San Simeon, and Hanson instead had his eyes peeled for suspected abalone poachers whom area officials had been investigating in the previous weeks.
Happening upon a seemingly vacated SUV along the side of the road—a sign that someone could be fishing illegally in the nationally protected waters—Hanson went in to check it out. He drove his Fish and Game vehicle through a small opening in a fence along the bluffs and could just make out something that didn't belong on the remote beach.
He radioed in his location, grabbed his rifle, and proceeded to trek roughly half a mile over the dunes down to the shore. Once he got a clear view, he would later say, he immediately recognized what he was dealing with: a 35-foot panga boat, the kind increasingly used by drug and human traffickers, resting on the water's edge with what appeared to be a trail of fresh footprints leading up in his direction.
"It was just very adrenaline-fueled. Your senses become suddenly more aware than you realize," Hanson said. "It's weird, walking through a field with a rifle in your hand, not knowing what to expect. … I haven't been on edge like that for a long time."
Looking back toward the bluffs, Hanson saw the SUV that had originally attracted his attention slowly start creeping away down the highway. But at that distance, there was little he could do to stop it.
A few miles south, California State Parks Ranger Nick Chase was making the rounds on his regular morning patrol near San Simeon State Park, preparing the area for the coming influx of summer campers, when he received Hanson's call for assistance.
"The radio was scratchy and the wind was blowing, and I couldn't make out everything," Chase said. "All I got was to help Ryan out with a boat on the beach."
Heading north toward La Cruz Rock, Chase parked near Hanson's truck and met him down on the beach. There, some hundred feet from where the panga rested in the shelter of coastal rocks, were about 20 packaged bales of marijuana. Other than a pair of wading suits abandoned on the ground near the trailhead to the highway, the only other sign of any activity was the string of footprints—still fresh despite the steady 30 miles-per-hour wind gusts.
The two secured the area as best they could and waited for the cavalry to arrive: "That's basically when the entire world came out," Chase said.
Soon the site was flooded with activity. Plainclothes members of the San Luis Obispo County Sheriff's Department's Special Operations Unit processed evidence, and helicopters from the California Highway Patrol and all-terrain vehicles collected the boat's motors, fuel barrels, and approximately 2,200 pounds of marijuana—what numerous sources would later tell New Times was only a fraction of what the panga was capable of carrying.
Where that missing contraband is now is anybody's guess.
The San Simeon panga now rests on dry ground, encrusted with a thick layer of salt and baking in the summer sun on the side of a road at the Sheriffs Department headquarters off Highway 1—a fate similar to that shared by the scores of pangas either caught or discovered along the California coast in the past four years.
"Until we found that one, we really didn't know they were landing here, and we still don't know that they are actively coming up here," San Luis Obispo County Sheriff Ian Parkinson said of the vessel's suspected operators. "But we certainly know they can."
Little fish, big sea
PHOTOS BY STEVE E. MILLER
EYES ON THE WATER : A National Guard soldier peers through a LRAS-3 long-range night vision scope to scan the horizon for suspicious watercraft. The U.S. National Guard's counter-drug coastal surveillance team took New Times for a ride-along atop the hills overlooking the Ventura County coastline.
Simple yet ultra-seaworthy craft like the panga boat discovered in San Simeon are the perfect vessels for smugglers looking to keep one step ahead of law enforcement, according to Kelly Hill, director of marine operations for the Department of Homeland Security's Office of Air and Marine.
They're relatively small, hard to spot in the water, and can carry a huge payload. Some are equipped with as many as four outboard motors, allowing them to outrun, under the cloak of night, some of the fastest watercraft law enforcement has to offer.
Traditionally used by commercial fishermen in Latin American countries, pangas stick out like a sore thumb in North American waters. As such, Hill said, the drivers load up and launch from various locations near the U.S.-Mexico border and head anywhere from 60 to 150 miles off the coast before making their northern journey toward various drop locales along the California coast.
But according to officials from numerous agencies now working jointly to tackle the problem, these types of incidents—especially those reaching farther and farther north from their suspected point of origin—have increased dramatically in the past year.
In April, following a brief ocean pursuit, authorities arrested three suspected drug smugglers in a panga skiff roughly two miles offshore from Malibu. Only a month prior, authorities discovered another boat loaded with 14 illegal immigrants—some later determined to be previously deported felons—off El Segundo. In mid-June, authorities caught suspected smugglers offloading about 1,400 pounds of marijuana—with an estimated street value of $4.2 million, according to law enforcement—at El Capitan State Beach in Santa Barbara.
In June, the Santa Barbara County Sheriff's Department confiscated what officials called a "super panga": a 45-foot-long vessel fitted with four outboard motors with a combined total of 1,400 horsepower. Such a craft is thought to be capable of outrunning Coast Guard cutters and sturdy enough to weather a trip the length of the California coast.
According to Hill, law enforcement has never seen such a boom in maritime drug smuggling in California. And as more eyes narrow on the Southern California coastline, it's likely that incidents will increase in more northern areas, such as the Central Coast.
According to statistics from U.S. Immigration and Customs Enforcement, the Department of Homeland Security's investigative wing, incidents of drug smuggling in the southern part of the state are dwindling, while areas farther north are seeing exponentially more activity.
In the 2009 fiscal year, agencies recorded 70 maritime incidents of drug and human smuggling, up from only 45 events the year before. That figure leapt to 121 events in 2010, resulting in 826 arrests and seizures of more than 18,000 pounds of marijuana.
By the end of the fiscal year 2011, officials had made 631 arrests and seized more than 22,000 pounds of pot in 183 incidents. This fiscal year, which ends in October, is set to surpass those figures, with 145 smuggling events resulting in 524 arrests and more than 75,000 pounds of marijuana so far.
Why are smugglers taking to the seas? The consensus among law enforcement agencies is that recent efforts to enhance security at the U.S.-Mexico border has made it difficult for smugglers to sneak hard-to-conceal contraband into the country by land.
Steve Pitts, special agent for the U.S. Border Patrol's San Diego region, said the Bush administration's "Operation Jumpstart," in 2007, sent scores of National Guard troops to the U.S. border to help in a crackdown on illegal immigration and narcotics smuggling, which changed the way agencies work together. The operation was so successful, Pitts said, they saw a dramatic decrease in the amount of marijuana seizures and human trafficking arrests at border checkpoints—though more easily concealed drugs such as cocaine and heroin continue to be found strapped to people and hidden in secret vehicle compartments.
"That multi-agency collaboration wasn't always there pre-9/11," Pitts said. "But there's definitely been a greater emphasis to have a united defensive front, and I would say we've been very successful in that."
Coordination between the U.S. and Mexican governments has also improved in recent years, a critical relationship that isn't likely to diminish any time soon despite the loss of current Mexican president Felipe Calderón's National Action Party candidate in the July 1 election.
According to Dr. Shannon O'Neil, a Douglas Dillon Fellow for Latin American Studies at the nonpartisan Council on Foreign Relations, an overwhelming majority of Mexicans—nearly 80 percent—don't believe the current drug strategy is working. However, O'Neil told New Times, that same majority doesn't want the government to let up in the fight or make deals with the cartels. President-elect Enrique Peña Nieto has stated he wants to focus Mexican efforts on curtailing violence rather than waging war on the drug trade specifically.
"That's something of a rhetorical statement, because with Calderón it was already starting to go that way," O'Neil said, pointing out the country's recent strides in professionalizing the national police force, encouraging better relations between federal and local agencies, and investing—with the help of U.S. dollars—in better intelligence networks and training.
Without continued cooperation from the Mexican government, O'Neil said, the U.S. shouldn't expect success in combating a trade that quenches a North American demand for South American drugs—a trade worth upward of $70 billion a year.

Watching the waves
National Guard troops may no longer stand side by side with Customs and Border Protection agents at the physical U.S.-Mexico border, but the big lesson learned through Operation Jumpstart is the need for agencies to pool resources if they hope to keep pace in the cat-and-mouse game of international drug-running, according to Lt. Kara Siepmann, public affairs officer for the National Guard's Counter-Drug Task Force.
As such, a multi-agency maritime task force comprised of National Guard troops, U.S. Coast Guard officers, agents from the Department of Homeland Security, the Federal Bureau of Investigation, the Drug Enforcement Administration, and a mix of state and local law enforcement officers has formed to take on the seaward smugglers.
Siepmann said the purpose of the federally funded task force is to provide support to local agencies lacking power to combat the problem on their own. The National Guard, for example, has access to high-powered surveillance equipment not readily available to local police and sheriff's departments.
The teams are invaluable to other agencies. U.S. Coast Guard Spokesman Petty Officer Adam Eggers said that from the water, the Coast Guard patrol vessels would have little luck at spotting a black-out panga in the dead of night.
To help us better understand the situation, the National Guard gave a New Times reporter and photographer access to one of the task force's coastal surveillance teams, allowing us to join them for an overnight operation high in the Malibu hills overlooking the Ventura County coastline.
Only weeks prior, the team successfully spotted an incoming panga from the very same location.
Capt. Ruel Fuentecilla, the officer in charge of the Counter-Drug Task Force's Southern Region Command—our escort for the evening—took us to a secluded hilltop with a vantage of what seemed like dozens of miles of shoreline. The moonlit, windless night was ideal for a beach landing if anyone was out there, Fuentecilla said, as he navigated our minivan up a narrow dirt path.
At a clearing, we met two of his troops, in full uniform, scanning the horizon with an LRAS-3, high-powered, long-range night vision scope that can track a black-out panga boat as it heads to shore.
"When people think of the border, they have to understand it's not just the border down in Tijuana. The border extends all the way up the coast," Fuentecilla said.
When asked about what they're up against, Fuentecilla explained that though the panga drivers' equipment is relatively unsophisticated, they're impressively smart and daring when it comes to maneuvering the open ocean and landing more or less on target.
"What amazes us is the bravery and the courage these guys have to go out there in the middle of the ocean," Fuentecilla said. "But other than that, these guys are making a pretty penny driving this load up here, whether it's humans or drugs."
The captain explained that, should they notice a suspicious wake in the water, the team would notify the maritime coordination center and the border patrol. The center would then alert the Coast Guard—which would hopefully have a cutter in the area—and the local sheriff's department. The team would continue to watch from the hill as law enforcement agents met the boat at the beach.
"After that, our job is pretty much done," Fuentecilla said. "It's our job to be the eyes."
Beyond threats from the sea, team members also have to keep their eyes open for people conducting counter-intelligence from the land; in other words, people looking for them. A few weeks prior, again in the same location where we were standing, the team was happened upon by a truck, which stopped, slowly backed away, and took off back down the hill.
"So we're like, 'OK, what's this guy doing up here?' He was all by himself. I remember seeing him and he had this big rancher hat—just totally out of place. You could tell that particular individual was looking for us," Fuentecilla said.
Successful marine smuggling couldn't take place without the counter-intelligence component, an "integral" part of coordinating beach landings, he said.
"We watch them and they watch us. That's just how it is," said "Sgt. Green," a member of Fuentecilla's team who asked us not to use his real name because of the sensitivity of his job.
Sure enough, not 45 minutes after we arrived, a truck drove up to our remote location and stopped when its headlights reached us. It stood idling for a moment, then backed up and took off back down the hill. The soldiers watched as it drove to another spot far below us and stopped. They later concluded it was probably just "some kids coming out to smoke weed or get drunk."
"This is a growing thing. It's definitely not something that's becoming less of a problem," Green added, peering through the LRAS-3. "It's tough, and I think the farther they go north, there are less assets to deal with it. … Once you get farther north, like where you guys are, I don't think anybody's really doing anything up there yet."
SLO County bound?
Should the drug and human traffickers continue to move north, it's a distinct possibility we could see surveillance teams like Fuentecilla's perched atop the coastal bluffs of SLO County.
Of course, Fuentecilla couldn't confirm that. But U.S. Immigration and Customs Enforcement's David Wales, assistant special agent-in-charge for the San Luis Obispo region, told New Times that the unique nature of SLO County's coastline might actually be more welcoming to smugglers than Ventura or Santa Barbara.
"San Luis Obispo County is a beautiful county, where in many places the coastline is very desolate, with easy access to the highway," Wales said. "It wouldn't surprise me in the least to see more heading up that way, and that's where we have to be diligent."
Wales said that a few years ago, when the Department of Homeland Security began to ramp up enforcement efforts in San Diego, they knew they would essentially drive the smugglers north, like squeezing a tube of toothpaste. But at some point, Wales said, pangas will cease to be an effective means to smuggle drugs into California. Then, he said, they'll move on to the next tactic.
"There's always that break-even point, and they're only going to change when it ceases to make them money doing it that way," he said.
According to SLO County Sheriff Parkinson, maritime smugglers have been on his department's radar for some time. But without some outside help, there's only so much that can be done preemptively.
"It's interesting," Parkinson said. "From one aspect, it's a federal problem, but it also becomes a local problem once they hit the beach. But we're certainly dealing with it. We're faced with trying to watch the coastline, which is really impossible, and honestly as it is now, we would have to get lucky to catch one of these guys."
However, Parkinson—without getting into details—said he's been in communication with Immigration and Customs Enforcement, as well as his counterpart in Santa Barbara County, Bill Brown, while also reaching out to U.S. Rep. Kevin McCarthy for some additional help.
Parkinson pointed out that the issue of Mexican cartel-affiliated drug smuggling throughout California, through any method, is not a new phenomenon. As such, he's "not overly concerned" about the extent to which they are in our own backyard.
"I would, however, just say that you should always be aware of your surroundings and report any odd behavior or suspicious activity or vehicles you witness in these remote areas."
Staff Writer Matt Fountain can be reached at mfountain@newtimesslo.com.