They do get around
Eight talented street artists from all over the California Coast are currently showing work in a group show at Los Angeles' Le Spec Gallery. Titled "Friendly Fire: An Urban Art Show" the exhibit unites eight creative individuals often perceived as criminals by society.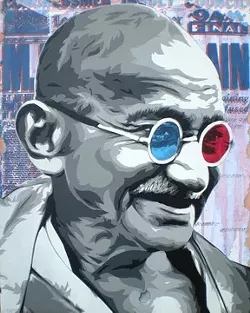 Among them is Daniel Woehrle of Los Osos, otherwise known as the stencil artist STENZKULL.
"This is my first show in Los Angeles," Woehrle told New Times via email. "I haven't pushed my art in that direction, despite originally being from there, because I had been trying to build a style over the years, and now that I'm there, it's time to share."
Woehrle has shown work in San Francisco, Washington D.C., Long Beach, and most often in San Luis Obispo.
"While these artists strive to voice a vital and poignant message, they're often depicted as villains," the show's invitation reads. "With 'Friendly Fire,' they cry out to the American public, 'Don't shoot—we're on the same side!'"
Nic Rodriguez, graffiti artist and onetime local, was arrested in spring of 2009 when San Luis police used his website to link him to instances of vandalism. In the aftermath of having his home raided and art supplies seized by SLOPD, Rodriguez, then known by the tagger alias PILO, relocated to Oakland. Rodriguez joins Woehrle and six other California artists in the exhibit.
While Woehrle's stencils have never run afoul of local law enforcement, he sympathizes with street artists who do take that risk.
"I have a huge love and respect for the people that put themselves on the line for their art," wrote Woehrle. "Most of my best friends have done this most of their lives."
Other artists featured in the show go by the handles Zombie, 2wenty, Leba, D Young V, Fragile, and Gregory Siff.
It turns out the venue, too, has a local tie: owner/curator Kristen Christian comes from San Luis Obispo as well. Of course, Le Spec Gallery's Silverlake location is a bit out of our usual coverage range, but I just thought I would let you know anyway. So if you chance to be in the neighborhood this month, here's all the information you'll need: 3311 Beverly Blvd, Los Angeles, CA; (323) 400-5788; le-spec.com.