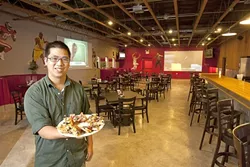 PHOTO BY STEVE E. MILLER
BATTER UP : Jason Luke is owner of 463 Sports Grill in Paso Robles. Here, he's showing off his invented dish, known as the "Thakko."
It's a numerical code used by baseball scorekeepers to denote a double play made by the second baseman, shortstop, and first baseman. The defensive play—four to six to three—takes the edge off a potentially disastrous inning. And after six years in the shadows of other business owners within the food industry, Jason Luke has stepped out from behind the service counter to make a similar play for himself.
On New Year's Day, Luke, an industrial technologies graduate from Cal Poly, opened 463 Sports Grill next to Paso Bowl in Paso Robles. Luke believes wholeheartedly in customer service; his motto is to provide the entire experience, to make sure no barriers exist between customer and server. In fact, "As long as [the customer] knows you care, that's what matters," he said.
After working in eateries on Cal Poly's campus, Luke decided he'd had enough of the bureaucracy. In November he left his post as assistant supervisor because, as he put it, "it was a place where ideas go to die." Luke took his ideas and, using money fronted by his mom, secured his restaurant's future home.
Free from constraint, Luke turned a once-dead idea into 463's signature dish. It's called a Thakko: deep fried pita bread slathered with either hummus or sour cream, and topped with meat, vegetables, or both. There's also the Mediterranean medley, chicken chupacabra, vegetarian sunrise, or for dessert the strawberry sweet and sour.
Luke's buddy thought up the name 463 during conversation. When Luke's culinary breakout began, he phoned his buddy and requested rights to the name.
Despite the borrowed name, Luke added his own touches. He transformed a once dilapidated pizza joint into a sports fan's retreat: He installed two 160-inch projection screens, the biggest in North County, which hang next to each other and complement four other TVs in opposite corners of the eatery. Another TV hangs in the banquet room inside the bowling alley.
On the walls looking down are Fatheads (large wall graphics) of NBA stars Kobe Bryant and Blake Griffin, retired NFL great Jerry Rice, and former UFC heavyweight Brock Lesnar. Sports teams' logos fill the gaps between the two-dimensional superstars.
Other renovations include an upgraded kitchen with an added sandwich prep table; clean bathrooms (described by Luke as "terrible" when he bought the place); and a polished floor, which was the most laborious task because of the buildup of grime.
With the aesthetic improvements came a revamped menu. An evening of bowling no longer brings with it "'80s style snack-shack bar food," as Luke described it.
Choose from burgers, chicken sandwiches, and salads—and other sports grill standards. As a bonus, servers will take food and drink orders at the lane, so you can concentrate on knocking down pins instead of balancing a tray full of beer or soda or water and munchies. As a testament to the service-while-you-bowl idea, the grill sold out of chicken wings in the first week.
"You pay for the meat, not the bone," Luke boasted.
Living in San Luis Obispo and making the drive north every day, Luke looks for opportunities to satiate stomachs: "The trick in the restaurant business is to fill seats. Once those doors open, you bleed money."
Drive, walk, or ride an electric scooter to 463 Sports Grill on 2748 Spring St. in Paso Robles. Call 221-5670.
Fast Facts
More than 100 wedding professionals will attend the 16th annual Wedding and Special Events Faire on Jan. 30, presented by Central Coast Wedding Professionals at the Embassy Suites in San Luis Obispo. Pre-registration is encouraged. Admission at the door is $10 per person or $15 per engaged couple. Brides-to-be who register as V.I.B.s (very important brides) have a chance to win prizes from vendors. The event runs from noon to 4 p.m. Call 202-2020. …
Head to Colony Park Community Center in Atascadero and check out the Mad Science Saturday Workshops for children 5 to 12 years old. The workshops provide hands-on science experiences. For more information, call 461-5000 or visit atascadero.org. …
January is National Blood Donor Month, and local centers are particularly looking for donors with Type O- and A-blood. Eligible donors will automatically be entered in a drawing for a vacation getaway to Las Vegas. Donate at blood drives or at United Blood Services centers in San Luis Obispo (4119 Broad St. in the Creekside Center) or Santa Maria (1770 South Broadway in the Plum Tree Plaza). Eligible donors must be older than 16, weigh at least 110 pounds, and be in good health. To find blood drives near you, check out Blood4Life.org or call UBS at 543-4290.
Intern Anthony Pannone compiled this week's Strokes and Plugs. Send items for consideration to strokes@newtimesslo.com.