Alone in a foreign country and reeling off a fresh break up, dancer and San Luis Obispo native Ryan Lawrence wasn't sure how things would turn out.
After graduating from Julliard and dancing professionally in the United States, Ryan had just auditioned for and won a spot in the Scapino Ballet Rotterdam, one of Europe's most respected contemporary ballet companies.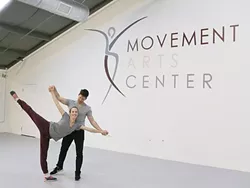 PHOTO BY DYLAN HONEA-BAUMANN
LET'S KEEP DANCING: San Luis Obispo Movement Arts Center owners Ryan Lawrence and Maartje Lawrence-Hermans first met and fell in love while dancing professionally in the Scapino Ballet Rotterdam in the Netherlands. Today the pair choreographs and teaches dance in San Luis Obispo.
"I remember I got the job and I had a program book from the company with a picture of this girl Maartje on the back, and I was 24-years-old and dramatic and breaking up with an ex-girlfriend," Ryan said. "And there was this picture of this girl that I remembered seeing at auditions and I thought, 'There's still something to look forward to.'"
At the time, the girl had a boyfriend. But she invited Ryan over for a housewarming party at her new place. Let's just say that old boyfriend is history now. Through dancing together in the Netherlands, Ryan and his now wife Maartje Lawrence-Hermans, fell in love, got married, and had three children.
"I was dancing there when Ryan came into audition," Maartje said. "I remember seeing him on his audition day. He was so American."
Eventually the dancing duo found their way back across the pond and settled on the Central Coast in San Luis Obispo.
PHOTO BY DYLAN HONEA-BAUMANN
PRACTICE MAKES PERFECT: A series of drawings demonstrating the proper technique for classical ballet movements adorns the walls at the San Luis Obispo Movement Arts Center.
"I immediately fell in love with the town," Maartje, who grew up in Holland, said. "It has such a good, European vibe. I felt at home."
Initially, the pair taught dance at several studios in the area, but they longed to create something new that was about more than just dance. And so the San Luis Obispo Movement Arts Center, which has been open since this summer, was born. In addition to providing the usual smattering of ballet, contemporary, and hip-hop classes aimed at kids and teens, the center also offers yoga, adaptive dance classes for people with various abilities and conditions, and even a baby wearing ballet class for moms. (That last one is BYOB—bring your own baby.) Future plans for the studio include partnering with the organization Jack's Helping Hand to offer a program at the center called Mighty Movers, which will offer movement workshops for families of children with special needs. Pilates classes could also potentially find their way into the class schedule.

SO YOU THINK YOU CAN DANCE? : With auditions for summer dance programs popping up in January and February, the San Luis Obispo Movement Arts Center is offering auditions workshops on Dec. 28 through 30 from 9 a.m. to noon each day. Dancers will learn techniques to feel successful and enjoy the audition experience, get help with choosing leotards and pointe shoes, learn mental coaching strategies, and most importantly gain confidence in their dancing abilities. The cost ranges from $55 for one day to $135 for three days. Visit

slomac.com

to sign up and learn more.
"Beyond being a dance studio, I want to grow a community," Ryan said. "I really like seeing the friendships built."
Ryah Cooley's got moves at rcooley@newtimesslo.com.