When Steve Powers saw someone hawking imported nail files emblazoned with miniature paintings at the Morro Bay Art in the Park event in 2012, he knew something had to be done.
"As an exhibitor, it was really sad," the photographer and leather craftsman said. "It was dying, to be honest. They were basically jurying by check. The standards weren't very high."
Photo Courtesy Of Steve Powers
DOWN BY THE BAY Under art promoter Steve Powers, attendance at the Morro Bay Art in the Park events has grown.
Around this time, Powers said attendance at the second oldest arts fair in the state was dwindling to around 2,500 to 2,900 people across Memorial Day weekend. As someone who also works on the business side of the arts, Powers knew things could be better for the Morro Bay Art in the Park.
For more than 40 years, Powers has worked to promote arts and crafts events, going back to when he was a young business major at San Diego State University who dropped out of school to sell handmade leather belts on campus.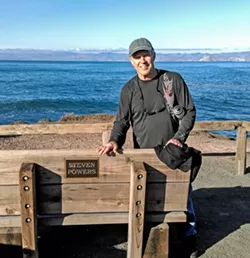 Photo Courtesy Of Steve Powers
GOT THE POWER(S) Steve Powers, who has worked as an arts promoters for more than 40 years, stands by a bench named for a different Steve Powers at Montana de Oro.
"I wasn't getting very far, and one of my econ professors told me, 'Some people don't need to go to college Steve,'" Powers said.
And with that, he began to pursue a career as a working artist.
"There were no art shows to speak of, so I started selling at a swap market," Powers said. "That was depressing."
So in 1975, Powers got together with a friend to create The San Diego Christmas Craft Fair. It eventually led to Powers promoting big, convention-style arts shows in cities like Reno, San Jose, and San Diego.
When living under the flight path of Camp Pendleton got too noisy for Powers and his family, they picked up, moved to Arroyo Grande in the 1990s, and now live in Templeton.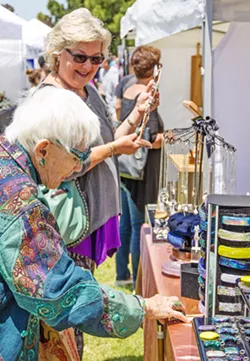 Photo Courtesy Of Steve Powers
HIGH END At Morro Bay Art in the Park (and the upcoming Paso Robles Art in the Park) arts promoter Steve Powers looks to book fine artists and artisan craftsman to come and sell their wares.
While friends had suggested that Powers offer to run the Morro Bay Art in the Park event in the past, he had shrugged it off. But after seeing that the event could use some new life, he made a pitch to the Morro Bay Art Association, which owns the fair, and started running the tri-annual event in 2016. Since then, attendance has gone up to about 6,000 people for Memorial Day weekend and 4,000 for the show in July, with 100 exhibitors. To get there, Powers kept booth fees reasonable for artists, secured local and out of town artists who focused on selling mostly fine art and upper-end craftsman items (think blown glass, pottery, jewelry, and leather), in addition to amping up paid advertising and signage.
And when the beloved Paso ArtsFest was canceled this year due to a lack of volunteers and resources, Powers saw that there was a gap to fill in the North County arts scene. So once more he made a pitch, this time to the city of Paso Robles, knowing that art has done and will do well there.
"It's not so much the country cowboy thing anymore," Powers said.
So once more patrons of the arts in Paso can flock to the downtown park this coming April. If all that wasn't enough, Powers also has his eye on an art fair in Arroyo Grande for 2019.
"I easily get bored," Powers said, "I like to keep busy." Δ
Arts Editor Ryah Cooley is always looking for more art. Contact her at rcooley@newtimesslo.com.