By all accounts, Stone Temple Pilots is a ripping good rock act, and its hits such as "Sex Type Thing," "Plush," "Wicked Garden," "Creep," "Big Empty," "Vasoline," "Interstate Love Song," and others established the band as one of the music industry's biggest acts. But like so many great rock bands, the foibles of its front man, in this case Scott Weiland, threatened to destroy it.
Drug addiction and arrests, the revelation that he'd been raped at 12, and that he suffers from bipolar disorder all but eclipsed the band's own achievements, as the headlines focused more on Weiland's problems rather than the band's successes. They eventually split up in 2003, Weiland joined Velvet Revolver, and plenty of spectators thought it was simply a matter of time before he would turn up dead from his rock'n'roll lifestyle.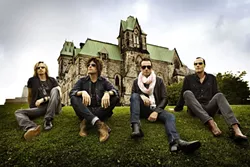 PHOTO COURTESY OF STONE TEMPLE PILOTS
ROCK STARS! : Stone Temple Pilots play Avila Beach Resort on Aug. 21.
Perhaps when Weiland's younger brother Michael died of a drug overdose in 2007, it was a wake-up call. He claimed to have already kicked heroin in 2002, admitted to a short cocaine binge in 2007 after he split with his second wife, but now says he still drinks but is off hard drugs. It's all pretty sad, because he's a hugely talented performer and STP is a wicked good band.
At first dismissed as a grunge knock-off band, over their career, Pilots have successfully explored bluesy rock, glam, and Beatleseque psychedelia, and they're still a force to be reckoned with. Here's hoping Weiland can stay straight and continue to make great music.
On Sunday, Aug. 21, Stone Temple Pilots plays the Avila Beach Resort (5 p.m. doors, 6 p.m. show; all ages; tickets at all Vallitix outlets including Boo Boo Records and the Mid-State Fairgrounds Box Office; online at vallitix.com or by phone at 1-888-825-5484).
Local act Truth About Seafood will open the show. These guys were real up-and-comers in the '90s, but they eventually petered out, only to reform a few years ago with members of the band Siko, another once-hot local act in the mid-2000s. Together they've combined into a local "super group." This should be a show to remember.
Mighty Fine!
PHOTO BY RICHARD FUSILLO
THEY'RE MIGHTY! : Excellent local punk act The Mighty Fine plays an album release party on Aug. 19 at SLO Brew.
Like Bad Religion, NOFX, Weezer, and Green Day, The Mighty Fine understands how to meld punk urgency and melodic pop into hooky, stomping rock replete with soaring choruses, crunching guitar-driven rhythms, and song structures that happily fake right and then swerve left. It's exactly the sort of commercially popular punk rock that ignites the kids but nods respect to the punk of my bygone era. Do I hear a little of The Clash in there? Hell, yes!
On Friday, Aug. 19, this thundering local act will release In Revival, their sophomore effort on Solidarity Recordings that was mastered by Justin Perkins (Screeching Weasel, The Riverdales, Direct Hit!), at SLO Brew (7 p.m.; all ages; $10), with opening acts Ellwood (featuring members of Mad Caddies), Nothing Ever Stays, and The 1st Line.
Fronted by Brook Thompson, whose voice can take on the raw desperation of Joe Strummer, The Mighty Fine deserves more attention than it's been getting, and hopefully this record will open some doors. Judging from In Revival, there's no reason this band shouldn't blow up on radio.
There's tons more at SLO Brew for the week, including the return of deeply soulful reggae act Groundation on Thursday, Aug. 18 (7:30 p.m.; all ages; $18 presale or $20 at the door). This large ensemble takes inspiration from the master, Bob Marley.
On Sunday, Aug. 21, Austin-based rockin' country act Reckless Kelly (7 p.m.; 21-and-older; $25 presale or $27 at the door) returns to the Brew in support of their ninth album Good Luck & True Love, which will be officially released on Sept. 13. The Randy Rogers Band opens.
Hip-hop fans can get their groove on with Dead Prez on Tuesday, Aug. 23 (8 p.m.; all ages; $16 presale or $18 at the door). According to their bio, "M-1 and stic.man are leading the charge towards a topic that seems to be a dead issue in rap—the necessities in life. Inspired by self-defense parties such as the Black Panthers, Dead Prez is the most politically conscious music group since Public Enemy." League of Extraordinary Gz will open.
Songwriters at Play
Award-winning singer-songwriter Tiana Star, a Coffee Shop Girl Records recording artist whose music can be heard on 101.3FM The Coast, plays Steve Key's Songwriters at Play showcase on Thursday, Aug. 18 (all ages; 6:30 p.m.; pass the hat). She'll also play an intimate set at Linnaea's Café from 8 to 10 p.m. on Friday, Aug. 19.
Then John Schmitt, called "one of New York City's best young storytellers," will be the featured performer at Sculpterra on Sunday, Aug. 21 (all ages; 1 p.m.; pass the hat), and Kreuzberg on Tuesday, Aug. 23 (6:30 p.m.; all ages; pass the hat). "He sings in a powerful folk-meets-soul style, influenced by Paul Simon and Motown," said promoters.
More music …
Funky rock, hip-hop, and reggae act Fish Out of Water is the featured performer at the downtown SLO Farmers Market on Thursday, Aug. 18, from 7 to 8:30 p.m. on the corner of Nipomo and Higuera streets. This is a band that seems to never stop touring, so catch them before they head out on the road again.
The Royal Garden Swing Orchestra plays Paso's City Park on Friday, Aug. 19, from 5:30 to 7:30 p.m. "This nine-piece band sounds bigger than the average big band and will delight you with both the swinging tunes of the big band era and memorable modern classics," said organizers of this free concert.
Get your indie and alt-rock fix on Friday, Aug. 19, when the SLOMA (the San Luis Obispo Museum of Art, formerly The Art Center) is host to a four-band extravaganza starting at 7 p.m. for just $7. "It will feature Millions, an exciting new band from Lompoc," said Kevin Coon of Candle, who will also perform. "[Millions] is fronted by Randall Sena, former front man for Le Petit Protest. They play an innovative indie rock style, and in my opinion Randall is the Central Coast's best songwriter. This is a great opportunity to hear them in SLO. Twenty Mule Team is the songwriting of Chandler Jacob, bassist of the local band Ragged Jubilee. They play a different style than The Ragged Jubilee, much more moody and ethereal, but still very rootsy. There's also Lamb's Ear, featuring the songwriting of Meredith Hobbs. I'm trying to get the word out on her, too. She grew up surrounded by music in L.A. and Nashville, her father being a songwriter. She has a bachelor's degree in creative writing from S.F. State and is one of most original and talented lyricists around. Candle, my band, is still trying to get the word out on our last album The River You Drink From Will Drown You." This should be a great night of original music by a bevy of talented, youthful songwriters!
Guitar fans can't seem to get enough of Peppino D'Agostino, who was voted Best Acoustic Guitarist by readers of Guitar Player Magazine's 2007 Readers Choice Awards. It seems like every time SLOfolks brings this virtuosic performer to town, he packs the house. You can see him on Friday, Aug. 19, at Coalesce Bookstore, at 7 p.m.; or on Saturday, Aug. 20, at Castoro Cellars, at 7 p.m., with drummer Jeff Campitelli. "I'm not just an acoustic guitar player," D'Agostino said. "I want to stretch the limits of the acoustic guitar in terms of melody, harmony, and rhythm, adding percussive effects while addressing those first three elements. Ultimately, my mission is to touch people in a heartfelt way both emotionally and intellectually." Tickets cost $22 and are available at the venues or by calling Coalesce at 772-2880 or Castoro at 238-0725.
On Saturday, Aug. 20, The D'Anbino Family Band will back singer and stand-up comedian Tony Russell, better known as Tony Russo from the hit comedy Life With Bonnie, at 7:30 p.m. in the D'Anbino Tasting Room. Admission is $15 ($10 for Record Club members).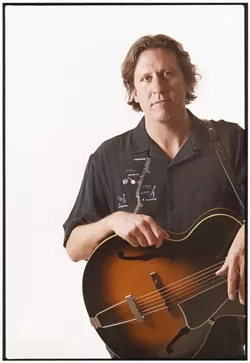 PHOTO COURTESY OF TOM CORBETT
WAY OUT WEST : Tom Corbett plays Linnaea's Café on Aug. 20, performing songs from his last western-themed record.
Tom Corbett will play Linnaea's Café on Saturday, Aug. 20, at 8 p.m., performing tunes from his latest western themed CD, Tonight I Ride, as well as some bluegrass and western swing on guitar and mandolin. This acclaimed picker writes "open-hearted stories and fond snapshots of characters and scenes from the American West—some real, some imagined, all sensitively rendered."
The Ballistic Cats have a couple rockin' shows for you this week, on Saturday, Aug. 20, at the Merrimaker in Los Osos from 9:30 p.m. to 1:30 a.m.; and on Sunday, Aug. 21, at Mr. Rick's in Avila Beach from 2 to 5 p.m. "We're an old school rockin' Americana band," said member Matthew White.
"The feel of the first kiss, the taste of the first beer, the hope of the first victory," said The Connection's Mike Brady. "We use our Americana/rock roots to create an emotional listening experience that will capture your heart and soul, or at least make you tap your feet and dance your ass off!" See them at Frog and Peach on both Saturday, Aug. 20 (10:30 p.m. to 1:30 a.m.), and Sunday, Aug. 21 (10 p.m. to 12:30 p.m.).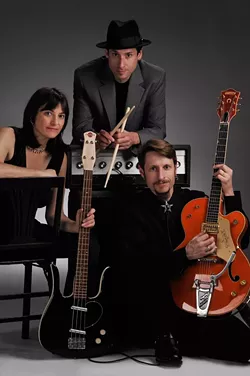 PHOTO COURTESY OF BALLISTIC CATS
ROCK THESE TOWNS : Old-school Americana rock act The Ballistic Cats plays Aug. 20 at the Merrimaker and Aug. 21 at Mr. Rick's.
Larisa Stow & Shakti Tribe will appear at the Historic Victorian Gardens (789 Valley Road, Arroyo Grande) on Sunday, Aug. 21. The event begins with a noon potluck, silent auction, and music by Jimmy Townsend, followed by this talented group of peace-filled world music aficionados. Tickets are $20 at the door.
A couple weeks ago, the Arroyo Grande Village Summer Concert Series took listeners through the '70s, which means Sunday, Aug. 21, listeners can take a trip through the '80s. But don't expect metal hair bands or New Wave acts, because this concert will explore that decade's rediscovery of "The Great American Songbook," with Human Nation, Steve McAndrew, and Judy Philbin performing songs written or made famous by Frank Sinatra, Dean Martin, Sammy Davis Jr., Rosemary Clooney, Bing Crosby, and George and Ira Gershwin, along with performances by the Central Coast Follies Dancers and Dellos Dancers. The fun starts at 1 p.m. at the Rotary Bandstand in Heritage Square Park.
Grover Beach's Sizzlin' Summer Concert Series and Farmers Market at Ramona Garden Park on Sunday, Aug. 21, from 3 to 6 p.m., will feature the blues, rock, and tone poems of The Guy Budd Band. Guy's an amazing guitar player whose smoky vocals and rock cat grace have been winning over crowds for decades.
PHOTO COURTESY OF THE DUO-TONES
BLASTS FROM THE PAST : Gil Orr of the Chantays and Paul Johnson of the Belairs and the Surfaris are The Duo-Tones, playing a benefit for the Degroot Nursing Home for Children on Aug. 23 in the SLO Odd Fellows Hall.
On Tuesday, Aug. 23, you can hear some great acoustic surf music by The Duo-Tones and support a great cause, The Degroot Nursing Home for Children, a care facility for medically fragile kids, during a benefit concert at 7 p.m. in the SLO Odd Fellows Hall (520 Dana St.). "The riffs are instantly recognizable—from the opening notes of 'Pipeline' or 'Apache,' you're on a ride down memory lane with the stars of '60s surf music," said organizers. "You'll have a chance to experience the trip for yourself with a special local performance by The Duo-Tones, Paul Johnson of the Belairs ('Mr. Moto') and the Surfaris ('Wipeout') and Gil Orr of the Chantays ('Pipeline')." Two '60s surf music superstars in an intimate acoustic show! Stage décor will be provided by Central Coast Surfboards. National Resophonic Guitars will also be on hand with a display. Tickets for this all-ages show are $15 at the door.
Sad music news …

ENTER THE NEW TIMES MUSIC AWARDS!: Time's running out to submit your entry to win a Newtie Award in the New Times Music Awards, the deadline for which is Monday, Sept. 5, at 5 p.m. You'll find an entry form on page 38 of this issue, or submit your materials online at newtimesslo.com. First-place winners must be available to play the awards event on Thursday, Oct. 13, at SLO Brew, where winners will compete for Best Live Performance.
On a more somber note, I recently heard from Steve Crimmel of Painted Sky Studios in Cambria, who wrote to say his recording studio and concert venue is in danger of closing!
"The landlords have instructed me that when their building in West Hollywood closes escrow, which they expect in the next few weeks, I will be given a 30-day notice to vacate the building. Initially they plan to use the studio for storage, a decision that will quite unexpectedly and abruptly put me out of business.
"People have been asking what they can do to help, and it seems that a letter-writing campaign to my landlords might be helpful in that it may help them realize that Painted Sky is a contributing part of our community and much more than just a rental property.
"My landlords Tom Gerst and Jim Evans are around 80 years of age, and I don't know if they do e-mail. Writing them a letter from your heart, simply letting them know what Painted Sky means to you as musicians and music lovers is what it's all about."
Please send your letters to: Evans & Gerst Antiques, 520 N. San Vicente, West Hollywood, CA 90048.

Keep up with Glen Starkey via twitter at twitter.com/glenstarkey, friend him at Myspace.com/glenstarkey, or contact him at gstarkey@newtimesslo.com.