PHOTO COURTESY OF MICHAEL ON FIRE
FEEL THE HEAT : Michael on Fire brings his Americana sounds to Painted Sky Studios on Jan. 27.
It looks like The Clubhouse has finally succumbed to the various pressures—some internal and some external—that conspired to close it down, which means concerts scheduled there have … poof! … disappeared. Well, Painted Sky Studios comes to the rescue, at least for the Michael on Fire and St. Vincent Folk concert set for Thursday, Jan. 27, which will now take place at 8 p.m. in Cambria (4111 Bridge St.).
"Three days ago I received an e-mail from my friend Bob Liepman asking if I would be interested in hosting a very short notice concert featuring Michael on Fire and St. Vincent Folk," said Steve Crimmel of Painted Sky. "Seems that they were scheduled to appear at The Clubhouse, when suddenly The Clubhouse had to close their doors.
"Knowing that spontaneous events can often exceed all of your expectations, and considering the buzz going around the county about these musicians, I said yes, I can provide a venue for their concert.
"Michael on Fire's new album—Always Yes—is getting great reviews on the No Depression website, and it appears that he is going to be performing here with his band. This promises to be an evening of great Americana music. Due to the short notice, there's not time to get tickets distributed. Call the studio (927-8330) to get on the will-call list. Or you can get tickets ($15) at the door. Seating is limited."
Ron Colone, who runs the Tales from the Tavern concert series down in Santa Ynez, put out Always Yes on his label, and wrote to tell me that "Michael on Fire will be playing the night before (Jan. 26) at SOhO in Santa Barbara with an eight-piece band comprised of all California musicians, including Jack Joshua (Santa Barbara) on bass, Tompeet Fredricksen (Solvang) on drums, Chris Combs (Lompoc) on piano and organ, Carole Ann Colone (Santa Ynez) on percussion and background vocals, Tobias Brekke (San Luis Obispo) percussion and background vocals, Tyson Leonard (Atascadero) on violin, and Ced Curtis (Napa) on guitar. All or most of that group will also be with him on Thursday in Cambria."
File this one under "making lemonade out of lemons."
(Folks at The Clubhouse, by the way, are hoping to re-open in mid-February after a huge money-raising music festival.)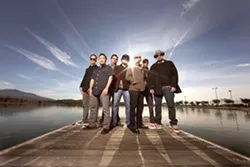 PHOTO COURTESY OF OZOMATLI
KID STUFF : Genre-jumping L.A. act Ozomatli plays a special afternoon show for kids of all ages on Jan. 28 at SLO Brew.
One for the kids!
It's not often that SLO Brew caters to the younger crowd. I mean, sure, they do all-ages shows regularly, but I can't recall a time when they opened the club to little kids. On Saturday, Jan. 29 (3 p.m.; all ages; $13 presale or $15 at the door), gather the little ones and head down for "Ozokids," when L.A.'s celebrated genre-jumpers Ozomatli will deliver "a special family-friendly set geared towards children and adults alike," said the band's publicist Rob Moore. "Many Ozomatli fans who've embraced the band since their inception now have kids of their own, and Ozo are thrilled to now offer a show that an entire family can enjoy together. The band is currently in the studio with acclaimed producer Tony Berg, recording a children's album for release in 2011."
Ozomatli has a longstanding tradition of performing for children all over the world, from the schools of North St. Louis to the orphanages of Southeast Asia.
Added vocalist Asru Sierra, "We felt it was a great idea to do a family record so that everyone can come together and dance as a family at our shows. And they don't have to be kids, as long as you're a kid at heart … which we all were to begin with, anyway!"
SLO Brew also hosts four other shows this week: alt-rockers RX Bandits with Fake Problems on Thursday, Jan. 27 (7:30 p.m.; all ages; $14 presale or $15 at the door); soulful folkies The Ragged Jubilee with Adam Pasion on Friday, Jan. 28 (7:30 p.m.; all ages; $8 presale or $10 at the door); blues/metal act Clutch with Valiant Thor on Sunday, Jan. 30 (7 p.m.; all ages; $19 presale or $22 at the door); and acoustic alt-rockers Marcy Playground with Acidic on Wednesday, Feb. 2 (7:30 p.m.; all ages; $15 presale or $17 at the door).

PHOTO BY BOB HAKINS

VELVET-COVERED FREIGHT TRAIN : Roach of Café R&B will lead her band through its paces on Jan. 29 at the SLO Vets Hall.
Smoldering hot!
Roach has a voice like a velvet-covered freight train sliding down honey-coated tracks. She shimmies and shakes, vibrates and vamps, titters and taps like a country preacher with two fists full of snakes. But instead of fire and brimstone, the Church of Roach extols the pleasures and pitfalls of love. Listening to her perform, you can almost imagine the flotilla of ruined men drifting in her wake.
I've seen her play the SLO Blues Society several times, and female audience members coveted Roach's unrestrained passion while the men were eating like hungry goats out of Satan's hand, and I was one of them. Roach's performance is like a potion, alchemy, black magic—my favorite spell.
Check out Café R&B on Saturday, Jan. 29, at 8 p.m. in the SLO Vets Hall. Code Blues opens the show. SLO Dance offers free dance lessons at 7:30 p.m. Tickets cost $17 for Blues Society members and $20 for the general public.
More music …
With a name like Troubadours of Divine Bliss, how can you go wrong? On Thursday, Jan. 27, the aforementioned folk act will bring its unique harmonies, accordion, and guitar sound to the Steynberg Gallery at 8 p.m. "These gals sing about courage of the heart and revolution of the spirit in a way that will soothe and inspire your soul," said organizers. "They'll be joined by Miss Steph Dlugon and her burning violin! She's been playing violin since the dawn of polyester leisure suits and feathered hair."
PHOTO COURTESY OF CHRIS LATERZO
IS THAT YOU, NEIL YOUNG? : The amazing Americana rock artist Chris Laterzo plays Frog and Peach on Jan. 27.
Chris Laterzo will be delivering his Neil Young-esque songs on Thursday, Jan. 27, at 10 p.m. in Frog and Peach. His newest album, Juniper and Pinon, is a stirring collection of compositions he calls American cowboy rock, but on tracks like "Those Were the Days," you could swear you were listening to Neil Young in his early years. It's an awesome record! Fans of Young, do not miss this show!
Utah Phillips was a national treasure, a Woody Guthrie or Ramblin' Jack Elliott for our times. The singer and political activist was a member of the Industrial Workers of the World, known as the Wobblies, and he sang about hobos, railway workers, miners, cattle drovers, and busking musicians. To celebrate the songs and stories of this now gone artist, his son Duncan Phillips—along with Gigi Love, Doug Wintch, Anke Summerhill, and Paul Rasmussen—will perform some of Utah's songs and tell his stories on Saturday, Jan. 29, at Coalesce Bookstore (7 p.m.; all ages; $20, call 772-2880 for reservations).
PHOTO COURTESY OF DON LAMPSON & FRIENDS
FRIENDS INDEED : Troubadour Don Lampson (right) and his musical collaborators Bob Liepman, Charlie Kleemann, and Julie Beaver, perform Jan. 29 at Steynberg.
Don Lampson is as authentic a folk musician as you're likely to find, a former logger and prison guard and all-around badass. On Saturday, Jan. 29, he'll host "Don Lampson's Third Annual Mid-Winter Musicale" at 7:30 p.m. in Steynberg Gallery. Don's rustic baritone is the perfect vehicle for his songs about ne'er-do-wells, outlaws, the downtrodden, the triumphant, hobos, lovers, and losers. With Don on the Travis-style guitar, he'll be accompanied by Julie Beaver (violin), Bob Liepman (cello and mandocello), and Charlie Kleemann (bass violin). "Tyson Leonard will operate the sound system and hopefully be inspired to lend his violin into this special ensemble," Don added. Admission is $11 and worth every damn penny—and more!
PHOTO BY MARISSA KNUCKLES
GOLDEN LOCKS AND SILKEN VOX : Natalie Haskins & the Dead Flowers play Jan. 29 at Kreuzberg.
Ready for a gorgeous voice and a sassy attitude? Natalie Haskins & the Dead Flowers, featuring special guest Bob Haskins from the Bob Lawrence Band and Warren Haskins at his first public performance, plays Kreuzberg on Saturday, Jan. 29, at 9 p.m. This baby's free!
Winery Music Awards Winner Shannon Curtis will be featured at Sculpterra Winery on Sunday, Jan. 30, from 1 to 4 p.m. during Steve Key's Songwriters at Play showcase. The Los Angeles Times described her as "a beautiful piano player who sounds like the love child of Fiona Apple and Norah Jones." This is an all ages, pass-the-hat concert.
The Crustacean Jazz Band—singers Steve McAndrew, Stephen & Rachel Espinosa, Christie Ernst, Marti Lindholm, and Mike Suddarth, and pianists Nancy Piver and Stanley Stern—performs selections from the Oscar Hammerstein songbook on Sunday, Jan. 30, at 3 p.m. at Congregation Beth David ($18 presale, call 544-0760, or $20 at the door). Hear tunes from Showboat, Oklahoma, South Pacific, The King and I, and more!
Classical music fans, don't miss the SLO Symphony presenting "Brandenburgs at the Mission" on Sunday, Jan. 30, with guest violinist Shunské Sato and the SLO Symphony Chamber Players at 3 p.m. at Mission San Luis Obispo, performing J.S. Bach's Brandenburg Concertos—the 1721 compositions widely regarded as the finest of the Baroque era. Tickets cost $15 and $17 and may be purchased online at slosymphony.com or by calling 543-3533.
PHOTO COURTESY OF RICK PITTMAN
BLUES BROTHERS : Blues drummer Rock Pittman and his pal The Gap Band member Jimi Macon play Pittman's first weekly blues show on Feb. 1 at the Z Club.
Ready for some down and dirty blues? Every Tuesday and Sunday, starting Tuesday, Feb. 1, the Z Club will be hosting regular blues jam nights hosted by Rick Pittman, a blues-rock veteran drummer who's played with the likes of B.B. King, Ike Turner, Etta James, and many more. This Tuesday will feature a Mardi Gras theme replete with barbecued oysters ($1.50) and jambalaya ($6), and Pittman has tapped one of his L.A. pals, Jimi Macon of The Gap Band, to join him during the opening night. The performing bands are called Burning James & The Funky Flames and The Strata-tones. Admission for the 7 p.m. concert is $10—but it's free if you're a jamming blues musician. Come support SLO Town's newest blues venue!
PHOTO COURTESY OF GEORGE STONE
BIG BAND MUST-HAVE! : Cuesta College music faculty member George Stone has released an amazing new big band CD, The Real Deal, available on his website: georgestonemusic.com.
Stone cold awesome!
About a dozen years ago, pianist and trumpet player George Stone rolled into town as a new member of Cuesta College's music department faculty and quickly became an integral part of the local jazz music scene, adding his skills to local performances and building the Cuesta program into something truly remarkable.
Of course, his music career didn't start here. He worked for several years as a studio musician and composer for TV, and he's kept in contact with those connections, tapping them for his recordings.
Now his third CD has just been released, filled with the finest L.A. musicians as well as guest soloists from New York and other places. Titled George Stone: The Real Deal, it's a swinging, 11-song collection featuring both Stone's and others' compositions. He spoke to New Times about the new recording.
New Times Why the title The Real Deal?
George Stone The phrase "the real deal" refers to something genuine, authentic, or worthy of serious regard. It illustrates and inspires confidence. As the title for my CD, I feel that it honestly describes the quality and consistency of the compositions, arrangements, musicians, performances, engineering, and production to both knowledgeable jazz listeners and those unfamiliar with the jazz idiom. There's a sense of comfort and confidence when one purchases something called The Real Deal—you know it's going to be good!
New Times You've tapped a gold mine of incredible musicians. How'd you manage it?
George Stone All of the musicians are personal friends and most have comprised the core of my big band for almost 25 years. They're busy studio players and live performers, so scheduling was not without difficulty. What made it very rewarding was their enthusiasm in making this recording a priority despite their impacted calendars. For example, at a concert a while back, I asked Wayne Bergeron if he'd like to record, and he immediately said yes. He's currently L.A.'s first-call session and lead trumpet player—he's playing the Academy Awards show next month in addition to almost every TV show and motion picture date there is. Clearing his schedule so that he could participate was very gratifying. Having guest artists like Donny McCaslin, Bob McChesney, Chris Vadala, and my trumpet hero Bobby Shew could not have happened without their generous spirit and penchant for good music. I'm pleased I could provide them with that motivation.
New Times Was all the recording done live, or how?
George Stone The recording was done with full sections, i.e. four trumpets, five saxophones, etc., but in stages. I engineered and edited everything and mixed the tracks at Santa Barbara Sound with engineer Dom Camardella. It was a joy mixing on Dom's fairly new Neve 5088 console—one of the best in the business. The mastering took place at Lurssen Mastering in Hollywood—again, another incredible place for adding the finishing touches to recorded music.
New Times You compose five of the album's 11 tracks, facing off against the likes of Cole Porter, Sonny Rollins, and Duke Ellington. How big of balls does it take to put your music head-to-head with these giants?
George Stone Let's not forget Louie Bellson, Ray Noble, Marvin Fisher, and Jack Segal, either! I would like to think more that I'm collaborating with these wonderful composers and supporting their music rather than "facing-off" with them! Their music, as well as that of so many others, has been a part of my life for over 40 years. Their musical influence was so strong and resonated so naturally, it was almost by design that I became a part of their rich heritage. That said, the arranger's (and orchestrator's) job is to breathe new life into an old standard—to create a new version that is fresh, exciting, and fun to listen to. That's where I feel most comfortable and confident with my abilities as a composer. When arranging a standard such as "Doxy" by Sonny Rollins, I approach that coveted and well-known tune with great respect for the harmonic and melodic elements—I want to make sure people know it's still "Doxy" no matter how it develops or where I take it. The compositions are then quite often inspired by the arrangements. As a composer, it's my turn to create a work that I hope will become standard literature—perhaps for a future student at the college or another professional musician. And the cycle continues, and the jazz idiom stays alive. I'm merely doing what all the past contributors (composers) did before me—it's now just my turn.
New Times Any other comments?
George Stone This is a great big band CD! The musicianship and production is of the highest quality, and I'm positive the listener will thoroughly enjoy the music. There're possible plans to assemble the band for a CD release concert in Los Angeles, possibly at Typhoon in Santa Monica or Catalina's Bar and Grill in Hollywood. More details to come as that develops. Though the CD may be purchased at all the usual web retail outlets such as Amazon, iTunes, CD Baby, DigStation, and CD Universe, I encourage people to visit my new website, georgestonemusic.com, where they can preview each selection and purchase either full or single digital downloads or a physical copy. The website also contains music production services, links, pictures, and other interesting facts that both musicians and listeners will enjoy.

Keep up with Glen Starkey via twitter at twitter.com/glenstarkey, friend him at Myspace.com/glenstarkey, or contact him at gstarkey@newtimesslo.com.