It all started with a young girl falling in love.
It seemed impractical, but eventually Elizabeth Norris decided to just go for it. The 1890s poster, with the words "When Hearts are Trumps" by William Bradley—once an advertisement for a book of poetry by an American author—was one of Norris's first big purchases.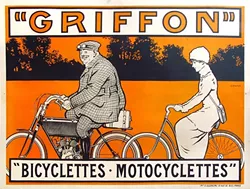 IMAGE COURTESY OF VINTAGE EUROPEAN POSTERS
A NEW ERA: As technology evolved, posters popped up hawking everything from bicycles to washing machines.
"I had a piece of paper that was more than 100 years old before I had furniture," she said.
From one impulsive decision, an obsession grew. Norris started flying to France and staying with family there while hunting for vintage European posters from 1890 to 1960. The leap from collector to dealer was short and in 1997, Norris's Berkeley-based business Vintage European Posters was born. She's now one of about a dozen dealers in the U.S.
Her rare posters will be on display as part of the Jump for Joy: Vintage European Posters exhibit at Studios on the Park in Paso Robles starting March 30. While about 25 posters will be framed and hanging on the gallery walls, an additional 800 will be displayed on tables.
Posters advertising the opera, liquor, and appliances in Europe in the 1800s and early 1900s were large, around 4-by-5 feet, meant to cover the side of a building. French people in particular recognized them as beautiful (and free) and stole them and started to collect these street posters.
IMAGE COURTESY OF VINTAGE EUROPEAN POSTERS
JUST A DRINK MORE: This 1921 Bitter Campari poster by artist Leonetto Capiello is popular among collectors and is frequently reprinted.
"They were made to advertise," Norris said "They weren't supposed to be sacred."
Early European posters shilled for things like the theater, salons, world fairs, and even blood oranges. Later, as technology progressed, these brightly colored iconic posters gave praise to radios, washing machines, and the now ubiquitous bicycle. While riding a bike is second nature to most everyone over the age of 5 these days, back then, early consumers didn't know what to do with it.
"There was a lot of excitement about the bicycle," Norris said. "But the public didn't know exactly what it was for—exercise or transportation?"
Most of Norris's poster loot comes from the descendants of early collectors (who, on average, each had more than 1,000 posters at the turn of the century.) Descendants of printers or companies that commissioned the posters are also likely suspects for her poster acquisitions, with each beauty being worth anywhere from $500 to $5,000 a pop. Norris's collection includes an original of an extremely popular poster in the reproduction circuit. From 1921, an ad for Bitter Campari (by artist Leonetto Capiello) with a dark blue backdrop features a mischievous clown in red merrily dancing within an orange peel while holding a bottle of the liquor. The words "Bitter Campari" at the bottom pop in a light blue. It's a familiar décor choice for many restaurants.
IMAGE COURTESY OF VINTAGE EUROPEAN POSTERS
POSTER REVOLUTION: This poster by artist Alphonse Mucha announced the 20th exhibition of the Salon des Cent held at the premises of the art journal 'La Plume' in 1869.
"It's a popular piece by an artist a lot of people collect," Norris said. "It's a great art deco image that leaps off the page."
Each poster from that time was printed in limited numbers using limestone for every color that was called for. When a job was done, printers literally broke the mold, wearing down the stone to a flat surface once more so it could be used for the next poster, making them all the more valuable down the road.
"We want to educate the public about the fact that these posters existed and still exist," Norris said. "To actually see 800 posters in person is really a trip through the last century."
Send stories of artsy fartsy collectibles to Ryah Cooley at rcooley@newtimesslo.com.
MAD AD ART : Jump for Joy: Vintage European Posters will be on display at Studios in the Park in Paso Robles from March 30 to April 23. Elizabeth Norris of Vintage European Posters will be at a Collector's Talk at the gallery on April 1 at 5:15 p.m. and at Art After Dark from 6 to 9 p.m. Poster aficionados can also join Norris for dinner at Bistro Laurent (which boasts some vintage posters as part of the décor) on April 6 at 6 p.m. (Reservations required. Call the restaurant at 226-819.) Or, sit in for a lecture on The Evolution of the Bicycle and the Bicycle Poster on April 8 at 3:15 p.m. at the gallery. Visit studiosonthepark.org for more information.