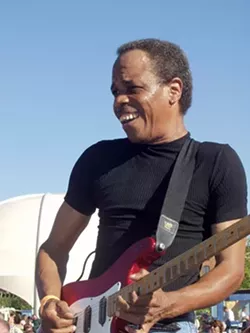 PHOTO COURTESY OF JAMES ARMSTRONG
LEFT COAST STYLE : Blues guitar ace James Armstrong headlines the SLO Blues Society's Sept. 15 show at the SLO Vets Hall.
# The Mississippi Delta, Chicago, Texas these are the regions we think of as America's blues Meccas, but the West Coast has a long and storied blues tradition of its own, and part of that story is guitarist, singer, and songwriter James Armstrong, a master of the left coast blues style.
Armstrong's mom was an L.A. blues singer and his dad a guitar playing jazzman, so Armstrong was surrounded by music as a youngster. He cut his teeth in the early '80s in the SoCal club scene, backing performers such as Big Joe Turner, Albert Collins, and Smokey Wilson.
Later, Armstrong toured throughout the United States and Canada, eventually moving from his home in Santa Cruz to the Midwest in 2003 to get closer to the national blues scene. He's since returned to his old stomping grounds.
With three solo albums under his belt Sleeping with a Stranger (1995), Dark Night (1998), and Got It Goin' On (2001) Armstrong has plenty of original music and has mastered an impressive array of guitar styles (he can slide like a Buick La Sabre over a Chicago black ice slick). He lists Jimi Hendrix and Robert Cray as his vocal influences, and Albert Collins, Albert King, and Eric Clapton as guitarists who have inspired him. In 2001, he received W.C. Handy nominations for Contemporary Male Blues Guitarist of the Year and Blues Song of the Year.
On Saturday, Sept. 15, the SLO Blues Society presents guitar ace James Armstrong at 8 p.m. at the SLO Vets Hall. Tickets are $17 for Blues Society members and $20 for the general public.
Opening for Armstrong is the hard-driving blues trio the Jerome Washington Express, fronted by versatile, blistering guitarist Drew Arnold.
"What's so special is that after many years of deliberation, procrastination, and fan requisition, the Jerome Washington Express will be recording their first live CD from this show of all our original music," Arnold said. "I'm using all my vintage gear, and the tones will be very bluesy and authentic, so we're trying to put the word out to all our fans to come to the SLO Vet Hall, bring their best dancing shoes and juke, and forever be recorded as part of the band's 12 years (and counting) history."
Arnold expects to have the CDs ready for distribution by January of '08, when they'll be available for purchase through jeromewashingtonexpress.com, the band's live shows, and an as-yet-unannounced distribution company, "which shall remain nameless until the ink is dry," Arnold added.
The group also includes bassist Tyler Mitchell and drummer Jim Stromberg. Learn more at the band's website.

The kids are alright
When I say the "kids" are "alright," I mean, first of all, these are real kids (ages 12 to 14), and when I say they're "alright," I actually mean they're better than just alright. They're actually pretty freaking hot.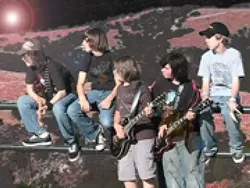 PHOTO COURTESY OF REFUGE
YOUNG ROCK GODS : Refuge, a rock quintet comprised of 12- to 14-year-old middle schoolers, plays Arroyo Grande's Rock n Dog on Sept. 14.
# The "they" is Refuge, which formed two years ago when its five members had just finished 5th grade. This year, vocalist Zach Costello (14), guitarists Mason Stricklin (12) and Atreyue Ryken (12), bassist Trevor Nelson (13), and drummer Connor Parsons (13) are 8th graders at Judkins Middle School, and in addition to performing their own five original songs, they're covering the likes of Green Day, AC/DC, KISS, the White Stripes, and the Beatles.
Check out Refuge on Friday, Sept. 14, when they play a 6 p.m., all-ages show at Rock n Dog, 168 Station Way in Arroyo Grande. Hear some tracks and learn more about the band at www.myspace.com/refugepismo.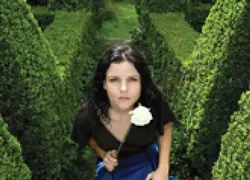 PHOTO COURTESY OF CORINNE WEST
GO WEST, MUSIC FANS : Brilliant Americana singer-songwriter Corinne West plays the Steynberg Gallery on Sept. 14.
# On the road again
Stay in school, kids! Unless you're Corinne West, who dropped out of school and joined a nomadic group of artists traveling around the country in a converted school bus at the tender age of 15.
"I left home and school really young," she said. "I was a wild energetic kid, and I had this incredible wanderlust from a very early age. People always assume something heavy happened at home, but that wasn't the case. It just wasn't all that great. Everything seemed really static. I wasn't being offered anything I could sink my teeth into. Then I met a group of traveling artists and activists, and that finally lit me up. I found a window into a different way of life, and I jumped through it."
Seriously, children, this is not recommended, but for West it was exactly what she needed to jump start what's become an extraordinary career and a creative depth that's resulted in amazing songwriting skills that have tapped into her travels and the people she's met along the way.
"Living on a bus and being a young teenager among counter-culture artists had a massive impact on me. I met a lot of characters and saw many, many ways to live ... some crazy, some sane. I realized that the world was chock full of possibility, and that a creative life was a potent way to contribute, make statements, and have a great time. And I had this guitar ... ."
From busking on street corners for tips to playing the biggest music festivals in the country, West has developed into one of the great Americana folk artists. She's got a tender, soul wrenching voice that penetrates deep into listeners' emotions.
On Friday, Sept. 14, the Hoot Road Show presents Corinne West at The Steynberg Gallery at 8 p.m., where she's playing in support of her terrific second album, Second Sight, which features guest artists Mike Marshall, Jerry Douglas, Darol Anger, and Tony Furtado. It's the first stop on an extended tour that culminates at the end of March with stops throughout the United Kingdom. Tickets are $15, available at the venue. For more info, call 546-2857.

Bubbleheads
Though I love clever gimmicks, I'm always a bit skeptical of them. So when a band locks itself inside of a giant transparent bubble on Pier 54 in New York City as Cartel did on May 24 and refuses to come out until June 12, when they've completed recording 12 tracks for their new album, I feel I can be forgiven for wondering about the necessity of all the "smoke and mirrors." On June 12, the band emerged and played the 12 songs live and then embarked on a cross-country tour to support a self-titled recording.
Now Epic Records recording artists Cartel are coming to Cal Poly to support their sophomore album, a follow up to their debut CHROMA, which sold nearly a quarter-million copies and spawned the hit single "Honestly," a radio-friendly little number that features the band's clean, middle-of-the-road rock aesthetics.
After listening to this new album, I can honestly declare that Cartel has perfected the formula of playing hermetically sealed music that couldn't possibly offend (or challenge or inspire) anyone.
In a USA Today article (and the publication should offer further evidence of this band as a marketing if not musical marvel), singer Will Pugh talked about how a sophomore release is a highly pressured thing. "We're mentally preparing ourselves for the worst," he said in the article, "but I don't think we'll have time to freak out."
Well, maybe you should make the time. This new album couldn't possibly be more boring!
Maybe Cartel's live show is more interesting. See for yourself when Cartel plays the Cal Poly Rec Center on Friday, Sept. 14. Get tickets at the Mustang Ticket Office at Cal Poly.

My new love
I love Dafni's new CD Charlie's Lonely Sunday so much I'm thinking of marrying it. Right now I'm cleaning the spit off it because we were making out a little while ago, but now I want to play it again and all that good makeout juice is making it skip.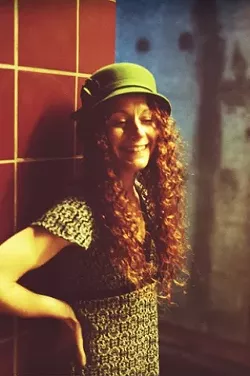 PHOTO BY LAURA HEFFINGTON
AMERICANA JAZZ : Working in the tradition of jazz classics like Ella, Nina, and Billie, one-named Dafni has created a stellar new CD from which she'll draw for a 2 p.m. KCBX radio spot, a 4:30 p.m. Boo Boo's in-store appearance, and an 8 p.m. Linnaea's Cafe concert.
# The CD moves smoothly between swinging rockabilly songs like "Dimes" to tango-esque numbers like "Let's Pretend" to folky heartwrenchers like "Broken Letter" to oh hell, every song is a revelation. On my new paramour, I mean Dafni's CD, Dafni sings under the influence of classic jazz vocalists like Billie Holiday and Ella Fitzgerald and Nina Simone (or, if you prefer, think Norah Jones or Madeleine Peyroux for more modern touchstones). It's just a super cool theme record about Charlie's lonely Sunday, I guess. Me likey! That's all you need to know.
Dafni (one name like Seal or Charo or Madonna) is a terrific singer who toured through town last year and is back again to play Linnaea's Cafe on Saturday, Sept. 15. She wrote to say, "I have a new record that I just finished recording with producer Charlie McGovern and I would love it if you could write a review on my new record in addition to mentioning my [8 p.m.] Linnaea's show."
I'm sorry, Dafni, but I don't have time to write a review. Your CD and I have eloped and we're leaving on our honeymoon. I think we'll be very happy together. Don't try to follow us. Our love is too strong to be broken.
In addition to Linnaea's, Dafni and Wil Forbis (lead guitar and banjo) will also be on KCBX's The Minstrel Song Show hosted by Sonnie Brown at about 2 p.m. and doing an in-store appearance at Boo Boo's around 4:30 p.m.
Listen Dafni, you can play your songs for your SLO shows, but your CD and I will be parasailing in Mexico. Don't hate your CD. It couldn't deny our mutual love anymore than I could.

Maria Grazia
Rosa Domenica D'Amato-Muldaur!!!!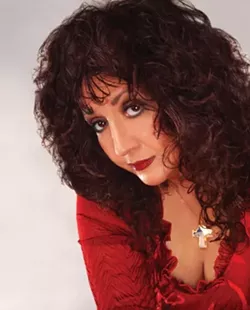 PHOTO COURTESY OF MARIS MULDAUR
HAIL MARIA FULL OF GRACE : "Midnight at the Oasis" singer-turned-blues-diva Maria Muldaur plays the Red Barn series on Sept. 16.
# I've always wanted more names. Glen Frank Starkey is too short. How about Glenford Frankenstein Bellview Leroy Starkey? That's why I don't understand why Maria Grazia Rosa Domenica D'Amato would have shortened her name. Maybe it just couldn't fit on a handbill with Bob Dylan, with whom she shared the stage in the '60s during the Greenwich Village folk heyday. She also sang with the Even Dozen Jug Band, where she met and eventually married Geoff Muldaur, which means she could have been Maria Grazia Rosa Domenica D'Amato-Muldaur. Even cooler!
Instead Maria Muldaur, perhaps best known for "Midnight at the Oasis," is just Maria Muldaur, iconic folk and blues artist with something like 26 albums to her universally worshipped name.
On Sunday, Sept. 16, the Red Barn Community Music Series presents blues singer Maria Muldaur (and her eight-piece band) at the Red Barn in Los Osos' South Bay Community Park, where she's playing in support of her 2007 release Naughty, Bawdy & Blue.
The concert begins at 7 p.m., but if you want, come at 6 p.m. with a dish to share for a potluck supper. A $15 donation is requested at the door.

More music
The fresh smell of brand new Cal Poly students is wafting through town, which means it's WOW, and that means it's time for locals to sneak on campus for a free concert by Native Root when they play on Friday, Sept. 14 (what time and where? I don't know. You've got to be sneaky!). If you can't figure it out, see Native Root when they play Thursday, Sept. 27 at Frog and Peach.
Pocket Productions is bringing back a favorite touring performer, Karl Blau, who's been musically involved with everybody big from the Pacific Northwest: The Microphones, Mount Eerie, Kyle Field, and the list goes on and on. On Saturday, Sept. 15, Blau will play the SLO Art Center with opening acts Bodies of Water and Le Petit Protest. This all-ages, indie rock extravaganza begins at 7:30 p.m. and costs $8.
According to Indubious, their recipe is at follows: "Throw Primus in a blender, add a little Medeski Martin and Wood, toss in some Sublime with just a hint of The Beatles." The Bay Area-based genre-bending power trio will be "pumping a positive message and wielding impressive instrumental skill" when they deliver an evening of reggae, funk, and acid-jazz to the crowd at The Clubhouse at This Old House on Foothill Boulevard in SLO Town on Saturday, Sept. 15, at 9:30 p.m.
The Burnished Brass will present a concert at First Presbyterian Church (1830 Farroll, Grover Beach) on Sunday, Sept.16, at 9 and 10:30 a.m. This local group, led by Rich Ward on trumpet, also features Jerry Boots (trumpet), Jennifer Dodson (French horn), Steve Wilson (trombone), and Norm Fleming (trombone). For more info, call 473-4732 or 489-7282.
Hailing from Olympia, Wash., comes seven-piece folky punk band The Pasties, who are going to be in SLO Town on Sunday, Sept. 16. Hear them live on KPIG's 10 a.m. show "Please Stand By," see them live at Mitchell Park at 5 p.m., and hear them again on KCPR's "Radio Sessions" at 8 p.m. The band is touring in support of their new CD, Punk As Folk.
Sometimes the best way to describe a band is to list their song titles, so without further adieu, here are a few select tracks by the Angry Samoans: "Are You Square," "Hot Cars," "I'm a Pig," "I'm in Love with Your Mom," "My Old Man's a Fatso," "You Stupid Asshole," "High on Drugs," and "Staring at the Sun." The L.A.-based punk act formed in the late '70s and has drifted in and out of existence over the past three decades. They'll play Atascadero's Masonic Lodge on Sunday, Sept. 16, for an all-ages, 7 p.m. show, which costs $12 at the door.
Ted Wulfers, a Chicago-based nationally touring folk, rock, and Americana singer/songwriter, plays the Frog and Peach on Sunday, Sept 16, at 9 p.m. "I'm on tour in support of my latest CD, Cheap Liquor, and to also celebrate the success of my song 'Dodgers Hat,' which has been played at a Los Angeles Dodgers home games this season," he said. Learn more at myspace.com/TedWulfers.
L.A. rock act Silent Treatment will bring their whisper-to-a-scream rock antics to the Frog and Peach on Monday, Sept. 17, and again on Monday, Oct. 1. Melodic with grungy overtones, the band is anthem right and stadium ready. They may blow the building down. Hear some tunes and learn more at myspace.com/stface.
The All Nighters describe their sound as "instrumental party surf punkabilly," and they'll be delivering a full dose of it on Tuesday, Sept. 18, at the Frog and Peach. With influences like Dick Dale, The Ramones, Devotchka, Miles Davis, and The Sex Pistols, you can bet you're in for a genre-bending night.

Funny business
The Bob Zany Comedy Outlet, by very popular demand, will have the main man himself, Bob Zany, performing live on Friday and Saturday, Sept. 14 and 15, with Bobby Miyamoto opening.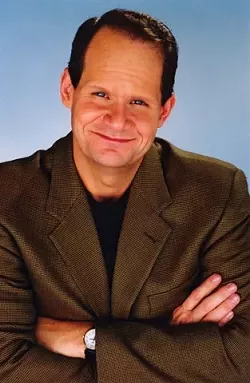 PHOTO COURTESY OF BOB ZANY
GET ZANY : Stand-up comic Bob Zany plays the Morro Bay comedy club that bears his name on Sept. 14 and 15.
# Busy Bob says he's been itching to get back to Morro Bay, but here's a sampling of what got in the way: Thirty weeks of national touring, a show-stealing blip on Last Comic Standing, two panel appearances on the nationally syndicated Comics Unleashed, a hilarious turn on CMT's Comedy Stage, the prestigious show-closing spot on Comedy Central's "Bob & Tom Radio: The Comedy Tour," and, for the seventh year in a row, the enormous honor of co-hosting The Jerry Lewis Labor Day Telethon, which raised a whopping amount of money this year no doubt sympathy donations not for the kids, but for Bob himself.
Bob and Bobby will do shows at 7 and 9 p.m. both nights. Before the show, enjoy dinner at The Embarcadero Grill, or, as Zany likes to call it, The Embarcadero Grill Below Bob Zany's Comedy Outlet, but reserve early! These shows will sell out fast. Call 772-0716 to reserve your spot. Visit bobzany.com for up-to-the-minute Zany news.
CD Reviews
Animal Collective Strawberry Jam
# With the release of the Beatles' Sgt. Pepper, the rules defining what pop music could sound like were expanded. Beneath innovative arrangements and synthesizing several musical genres into a new sound, one could still bite into sweet melodicism and feel comfort. Animal Collective seems set to a similar trajectory as the Flaming Lips: a backlog of weird captivating early albums that have slowly evolved the aesthetics of pop into a palatable art the masses can finally consume. On Strawberry Jam, Panda Bear (Noah Lennox) and Avey Tare (Dave Portner) still push the boundaries of exploration with their trance-inducing repetitiveness and their fondness for noise-rock, but a balance is struck with their gorgeous Brian Wilson-style harmonics and exuberant happy energy. Opening their album with a thick tangle of electronic mishmash that slowly unravels into a propulsive beat, "Peacebone" is a guiding indicator of the absurd delight that waits for you through this marvelous recording.
Malik Miko Thorne, of Boo Boo Records and KCBX's "Night Train."
Young Marble Giants Colossal Youth and the Collected Works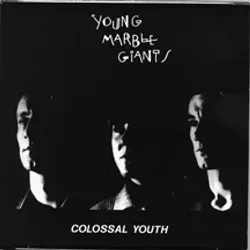 # Young Marble Giants could easily have slipped off the radar, only to be heard in the closeted circles of extreme music hounds and the occasional college radio play. But our luck has changed. With a complete clearing of the vaults, we are now offered three discs of Young Marble Giants: a five-song BBC session for John Peel, an out-of-print collection of demos and rehearsal tapes, and their brilliant debut, Colossal Youth. Arriving out of the U.K. in the early '80s as English post-punk acts like Gang of Four and Joy Division sparked alive, YMG pushed their own D.I.Y. spirit by rejecting amplified power for an investigation of sparse, minimal production built around the trio's voice, guitar, bass, and often drum machine. Alison Statton's monotone vocals are plainly understated, but in a similar manner to Miles Davis' muted trumpet, the effect adds muscle by way of the lean backing arrangements. Simplistic in approach, YMG nevertheless introduced a new vernacular to modern rock'n'roll.
Malik Miko Thorne, of Boo Boo Records and KCBX's "Night Train."
---
Glen Starkey is completely unique just like everybody else. Call him a little snowflake at gstarkey@newtimesslo.com.